Commercial Quality Design for In-Home Use
Matrix treadmills are the fastest growing brand of commercial treadmills in the world so we are very excited to share these new residential models. Matrix treadmills come from parent company Johnson Fitness located in Madison, Wisconsin.  Our team members recently visited their company headquarters and to say we were 'impressed' is a bit of an understatement.
Johnson Fitness is the third largest fitness equipment manufacturer in the world.  They also produce Vision Fitness and Horizon Fitness treadmills and ellipticals.  The company is well known for their excellent customer service, low maintenance machines, and quality products.
Check out this video of our visit to the Johnson Fitness facility:
What Sets Johnson Fitness and Matrix Apart From the Competition?
Vertical Integration – All of the individual components that go into the Matrix machines are manufactured by Johnson Fitness. These means the pieces are built to work perfectly with each other.  In comparison, many completion brands source their components from third-party companies resulting in maintenance issues or parts that wear faster than they should.  For the Matrix motors, the benefit of this vertical integration is quite clear.  The Johnson Drive System motor runs at a lower RPM than competition brands resulting in a quieter motor that stays cooler.  They also have a completely maintenance free tread-belt that has been tested up to 20,000 miles.
Awesome Customer Service – While we were receiving our tour of the Johnson Fitness facilities, we were shown to a call center where rows of friendly customer service reps were taking calls. Johnson has a strong commitment to excellent customer service that is not always present with other competition brands.
Integrity – Finally, we were impressed by the overall integrity of the Johnson Fitness family. It is obvious that the company cares for their employees as shown by the employee gyms, locker rooms, yoga classes on the lawn, and bright offices.  A company that cares about its employees cares about its customers.
Matrix Treadmills At-A-Glance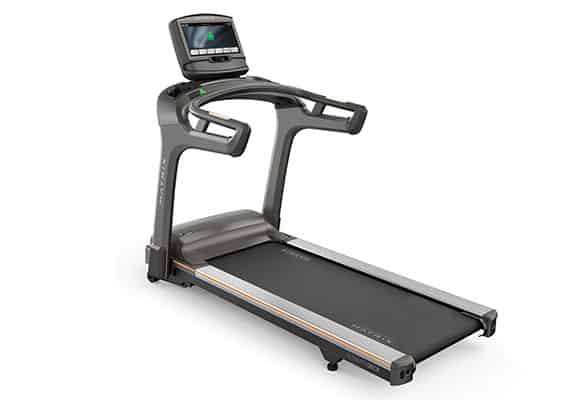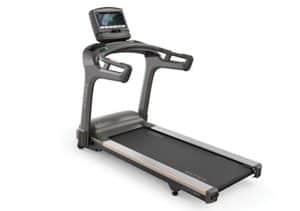 TF30 – This is their lowest model folding treadmill that features a 3.25 HP Johnson Drive System Motor, Ultimate Deck System, and 20×55" running surface.
TF50 – The Matrix TF50 treadmill includes a 20×60" running surface, upgraded belt, soft touch buttons for quick incline and speed control, and a 2.2 mm belt.
T50 – This non-folding treadmill offers an extremely stable design with a 20×60" running area, 3.25 HP Johnson Drive System Motor and soft touch buttons for incline and speed control.
T70 – The Matrix T70 is their top model non-folding treadmill with an expanded 22×60" running surface.  It also includes a maintenance free waxed belt, reinforced frame, and an advanced 3.0 HP Continuous Duty AC Drive System motor.
Download the Matrix Treadmill Comparison Chart Here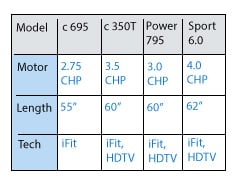 Key Treadmill Features on Matrix Treadmills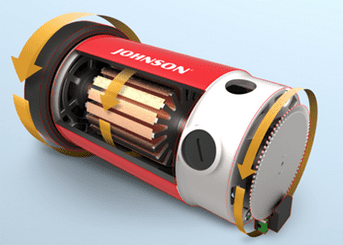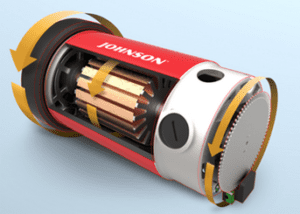 Johnson Drive System Motor (TF30, TF50, T50) – One of the common misconceptions we encounter is that a larger horsepower (HP) motor is always better.  This notion results in many treadmill buyers purchasing monster machines with 3.75 HP or higher motors that don't last, are noisy, and have frequent maintenance problems.  In contrast, motors from Johnson Fitness are built to operate at lower RPMs.  This results in a quieter, cooler motor where all of the motor components are built specifically to work in harmony.  The Johnson Drive System Motor re-calibrates hundreds of times per second resulting in a smooth feel lacking surges or lags.  The motors also have a lifetime warranty from their company so you can enjoy peace of mind.
Industrial-Grade 3.0 HP Continuous Duty AC Drive System (T70 only) – The motor on this top model from Matrix relies solely on magnetic fields (eliminating internal friction) to generate more torque than a traditional DC motor.  This type of motor has no need for internal motor brushes or commutators that wear down over time.  It runs at only 1735 RPMs – half the RPMs of a DC motor – resulting in a quieter ride.  Overall, this motor is more durable and efficient than the standard DC motor.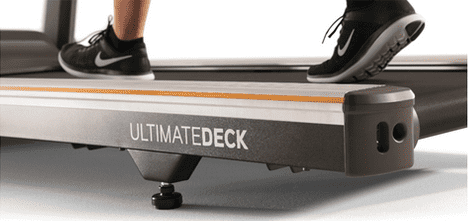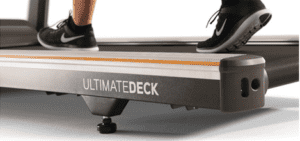 Tread-belts – The TF50, T50, and T70 all have 2-ply tread-belts.  The T70 also has a maintenance free waxed belt that has been tested up to 20,000 miles.  The remaining models all have silicone lubrication.
Industrial Grade Cushioning – Matrix machines have the Ultimate Deck System from Johnson Fitness.  The deck is 1" thick and sits on a sturdy frame to support long distance runners.  Rubber elastomers like those use on train car bumpers provide durable cushioning along the running surface.
Warranty – The Matrix treadmills all have a lifetime warranty on frame, motor and cushioning which is evidence of the confidence they have in their products.  The TF30 has an additional 5 years on parts and 2 years on labor while the TF50, T50, and T70 have 7 years on parts and 2 years on labor.
Unique Console Technology from Matrix
Each of the Matrix machines has the option to come with one of three console designs.  The XR, XER, and XIR consoles contain varied levels of features so you can customize your machine to fit your goals and budget.  Here are some the top tech features to look for:
Sprint 8 – The Sprint 8 high intensity interval training program was doctor created to deliver significant results in a small time frame.  The program requires just twenty minutes three times a week for eight weeks.  This program is perfect for people who are short on time and want to maximize their results.  Studies have shown that the Sprint 8 program can deliver a boost in energy, reduced body fat, lower triglycerides, lower LDL, increased bone density, and help develop lean muscle.  Sprint 8 is only available on select consoles for the Matrix and Vision machines.

Virtual Active and Passport – Virtual Active allows the user to run on a virtual course while the treadmill automatically matches the route's incline level.  Your running route is displayed directly on the screen of the XER or XIR console.  Alternatively, you can purchase a Passport Player to link your machine to your TV for a larger viewing experience.  Additional routes can be purchased and uploaded to expand your running library.

ViaFit Connectivity – Several treadmill companies now offer fitness tracking platforms to help people reach their fitness goals.  ViaFit is the only program that fully integrates with other fitness tracking devices you may already be using.  For example, it will incorporate information from your existing FitBit or MapMyRun app.  This free service allows you to track workouts, set goals and even join online challenge groups.  Your online ViaFit account and ViaFit app are completely free in sharp contrast to the subscription plans available from some competitors.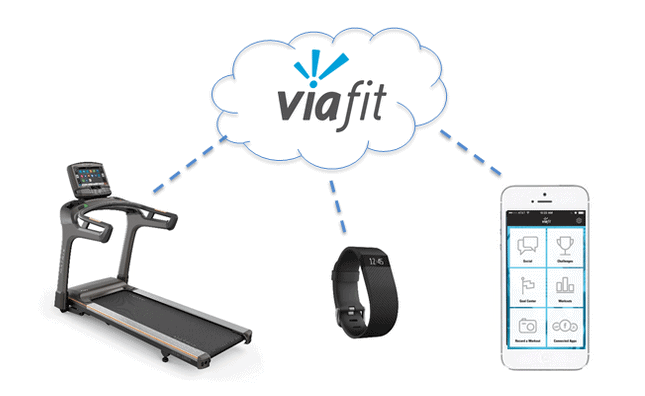 Choice of 3 Different Consoles

XIR – The XIR console is the top console available for the Matrix machines.  It features a 16" HD touchscreen, built in speakers, 11 workout programs, Bluetooth connectivity, a USB port, and console apps.  The console apps are displayed like on a typical smart device for easy use and include Sprint 8, YouTube, Netflix, Twitter, Facebook, Hulu and a web browser.
XER – This second level console has most of the same features of the XIR with around a $500 savings.  The display is reduced to a 10" touchscreen and the console has only 10 workout programs.
XR – If you're interested in saving even more money, you may be perfectly happy with the basic XR console.  This is usually $1,000 less than the XIR console and includes an 8.5" extra wide blue backlit LCD display and 6 workout programs.  Even though the XR does not include Sprint 8 or Virtual Active, a Passport Player can still be used to run virtual courses with the help of your TV.
Review for the Matrix Treadmills
The Matrix treadmills offer four solid examples of commercial quality machines that have been adapted for use in your home.  We have absolutely no hesitation in recommending this brand as they are known for durability, excellent customer service, and low maintenance requirements.  If you like the Matrix machines, you may also want to check out Vision Fitness or some lower priced options from Horizon Fitness.
To learn more, visit MatrixFitness.com.