(Last Updated On: November 10, 2020)
What's New from NordicTrack
Even the most tried-and-true brands in home fitness upgrade things from time to time. And when they do, we'll be there to introduce the newest stars of the show! 
During this last year, NordicTrack took their turn of bringing up a new model.  So, let's take a quick look at the new T-Series and see what it has to offer.
Essentially, the T-Series is replacing the older C-Series models we've come to know and love.  Both sets have a lot of similarities.  And while you'll still be able to purchase the C-Series for the time being, we are seeing a definite shift from NordicTrack towards the T-Series.
Introducing… the New Stars of the Show!
There are four models in the T-series. And as you might expect, each one is bigger and better than the next! This wide variety of features, screen sizes and prices allows you to pick the exact model that best fits your workout style… and wallet!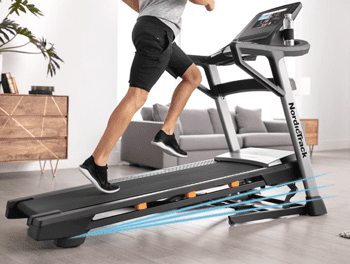 Because – let's face it – not all of us care to spend the money on a 14" HD Smart Screen (oh, the glory of it though!)
All of the T-series models are come with one-year of iFit.  This is a ground-breaking program that allows you to participate in interactive training features, track your stats, and generally makes the whole treadmill experience more interesting and entertaining.
We like the one-year trial, because it gives you a chance to try out the iFit features and then decide if it's worth the extra subscription price going forward.
All of the models also have a 300lb. recommended user weight limit. This is nice because you don't have to worry about sacrificing options, or paying more, based on your starting weight.
Consider the 6.5S the starter model of the T-series at $899. It has everything you need, but definitely doesn't pack the biggest punch.
2.6 DurX CHP Commercial Plus Motor – This isn't a small motor by any means. However, if you are a serious runner or really like to put in the miles, you may want to check out the other models with a bit more oomph.
If you are a person that likes to walk or jog regularly, this model will provide you with enough to keep you going.
0-10% Incline & 0-10 MPH Speed— Again, remember this is the starter model. You are going to be able to push yourself and can definitely get in a good workout. However, if you are looking for intense speed workouts and HIIT training, this may not be the model for you.
10" Smart HD Touchscreen – One bonus you may not expect on this model is the large touchscreen. While we are seeing larger and larger screens on most models, this is a nice surprise at this price point.
Next up we have the 7.5S, the next rung up on the ladder. This model is going to pack a bit more bang for your buck, $999 bucks to be exact. You can expect to find a few additional comfort and performance features as well.
3.0 DurX CHP Commercial Plus Motor – As you would expect, this motor is going to be a bit more powerful. It will keep up with more avid runners and allow to you to take advantage of the higher incline and speed with ease.
12% Incline & 0-12 MPH Speed – With the more powerful motor comes more incline and speed. This is the same speed and incline you will find with the more expensive models in this series and it's enough for you to push yourself no matter your goals. Sprint workouts and HIIT training will be a breeze and have you reaching your goals each day.
7" Smart HD Touchscreen – It is a little disappointing to see a smaller screen on this model, but to maintain the price with the additional performance features, you are going to sacrifice a few inches on the screen.
20"x 60" Treadbelt – The 7.5S offers an additional 5" of width on the tread belt compared to the 6.5S. It may not seem like much, but those extra inches can make a big difference when you are logging those miles. Anybody who exceeds 6-foot in height should definitely go for a treadbelt that is at least 60" in length.
Working our way further up the ladder we have the 8.5 S. With a price tag of $1399, you should expect to see seem upgrades from the younger T-series siblings…and it doesn't disappoint.
3.5 DurX CHOP Commercial Plus Motor – This motor is no joke. Whether you are training for a marathon or love sprints, this motor can handle it.
10" Smart HD Touchscreen – Now that the price has been bumped up, the size of the screen has too. This is great if you are going to be utilizing the iFit. A larger screen gives a more immersive experience and can be worthwhile if you are paying for the subscription service.
Last, but certainly not least, we have the 9.5S. This is the highest ranking model on the T-series and you will pay for it. With a price tag of $1799, you may really want to consider if you need the bells and whistles you are paying for.
Now, we say that when comparing this model to the other T-Series – but remember – NordicTrack gives you a fantastic "bang for your buck."  You are getting a high-quality machine for under $2,000. 
3.6 DurX CHP Commercial Plus Motor – You may have noticed this number is very close to that of the 8.5S, and you would be right. In reality, you probably aren't going to be able to tell any difference between the two during regular use. It's powerful and will do what you need, but it's not going to feel any different than the 3.5 CHP.
14" Smart HD Touchscreen – This is why you will pay the big bucks for this model. There's really no other way to put it than to say that this screen is huge. If you are going to be taking advantage of your iFit subscription it may just be worth your while. But, if you are more focused on the performance of your treadmill, you may want to save yourself a little cash and opt for the smaller screen.
There is a lot more to learn about these new models from NordicTrack and you can get a more in-depth look at each model by following the links to the full reviews.
Regardless of what you are looking for, the T-series has something for everyone. From walkers to marathoners… NordicTrack has you covered with both performance and comfort features to get you a great workout every time.