NordicTrack T 6.5 Si Treadmill Rating & Review
| | |
| --- | --- |
| Brand: | NordicTrack |
| Expert Rating: | |
The NordicTrack T 6.5 Si Treadmill is ON SALE!
A Solid Machine – Reasonably Priced!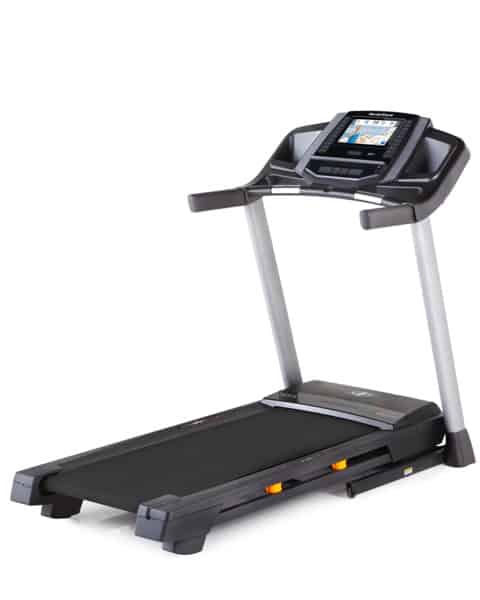 The T 6.5 Si from NordicTrack is an entry-level machine that will provide most users with a great at-home workout. Usually priced around $1,000, the 6.5 Si is the most affordable of the NordicTrack T series machines now available from NordicTrack, which is a part of Icon Fitness. It's a perfect example of how NordicTrack is able to offer "more for less" on their line of treadmills.
Icon Fitness is the largest manufacturer of fitness equipment out there, so you've got experience on your side when purchasing a Nordictrack machine.  Icon also makes the popular ProForm machines.
While the T 6.5 Si may be the youngest sibling in the T series, that doesn't mean it is lacking in the features. Keep reading to see everything this model has to offer.
The NordicTrack T 6.5 Si is available for $1,299 with 0% financing available for up to 36 months. 1-year iFit family membership is included!
NordicTrack T6.5S Treadmill Features
10" Smart HD Touchscreen – We are aware that you can now find giant 20" and 30" touchscreens on home exercise equipment, however, that is where you see the price tags go way up. The screen on the T 6.5 Si is quite large considering the price tag. It is impressive to see on an entry-level machine and allows its users to take advantage of the iFit technology.
2.6 CHP DurX Commercial Plus Motor – The motor in the T 6.5 Si is going to provide a great workout for those that are looking to walk or jog on their machine. This may not be the best model for those that are looking to put in serious miles. That being said, for an entry-level machine, this motor is going to be able to keep up as you strive to reach your goals.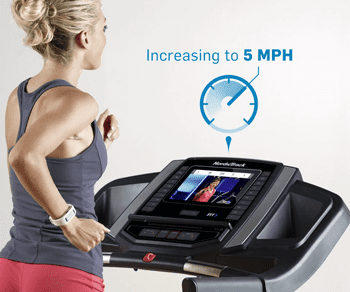 Space Saver Design with EasyLift Assist – The folding capability on the T 6.5 Si makes it a great option for those living in smaller or shared living spaces. When you aren't using your machine, you can easily tuck it away and get your floor space back. The EasyLife Assist means that the hydraulics do the work for you, making set-up and break down a snap.
This is also a fantastic feature for those with small children in the home. Putting the machine away helps prevent accidents that can and do happen when children play on an unsupervised machine.
0-10 MPH Speeds – While this isn't going to match the top speeds that you will find on other machines, for an entry-level machine it is going to serve its purpose. Users walking or jogging on their treadmill aren't going to be needing speeds over 10 mph. This is fast enough to allow you to do some speed training if you want, and you will be able to get in those HIIT workouts as well.
0-10% Incline – As we discussed above with the speed, this isn't going to be the highest incline out there. However, on an entry-level machine, do you really need more than this? If higher inclines are something that you are really looking for, check out NordicTrack's Incline Trainers for some serious hills. The 10% on the T 6.5 Si is going to get those muscle groups firing and your heart pumping. You can even incorporate HIIT workouts into your regimen to push yourself.
300 lb. User Capacity – This is an impressive weight capacity for an entry-level machine…maybe TOO impressive.   We question how an entry level machine like this could handle 300 lbs long term.  You may want to upgrade to the Commercial 1750 if your weight is on the higher end.
iFit Coach Technology – iFit is a paid subscription service that allows you to expand the ways in which you use your machine. This model comes with a one-year subscription to iFit. After that it does become a paid service.
iFit is great for keeping your workouts fresh, fun and motivational with its interactive features. You can take part in a studio training session with one of their on-demand videos. These videos are led by professional trainers and will get and keep you moving.
You don't have to use these videos just for running either. Take your workout to the mat with videos from the iFit library for weight training, yoga and many others.
At-home fitness doesn't have to mean staring at the same four walls either. With iFit you can choose from routes around the globe. The screen will follow the route to show you the beautiful scenery and the machine automatically adjusts your speed and incline to simulate the terrain of the route.
While you enjoy all of this, your machine will also be tracking all of your workout stats in real time. Seeing your progress is excellent motivation and you can share your stats on your favorite fitness apps.
FlexSelect Cushioning – This feature allows you to adjust the amount of cushion on the treadbelt. You can create a more cushioned surface to make for less impact and stress on your joints. If you prefer a harder, real-road feel, the T 6.5 Si adjusts for that too.
EKG Pulse Grips – Keep track of your heart rate while you work out with the grips on the handles. Keep in mind that this can be a little awkward when you are trying to jog. Some models offer this as a wireless feature and is something to keep in mind if you are concerned about that.
1.9" Precision and Balanced Non-Flex Rollers – The size of the rollers on this machine are larger than you find on many entry-level machines. This is good for both you and your treadmill. Larger rollers mean that the belt gets less wear and the machine doesn't have to work as hard. This ultimately means less wear and tear on the treadmill, and less maintenance and upkeep for you.
Warranty – Lifetime Frame and Motor, 1-year Parts and Labor.
Other Features – Auxiliary music port, dual 2" digitally amplified speakers, and One Touch controls make for comfortable and convenient use.
NordicTrack T 6.5 Si: Our Review
As usual, NordicTrack does not disappoint with an entry-level machine that provides both quality and technology at a competitive price. With a price tag of under $1000 we often don't expect to see things like a 10" Smart HD Touchscreen, but the T 6.5 Si has just that.
While the 2.6 CHP motor isn't going to be ideal for serious users or those looking to put in a lot of miles, it is a great option for anyone using their home machine for walking and jogging. The speed and incline are exactly what we would expect from an entry-level machine and it is enough to help you grow as you fitness improves. You can still get your blood pumping and work your muscles with higher intensity interval training and your treadmill won't hold you back.
The treadbelt on the T 6.5 Si may leave little to be desired with a 20" width and 55" length. This length isn't going to be great for taller users or those with a longer stride. However, this is pretty standard for a machine in this price range. Get higher specs on other models in the NordicTrack T Series.
The Flex Cushioning is a nice feature that gives more flexibility to users of all ability levels. The option to switch to a more low impact surface is great for anyone that has suffered an injury or for older users. We will say that if you are a heavier individual, you may not want to trust this machine's 300 lb weight limit.  Instead, we'd recommend a tried and true model like the Commercial 1750 for heavier folks.
The quality construction and durability that we have come to expect from NordicTrack will keep you going every step of the way and the T 6.5 Si is no exception.
Go to www.NordicTrack.com to learn more.