Powerful, Durable, and Packed with Perks
For those of you that are looking for a machine that can keep up with your intense workout routine, look no further than the NordicTrack T 9.5 S. This is the top-of-the-line mode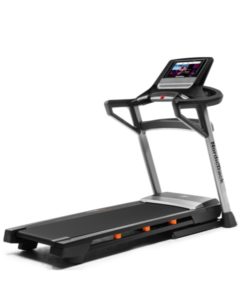 l in the NordicTrack T Series and it won't have you sacrificing any of the things on your wish list.
As with all NordicTrack machines, you have the benefit of experience on your side. NordicTrack is part of Icon Fitness, the largest manufacturer of fitness equipment out there. They take what they do seriously and you get to reap those benefits when purchasing one of their machines.
Powerful, durable and packed with perks, the T 9.5 S seems to have it all. Keep reading to see if it checks all the boxes on your list.
NordicTrack T 9.5 S Features –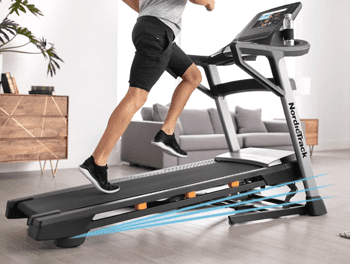 3.6 CHP DurX Commercial Plus Motor – If you are a serious runner, this motor is not going to let you down. Designed to keep up with even the most demanding running regimen, the 3.6 CHP motor has to power to keep you moving. This self-cooling motor also provides reduced vibration to ensure you have a smooth run each and every time. This is the same motor that you will find on the Nordictrack Commercial 1750 for about the same price.
FlexSelect Cushioning – This is a great feature for serious runners since it gives you the ability to control your running surface and adjusts to your needs. If you are looking for a firmer, more real-road feel, the T 9.5 S can provide that at the touch of a button. On the flip side, if you need a little more cushion to relieve stress and impact on your joints, you have that option too.
20" x 60" Tread Belt – At 60" in length, this belt is going to work for taller users and those with a longer stride without compromising their comfort. The 20" width is a little narrower than we might expect to see on a machine in this price range. Some other models offer a 22" width, which can actually make quite a difference for some users.
1.9" Precision and Balanced Non-Flex Rollers – This is another area where we had expected to see an upgrade. Oftentimes machines in this price range will have larger rollers to accommodate a larger amount of use. Larger rollers means the machine doesn't have to work as hard and results in less wear and tear on the machine. 1.9" isn't the smallest you'll find on the market, but it isn't what you will find on other machines with a motor this powerful.
14" Smart HD Touchscreen – This is the largest display that you will find on the T series models. This is also a major factor in the price that you are going to pay. The clarity and responsiveness of the screen make it ideal for immersing yourself in many of the great features that you will find available through iFit.
Create and follow your favorite route around your neighborhood or around the globe with Google Maps. The machine will automatically adjust your speed and incline to the terrain to give you a real-road feel when you can't be there.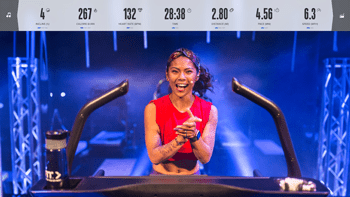 Take part in a live interactive training session with your favorite world-famous trainer. The trainer will adjust your speed and incline to follow the session and all you have to do is focus on reaching your goals. Real time workout tracking will help you see the progress you're making as your trainer pushes you to be better than the day before.
If you feel like getting away from it all, choose from iFit's extensive library of video routes from around the globe. The machine will adjust your speed and incline to follow the terrain and you can enjoy your jog in the mountains or an early morning run on the beach.
This model comes with a 1-year subscription to iFit, but take note — this is a paid subscription after the end of the first year.
50 On-Board Programs – If you don't need a library of videos and training to get you motivated, any one of the 50 preset programs available on the T 9.5 S can still do the trick. There are a wide variety of programs available to you without the paid subscription to keep you motivated and focused on your goals.
300 lb Recommended Weight Limit – With a weight suggestion of this type, the T 9.5 S is going to be able to help most users reach their fitness goals, no matter what those may be. The stable construction and durability that we have come to expect from NordicTrack means that the T 9.5 S is accessible to most users.
0-12 MPH Speed – With a top speed of 12 mph on the T 9.5 S you will be able to push yourself to your heart's content. Speed training and intervals will get your heart pumping and you'll never have to worry about your machine falling behind.
0-12% Incline – You can take advantage of the 12% incline on the T 9.5 S to do some HIIT workouts and really turn up your cardio. This is also a great way to work a larger variety of muscle groups and challenge yourself.
SpaceSaver Design with EasyLift Assist – The folding capability on the T 9.5 S is a fantastic feature on any treadmill. Especially for users that live in a smaller space, but still want access to home fitness. Plus, putting away your machine when it isn't in use helps prevent accidents from happening.
Warranty – Lifetime frame and motor, 5-year parts and 2-year labor.
NordicTrack T 9.5 S Treadmill:  Our Review
The 9.5 S treadmill from NordicTrack is the top tier model in their T series and it does pack some impressive features. Check out other NordicTrack T Series Treadmills here.
The 3.6 CHP motor means that this machine is ready to handle even the most serious of runners without breaking a sweat. This is the same motor that you will find in the Commercial 1750. This combined with a 12mph top speed and a 12% incline means that whatever your workout regimen calls for, the T 9.5 S has you covered.
Speaking of the Commercial 1750, it compares well to the T 9.5.  The T9 9.5 has a better display, but the Commercial 1750 tends to be more "industrial strength" for better durability.  They don't call it a commercial machine for nothing! This means the Commercial 1750 may be better if you have multiple users in one household.
Now back to the T9.5… it has a 14" Smart HD Touchscreen that is great if you are looking to utilize all that iFit has to offer. Bluetooth audio allows you to stream your favorite music to keep you motivated, which is a nice feature if you aren't using one of the videos on your display.
The warranty on this machine speaks volumes about the confidence of the manufacturer. This is a serious warranty and the best that you will find in the NordicTrack T series models.
All in all, if you are looking for a machine that can put in the miles and also doesn't skimp on the bells and whistles, the T 9.5 S might be just what you've been looking for.
Learn more at www.NordicTrack.com.