NordicTrack X15i Commercial Incline Trainer Review
| | |
| --- | --- |
| Brand: | NordicTrack |
| Expert Rating: | |
The NordicTrack X15i Commercial Incline Trainer has been discontinued. Shop the upgraded X22i treadmill!
A Cardio Workout That's Hard to Beat!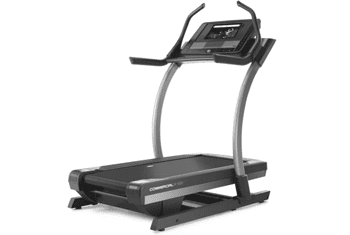 *ALERT: The X15i has been discontinued. Read more about the upgraded X22i!
When it comes to a fantastic cardio workout that's low impact, it's hard to beat the NordicTrack Incline Trainers. With more models being added to the NordicTrack Commercial Incline Trainer line-up, you're sure to find the model that is perfect for you. One such example is the x15i Incline Trainer, which is a new release for 2019.
With the quality and durability that we have come to expect from NordicTrack, the x15i will provide you with the performance and comfort to make your in-home workout experience a pleasure. You'll get all of this, plus peace of mind knowing that you have experience on your side. NordicTrack is part of Icon Fitness, which is the largest producer of fitness equipment out there (including ProForm Treadmills.) So you know you're making a fantastic purchase with their machines.
NordicTrack X15i Commercial Incline Trainer Features and Technology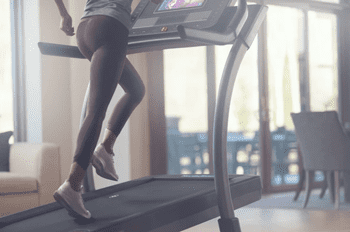 4.0 DurX Commercial Plus Motor – The motors on the Incline Trainers models are huge to ensure that you can utilize the incline on these machines without having to worry. At 4.0 CHP, you can rest assured that your machine is always going to be able to keep up, no matter what your workout includes. The self-cooling motor also reduces vibration for a comfortable ride.
Next-Gen Sled Push – With this latest version of the incline trainers, NordicTrack has added a sled push feature. Work your entire body by gripping the sled push bar and turning the treadbelt with the power of your legs. It's a great workout and will have you sweating in no time!
Reflex Cushioning – Even though you can get a fantastic workout by simply walking on the x15i Incline Trainer, it is still important to consider your walking surface. The Reflex Cushioning is a great feature that allows you to adjust the firmness of the running/walking surface. You can switch between a firmer, real road feel and a softer surface to reduce any impact. This is great for anyone with joint pain or those that have suffered an injury.
2.5" Precision and Balanced Non-Flex Rollers – This is a larger roller than we see on many machines, which is something that bodes well for you and your machine. Larger rollers mean less wear and tear on the machine, allowing for a longer life and less maintenance for you.
300 lb. User Weight – The high recommended user weight on these machines speaks to the quality construction and materials of the x15i Incline Trainer. These factors combine to create a machine able to withstand larger users, allowing for a wider range of individuals to take advantage of a great in-home workout.
40% Incline – This is where the name comes from, it's all about this massive incline. This is the feature on these machines that allows you to get a killer cardio workout and train and tone such a wide variety of muscles by simply walking.
-6% Decline – In addition to the huge incline on the NordicTrack X15i Commercial Incline Trainer, the -6% decline lets you broaden your workout regimen even farther. Walking or jogging downhill works an entirely different group of muscles and contributes to a truly full-body experience.
22" x 60" Treadbelt – This large treadbelt is another feature that we love to see on the Commercial x15i Incline Trainer. The 60" length makes this an accessible machine for taller users or anyone with a longer stride. Plus, the 22" width will keep you from feeling cramped when you're focusing on your workout. The lower priced Commercial x11i Commercial Incline trainer has a 20×60″ treadbelt.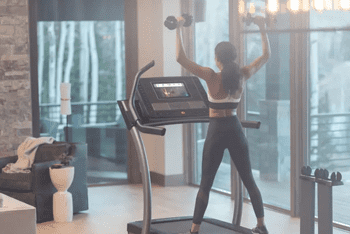 14" Smart HD Touchscreen – The touchscreens on the Commercial x22i and x32i are so enormous that this 14" screen on the x15i feels small. But remember, it's still a very large touchscreen! And it does exactly the things that you need. This is the feature on any machine that allows you to tailor your price a little bit. Larger screens mean higher price tags, but the size of the screen doesn't dictate what you can do on it. The 14" display on the x15i Incline Trainer still gives you access to all of the amazing features that come with an iFit subscription.
Your purchase of an x15i Incline Trainer comes with a 1-year subscription to iFit, but remember, after that it is a paid service that you will need to sign up for.
iFit allows you to really get the most out of your machine with workouts, motivation and stat tracking to keep you on the path to your fittest you. You can join a live interactive training session with one of NordicTrack's world-renowned trainers that will keep you moving from start to finish. The trainer controls your machine and will automatically adjust the speed and incline to make sure you're getting the best workout possible.
If you like to keep things at your own pace a little bit more, you can take advantage of the on-demand video library, filled with workouts to use both on and off your machine. Switch things up with a weight training workout or a yoga routine when you want a little variety in your life.
Just because you are working out in your home, doesn't mean you need to get cabin fever. You can choose routes from around the globe with iFit's extensive library of video routes. Beat the winter chill with a workout along the beach of a tropical island. The machine will adjust the speed and incline to create an immersive experience. Or create your own route with the help of Google Maps. Again, the machine will adjust incline and speed to create a real-life feel no matter where you choose to be.
Warranty – Lifetime frame & motor, 5-year parts & electronics and 2-year labor.
Other Features – OneTouch controls allow you to easily make changes during your workout without losing your focus, while the dual AutoBreeze fans will keep you cool. The x15i Incline Trainer also has Bluetooth audio capability and your favorite tunes will sound great coming from the dual 3" digitally amplified speakers.
Our Review – NordicTrack X15i Commercial Incline Trainer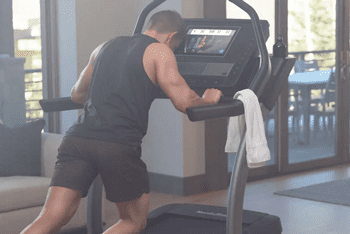 We have come to expect great things from the Incline Trainer series from NordicTrack, and the x15i doesn't change that in the least. It has the quality, performance and durability that we have come to expect. It's just a downright snazzy machine!
The 4.0 CHP motor is exactly what we'd expect on this machine and it is able to handle the intense 40% incline without losing a beat. You'll never have to worry that your demanding workout regimen is too much for your machine. And don't forget that -6% decline. Adding that downhill to your workout will have you finding muscle groups you didn't even realize you should be working.
The 12mph max speed is also in line with what we'd expect on this machine. The speed allows you to incorporate your HIIT workouts and speed training when you are ready to up your game.
We have talked about all of the awesome features associated with iFit, but it's nice to see the extensive on-board workout library that comes on the x15i Incline Trainer. Not everyone wants to pay for a subscription service and that's fine, but it also doesn't mean you should have to miss out. With 50 pre-programmed workouts, you will be able to find a targeted workout for every one of your goals.
The 14" Smart HD Touchscreen isn't going to be the largest display on the market, but it's also why you can get the x15i Incline Trainer for a great price. Technology, specifically display size, is what we see driving prices up across the board for fitness equipment. If you want the giant screen, you will be paying for it. However, you can get all of the same technology on a 14" screen and save yourself some serious cash.
All in all, the x15i Incline Trainer upholds the quality and performance standards that make these machines a fantastic option for anyone looking to crush their fitness goals at home. The x15i Incline Trainer will not disappoint, ensuring a durable machine and comfortable experience every time you step onboard.
You may also be interested in the NordicTrack x22i Commercial Incline Trainer or other NordicTrack Incline Trainers.
See a comparison chart with all of the NordicTrack Commercial Incline Trainer models here.
Go to www.NordicTrack.com to learn more!
---
Video recorded at NordicTrack corporate headquarters!
A Solid Value Buy!