Beyond the Hype – The Real Benefits of a Bowflex TreadClimber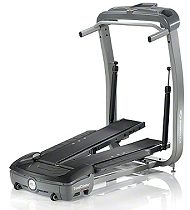 The Bowflex Treadclimber TC100 is an upgrade from the TC10 and is the most popular model in the treadclimber series from Bowflex.  For those not familiar with the TreadClimber, it is a treadmill and stair stepper hybrid.  You might have seen the TreadClimber infomercials that promise miraculous results through this unique cardio machine. A lot of the marketing is 'hype,' but there are real benefits that come with owning a TreadClimber.  You also may want to check out the Bowflex Treadclimber TC200 for improved features.
The BowFlex TreadClimber TC100 offers a low-impact and efficient cardio workout on a rather compact machine. This compact design is a huge advantage.  A regular treadmill with a 60″ deck can be a space hog, but the Bowflex TreadClimber TC100 is only 50.6″ in length.  Also, with a weight of 185 lbs., it is a very stable machine.
It should also be noted that the TC100 comes with the ability to track your progress, which is always an excellent motivator. The company claims you will burn considerably more calories on a treadclimber as you would on a treadmill.  This makes perfect sense if you are only on a treadmill set at 0% incline.  At 3 mph, they claim you will burn 612 calories on a TreadClimber and only 165 calories on a treadmill.  Remember, if you were to incline your regular treadmill, you are obviously going to burn more calories. They also suggest that you will work more muscles with a TreadClimber, but once again, if you change up the incline on a treadmill, you will also exercise more muscle groups.
Our Review – Bowflex TreadClimber TC100
For the first couple of years that the TreadClimbers were released, there were some mechanical issues.  This was not surprising since the machines have many more moving parts in comparison to a regular treadmill.  Over the last several years, those issues seem to have been resolved and the service record of the TreadClimbers has improved considerably. So will the Bowflex TreadClimber TC100 allow you to lose weight and improve your sex life?  We're not sure about the second part, but there is no doubt that if you utilize the machine regularly you will burn calories. You will also need to cut back on calorie consumption to get miraculous results — there is always a catch. If you want to look like the models that demo the TreadClimbers on TV you will also need a regular regimen of ab exercises and weight lifting.
That said, Bowflex has finally admitted the TreadClimber will not provide a more rigorous workout in comparison to an inclined treadmill.  (see below) Unfortunately there is nowhere you can test the TC100, it is only sold direct, and consequently there is a risk involved. We have requested on more than one occasion to fly out (at our own expense) to Bowflex Headquarters so our team can do a review.  We are unsure of what they are hiding as each time we are declined the opportunity by Bowflex.  With the Bowflex "deal of the day" pricing is normally around $2,000.  The high cost of the machine is probably due to the extreme amount of advertising dollars the company spends on infomercials..  For $2,000, you can invest in any number of inclining treadmills to achieve similar results as the Bowflex Treadclimber, plus with a treadmill you can walk, jog, or run.
But if your mind is made up on buying a Bowflex, tens of thousands have bought TreadClimbers, and the majority seem to be satisfied with the quality of the machine and the results they receive. Albeit those users probably do not own treadmills either!  If the price tag works for you and the benefit of a treadmill isn't appealing, the Bowflex TC100 gets high marks from us for durability and excellent customer service. If you are interested in learning more, click here for the latest offers from the Bowflex TreadClimber TC100 Bowflex Catalog
Customer Reviews: (taken from the Bowflex Company Facebook Advertising Page)