Burn the Calories and Simulate Hiking Up Extreme Inclines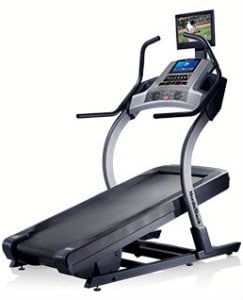 The NordicTrack X15i Incline Trainer is designed to burn five times the calories with "no running necessary." These machines were even featured on TV's The Biggest Loser where they helped overweight contestants drop some serious pounds. The NordicTrack X15i is the top model with leading edge interactive technology and a 15" HDTV attached to the unit.
One of our team members personally tried out the Incline Trainer series at Icon Fitness in Logan Utah. He shared, "It was 10 degrees outside, but inside I was sweating bullets!" This machine is no joke and will certainly give you an effective and low impact workout
These machines are a favorite with hikers because they allow you to simulate walking up steep mountainous terrain. The NordicTrack X15i Incline Trainer has the ability to go up to a 40% incline and 6% decline on a large 22 x 60" treadbelt. Workout stats and training program options are clearly displayed on the 10" color touchscreen. The machine is iFit enabled so you can take advantage of coaching, virtual courses, and custom tailored workouts designed to help you meet your goals.
The main difference between the NordicTrack X15i and X11i is the addition of the 15" Integrated HDTV and a more powerful motor for an additional $500. Although these are a nice features, they are not worth the additional cost. You would be better off purchasing the X11i and using an existing TV in your home. If that is not an option, perhaps the X15i is the perfect model for you!
Features on the NordicTrack X15i Incline Trainer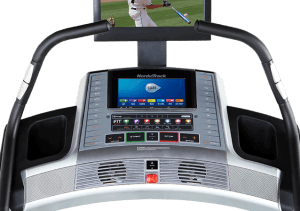 4.5 Continuous Duty HP Motor This motor is equivalent to what you would find on a commercial treadmill. It's a beast! You will not have any issues with this and it should be able to run at the steepest incline effortlessly.
22" x 60" Treadbelt The treadbelt on this machine is nice and spacious. The length of 60" will work well for your long climbing stride and the extra wide 22" belt will give you some added comfort when you walk or run.
Ability to Incline and Decline The NordicTrack X15i Incline Trainer inclines to 40% and declines to 6% so you get the feel of walking up and down a mountain trail. You will find that few machines actually offer a decline feature. This will allow you to target a wider range of muscles in your legs and glutes. Get ready to feel the burn!
10" Full Color Touch Screen Android Browser Until you try this, you'll never fully appreciate how nice it is to have a touchscreen on your treadmill. This 10" screen with an Android browser is only available on Icon Fitness treadmills and ellipticals. You'll have brilliant feedback on your workout stats and full access to the Internet. It's like having a computer in front of you while you work out!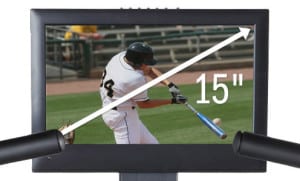 15" Integrated HDTV This is the main feature that sets the X15i apart from the X11i Incline Trainer. For an additional $500, you can enjoy the latest TV, sports, and news directly in front of your eyes. The screen is elevated above the touchscreen so that it does not interview with your workout.
iFit Live Compatible The iFit Live is only available from Icon Fitness and allows you to interact via WiFi to communicate with the web. This allows you to create custom workout routines, track your goals, trace real life routes on GoogleMaps, and access virtual courses through famous landscapes. This feature does require an ongoing paid subscription to use.
44 Installed Workouts The NordicTrack X15i comes with a wide selection of programs that focus on calorie burn, interval training, speed work, and intensity goals.
Reflex Cushioning Cushioning is present along the entire length of the deck to provide protection for your joints. Two isolators are also present to help reduce the impact from every step.
Warranty Not too shabby! In fact, this is as good as you'll see in the industry and speaks well of the durability of this machine.
Lifetime motor, frame, and deck
6 years parts and electronics
3 years labor
Other Features Speakers, MP3 input, table holder, fan, grip and wireless heart rate monitor, and large 2.5" rollers.
Our Review NordicTrack x15i Incline Trainer
Our team was thoroughly impressed with the NordicTrack Incline Trainers in general. We liked that this machine comes with interactive features to provide motivation and the steep incline provides an intense workout. During our visit, we were also pleased to learn that the Incline Trainers are the favorite choice of employees who workout at Icon Fitness. They have numerous options, but this is their favorite. That speaks volumes!
It should be noted that the NordicTrack X15i Incline Trainer is almost identical to the NordicTrack x11i in every major feature except two.  The motor size is bumped from 4.25 to 4.5 CHP.  Also, the X15i has a 15" Integrated HDTV for an additional $500. These features don't seem worth the additional expense and we would recommend you purchase the X11i and use an existing TV in your home.
Learn more at NordicTrack.com.