NordicTrack X32i Commercial Incline Treadmill Review
| | |
| --- | --- |
| Brand: | NordicTrack |
| Expert Rating: | |
The NordicTrack X32i Commercial Incline Treadmill is ON SALE!
Industrial Strength Machine with Massive Display
If you are looking for an incline trainer with all of the bells and whistles, NordicTrack has you covered with the NordicTrack X32i Commercial Incline Treadmill. This model has everything we love about their Commercial Incline Treadmills with some big upgrades in the technology department.
As with all of the Incline Treadmill models, the Commercial x32i is going to provide you with a quality workout just by walking. Thanks to the steep incline on these machines, you don't have to be pounding the pavement to put in the work. This means you can get a killer cardio session with little to no impact and stress on your joints.
The NordicTrack Commercial Incline Treadmills are extremely popular machines brought to you by parent company Icon Fitness. Icon is the largest maker of fitness equipment in the world including ProForm machines. This means they are often able to build higher spec machines with a lower price tag as compared to other brands.
Check out our full video review of the NordicTrack x32i Incline Treadmill!
NordicTrack X32i Commercial Incline Treadmill Features and Technology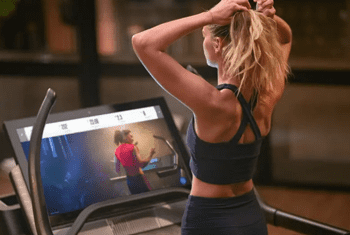 4.25 Continuous Duty HP Motor – NordicTrack loves to put monster motors on their machines. The huge 4.25 CHP motor means that this machine can handle anything you are ready to dish out. The extreme inclines on these machines require a motor that can keep up and this one definitely does the trick.
22" x 65" Treadbelt – This is an upgrade that will have your workout feeling comfortable and never cramped. The other incline trainer models sport a 60" length on their treadbelts. But the Commercial x32i boasts an additional 5 inches of length. Even the tallest of users will find that they are able to use this comfortably, without ever worrying about a long stride. With some of the other incline trainers, buyers have complated that they lose 5″ of length when the deck is lowered. This is because part of the deck lowers underneath the console. You won't have a length issue with the x32i Incline Trainer. Quite frankly, this is the LARGEST treadbelt we've ever seen on a treadmill.
2.5" Precision and Balanced Non-Flex Rollers – The larger rollers on the Commercial x32i will keep your machine running smoothly for longer. Larger rollers mean that there is less wear and tear on the machine, which means less maintenance for you.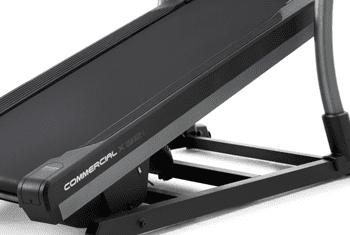 40% Incline – The giant 40% incline on the Commercial x32i is the reason this machine delivers a killer workout. You don't need to be doing anything other than walking at these extreme inclines to get your heart pumping and your muscles firing. These incline settings are the same on the other incline treadmills.
-6% Decline – Anyone who has ever walked or run down a hill knows that this makes a world of difference. This decline allows you to work a whole different set of muscle groups than walking on a flat surface or propelling yourself uphill.
32" Smart HD Touchscreeen – As expected, we see a major upgrade in the technology department with this massive 32" HD touchscreen. This is the largest screen found on any cardio fitness equipment that you are going to find. In fact, some other machines have a very small screen that is hard to view. You won't have this problem with the x32i Incline Trainer. The crystal clear graphics and interactive technology make for an even more immersive experience when used with your iFit subscription. Most of the price tag on this machine is due to this large touchscreen. If you are happier with a smaller screen, check out other models in the Incline Trainer Series.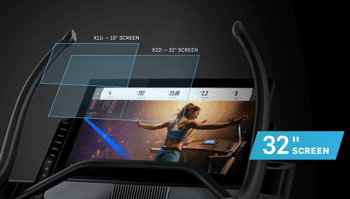 iFit Technology – iFit allows you to get the most out of every minute that you spend your machine. Start with a custom designed progressive workout routine to help you build your progress each time you step on your incline trainer. Each session is led by a professional trainer to keep you motivated and provide fantastic results.
Create and follow your favorite routes using Google Maps. The incline and decline features on the Commercial x32i will simulate the terrain on each and every route to give a more real-road feel.
Why take in the scenery of your four walls when you can choose the scenery anywhere in the world. You'll be able to choose landscapes and city-scapes from around the globe with NordicTrack's extensive library of videos. Just like the Google Maps routes, your Commercial x32i will simulate the terrain so you'll feel like you're there.
Please note that this model come with a free 30 day iFit trial subscription. After your initial 30 days this is a paid subscription service.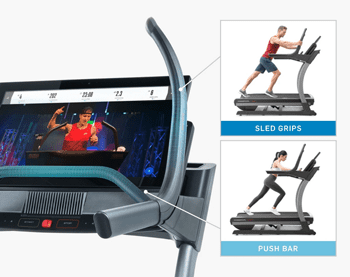 Next-Gen Sled Push – If you're looking to incorporate something new into your workout on the Commercial x32i, try a sled push workout. The addition of the sled grips and push bar make it easy to do this whole body workout in your home. A sled push involves pushing a weighted sled and set distance along the ground and requires your whole body to do. With the Commercial x32i Incline Trainer all you need to do it place your hands in the set position, set your speed to 1 mph and reap the benefits of this intense workout.
Warranty – 10-Year Frame Warranty, 2-Year Parts Warranty, 1-Year Labor Warranty. Fairly standard warranty coverage.
Quality and Durability – Reinforced steel construction and a 300 lb. recommended weight limit mean that most everyone can work towards their fitness goals and discover their healthiest selves with the Commercial x32i.
Other Features – Two 3" digitally amplified speakers and dual fans ensure comfortable use, and OneTouch Controls make for easy transitions in speed and incline. Out-of-the-box Easy Assembly will have you using your machine faster without any struggle.
Our Review: NordicTrack X32i Commercial Incline Treadmill
We have said before that we love the Incline Trainer series from NordicTrack and the NordicTrack X32i Commercial Incline Treadmill doesn't change that opinion. With all of the exceptional features that we have come to expect from these machines, there's no doubt that it provides a fantastic workout with no impact on your joints, making it a great option for everyone.
The 4.25 CHP motor will be able to keep up with any amount of work you're putting in and the lifetime motor warranty backs that up. In addition, the extreme 40% incline and -6% decline will have you working all of your muscles groups for a full-body experience not found on other machines.
If you are debating between the different models in the incline trainer series, the place to look is the technology. The only major difference between the Commercial x32i and the Commercial x22i is the size of the touchscreens. The 32" screen on the Commercial x32i is huge, there's really just no other way of putting it. However, the 22" screen on the x22i isn't exactly small. It's really a matter of whether the giant screen is worth $1,000+, because that's the difference in price you'll be paying.
What it ultimately boils down to is what you want in the technology department. If you are going to be using the programs available through iFit and want the most immersive experience possible, the 32" screen with deliver that. If you are more focused on your physical results, you can save yourself a considerable amount of money and get the same benefits.
You may also be interested in the NordicTrack x22i Commercial Incline Treadmill or other NordicTrack Commercial Incline Treadmills.
See a comparison chart with all of the NordicTrack Incline Treadmill models here.
Go to www.NordicTrack.com to learn more!