Check out the New iFit Coach Plus Features on the 2018 NordicTrack  Treadmills
We've long been a fan of the iFit Live programming available on both NordicTrack and ProForm treadmills.  It is an accepted notion that those people who track their fitness will make better progress towards their overall goals.  Plus, the  iFit Live programming helps keep each workout fresh and interesting so you're more likely to hop on your machine day after day in a consistent routine.
Recently, NordicTrack has revealed some new iFit Coach Plus features on their treadmill line up.
Here's what we like about the new iFit Coach Plus platform:
Unlimited Access to HD Videos – A trainer will guide you through your workouts from around the world.
Daily LiveCast classes – These are led by world-renowned personal trainers and include a variety of on demand intense cross-training classes.
Syncing with GoogleMaps – Choose from a library of workouts or create your own custom street view of routes in your own neighborhood.  Or, if you want to run a famous course, like the Boston marathon, you can run it from your own home!
Customized Workout Plans – Input your goals and iFit will help you find a customized plan that will work for you.
Personalized nutrition, sleep analysis, and even a free iFit wearable device ($149 value)
Space for 4 Different User Profiles on the machine.
What we don't like about the new iFit Coach Plus platform:
In the past, iFit was always an option on NordicTrack machines.  If you weren't interested in the features,  you always had the ability to skip paying for the subscription and then enjoy your NordicTrack machine on its own.
NordicTrack recently announced that they are now requiring the purchase of a 1-year iFit Live Coach Plus subscription for some of their higher end treadmills.  This will cost around $396 (at the time of this posting) for the first year.
After the first required year, you will have the option to either downgrade to a regular iFit Coach subscription ($144) or cancel the iFit Live membership all together.
Now, we're certainly not saying that the iFit Live isn't worth it.  It's a GREAT program with a lot of value.  We just prefer that buyers are given an option on whether or not they want to spend the money.
We experimented with the NordicTrack ordering system to see exactly how the fees would be handled.  On the order page, it asks you to select an iFit Subscription plan.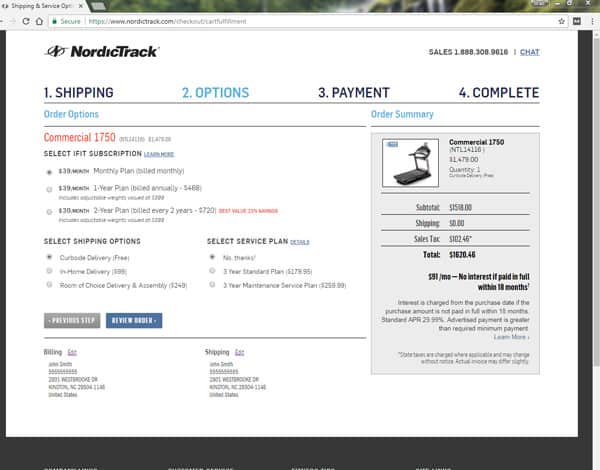 If you click "Learn More", then it takes you to this page where it nicely mentions that you can cancel your subscription after your 1-year commitment.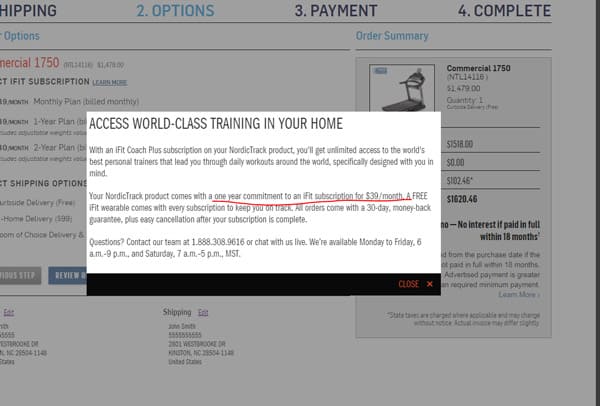 Remember that NordicTrack treadmills offer some of the very best value overall on their machines.  Often you are able to purchase much higher spec machines than you would from other brands for the same price.
NordicTrack Treadmills that require an iFit Live Coach 1-year subscription:
Commercial 1750 – reg price $1,599 with 7″ Smart HD Touchscreen
Commercial 2450 – reg price $1,799 with 10″ Smart HD Touchscreen
Commercial 2950 – reg price $2,499 with 22″ Smart HD Touchscreen
x9i Incline Trainer – reg price $1,999 with 7″ Smart HD Touchscreen
x11i Incline Trainer – reg price $2,299 with 10″ Smart HD Touchscreen
x22i Incline Trainer – reg price $2,999 with 22″ Smart HD Touchscreen
Note:  Smart HD Touchscreens cannot access the Internet.
NordicTrack Treadmills that do not currently require iFit Live Coach 1-year subscription:
C700 – reg price $799 with LED display
C990 – reg price $999 with 20×60″ belt and 7″ Web Enabled Touchscreen
C1650 – reg price $1,299 with 10″ Web Enabled Touchscreen
More Resources on iFit Live and NordicTrack Treadmills
NordicTrack Brand Review  |  A Best Value Brand
NordicTrack Treadmill Comparison Chart
iFit Live | Your Virtual Trainer