Elliptical or Treadmill:  Which Should You Buy?
"Variety is the spice of life!"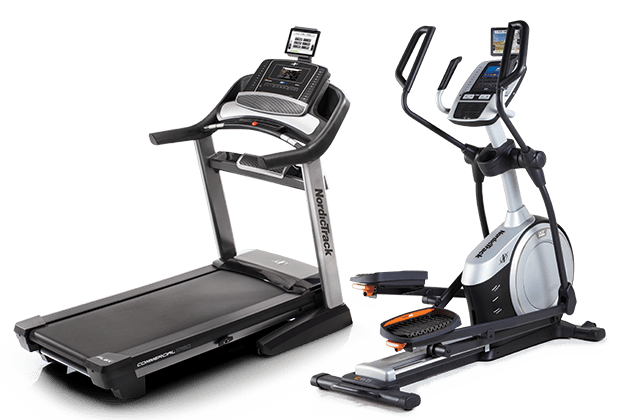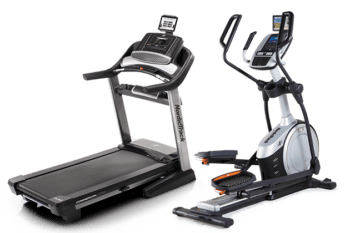 Just as it is in other areas of your life, it's nice to have options when it comes to your workouts. If you do your workouts at home, there are ways in which you can vary your workouts from day-to-day. For example, you might choose to run one day and do yoga the next.
If you work out at a gym, you have several exercise machines from which to choose. You may want to do a few minutes on each machine, or devote an entire workout to only one piece of equipment. The point is that you don't have to do the same old routine every time you work out!
If you belong to a gym and try out the various types of fitness equipment available there, you may find that you develop a preference for one specific machine. Is one type of fitness equipment better than another type? What is it that draws some athletes to a treadmill and others to an elliptical trainer?
Let's break down the benefits of each:
Benefits of a Treadmill
Treadmills are machines created for walking, jogging, or running, as well as simulated hill climbing. Some treadmills are better suited for walking and are not made to support users over a certain weight limit. Higher quality treadmills tend to be suitable for walking or running and can handle larger and heavier users.
Commercial units that are found in gyms are generally capable of supporting more weight than most home units. However, high-end models of home treadmills can be quite sturdy and comparable to a commercial unit.
Exercising on a treadmill is a great way to burn calories, build bone density, maintain good cardiovascular health, and increase your energy level. Of course, if you engage in a less intense workout, you will have to work out longer to get the most benefits.
Nevertheless, most treadmills offer a number of programs and intensity levels from which to choose. If you're just beginning an exercise program, you should begin at a lower intensity level and work your way up to a higher one, as your fitness improves. For the more advanced athlete, increasing the incline and the speed to accommodate your level of fitness can challenge your body and produce the benefits you desire.
Running on a treadmill with a nicely cushioned running surface provides less impact on the knees, shins, ankles, back, and joints than does running on pavement or on a track or trail. As a result, the runner who uses a treadmill is less likely to sustain a running injury than a runner who runs upon a harder surface.
Another benefit of working out on a treadmill is that you can do it indoors…regardless of the season or weather. You don't have to brave the extreme heat of summer or the brutal cold of winter to get your walk or run in. You can work out in a climate-controlled environment and be comfortable.
Benefits of an Elliptical Trainer
Elliptical trainers are relatively new to the family of fitness equipment, as compared to treadmills. They have increased in popularity during the last few years. But, do they deliver what they promise?
Elliptical trainers allow the athlete to burn a similar number of calories as jogging…without risk of injury to the back, knees, hips, or ankles. They are also easy on the joints. Because elliptical trainers work the upper and lower body simultaneously, the heart rate climbs quickly, and less time is required to achieve more results. The amount of energy expended is optimized. As the legs are being worked, the back, shoulders, chest, biceps, and triceps are also working…making it possible to burn more calories in less time. (An optimal workout need only be about 20-30 minutes long.)
Previous studies have shown that working out on an elliptical trainer can trick the body into believing it is working easier than it actually is. Therefore, as you're burning more calories in less time on an elliptical trainer, your body feels as though it doesn't have to work as hard to achieve its goals. This phenomenon is known as the "Rate of Perceived Exertion."
Additional benefits of an elliptical trainer include its ability to build bone density and to inhibit the onset of osteoporosis. It is safe to use (i.e. it stops when you stop). It uses very little electricity and is economical to operate. Because of its lesser impact, there is less wear and tear of the machine, making maintenance quite low. It has a small footprint, so it takes up less floor space than other fitness equipment. And, as with the treadmill, it allows you to exercise in a controlled environment for more comfort and convenience.
Similarities Between Treadmills and Ellipticals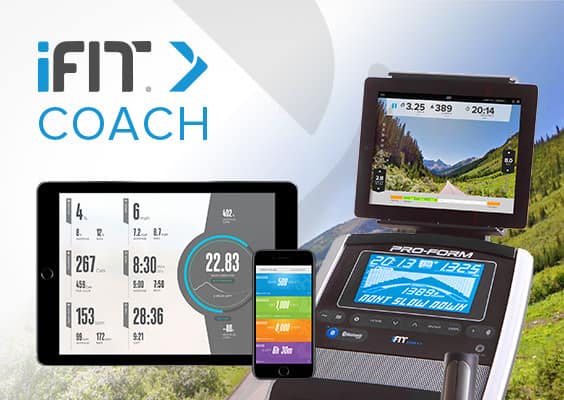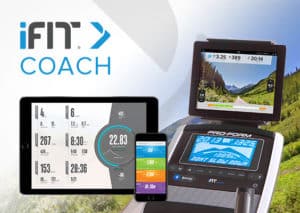 Both types of machines are available from our top rated brands.  In fact, we have a sister site at Fitness-Equipment-Source.com that will give you all of the latest elliptical trainer reviews and ratings.
You will find that many of the interactive technology features (like iFit, ViaFit, and Sole or Bowflex fitness tracking apps) are available on BOTH types of machines.  This means, no matter which option you choose, you can be motivated and inspired while you workout.
No matter what type of exercise or fitness equipment you may prefer, remember to always consult with your health professional before beginning any exercise program!
Check out our Treadmill Buyers Guide and Treadmill Best Buys list.
Also, visit our sister site:  Fitness-Equipment-Source.com to see our Elliptical Buyers Guide and Elliptical Best Buys.