ProForm SMART Power 1295 i Treadmill Review
| | |
| --- | --- |
| Brand: | ProForm |
| Expert Rating: | |
The ProForm SMART Power 1295 i Treadmill is ON SALE!
7" Smart HD Touchscreen to Enhance a Popular Model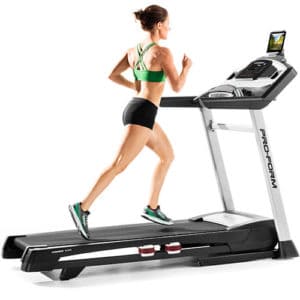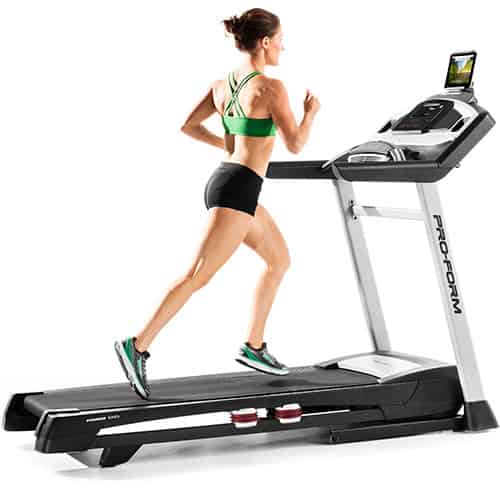 Meet the big brother of ProForm's hot selling Power 995i.  The ProForm Power 1295i was created to kick things up one more notch.  The top feature on the SMART Power 1295i is the addition of a 7" Smart HD touchscreen that allows you to enjoy the features of iFit Live directly on your treadmill console while also accessing the Internet (Note: iFit is an optional add-on.)
ProForm is part of the monster fitness company called Icon Fitness.  They are the same creators of NordicTrack machines along with several other brands.  Since Icon Fitness is the number one producer of fitness equipment in the world, they are often able to offer higher spec machines at a lower price.
What's Different about the SMART Power 1295i?
This latest "SMART" model of the Power 1295 comes with an upgraded motor and is optimized for a better iFit Coach experience.  This means the touchscreen is faster and more responsive.  Plus, it has HD quality graphics and works with the iFit Coach's latest Live workouts.  The SMART Power 1295 comes with 1-year of iFit Coach membership included in the price.
There are several things that elevate the ProForm SMART Power 1295i over the popular ProForm Power 995i.  When on sale, the SMART Power 1295i will cost only $300 more than the 995i and include the following features: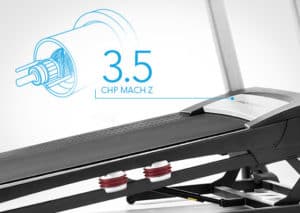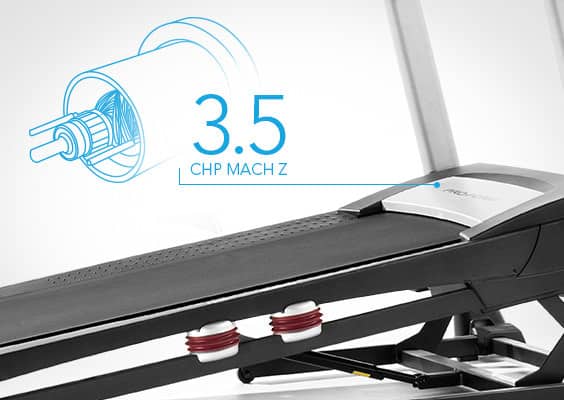 Stronger Motor:  The ProForm SMART Power 1295i comes with a more powerful 3.5 CHP Mach Z Commercial Plus motor vs. the 3.0 CHP of the 995i.  This motor will work well for any type of exercise.
7" Smart HD Touchscreen with iFit Live: A touchscreen makes a world of difference in the quality of your workout if you're planning to use iFit Live.  Using this feature, you will be able to view virtual exercise courses directly on your treadmill console.   You can swipe through your workout stats and create customized running routes using the GoogleMaps sync feature.  Your machine will adjust incline as you run to mimic the real running incline.  Track your workouts, set goals, and compete in challenges using your online account.  For comparison, the Power 995i does not have a Smart HD Touchscreen, so an external smart device (like a tablet or phone) are required to access your running stats.
Additional Workout Apps:  The SMART Power 1295i has 34 Workout Apps to keep your exercise sessions interesting.  This is four more than the Power 995i.
Enhanced Warranty:  This machine comes with a Lifetime Frame and Motor warranty, along with a 5-year warranty on parts and 2-year warranty on labor.  This is a very strong warranty.
Other Features on the ProForm SMART Power 1295i: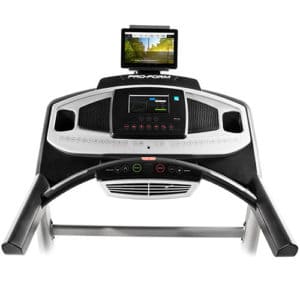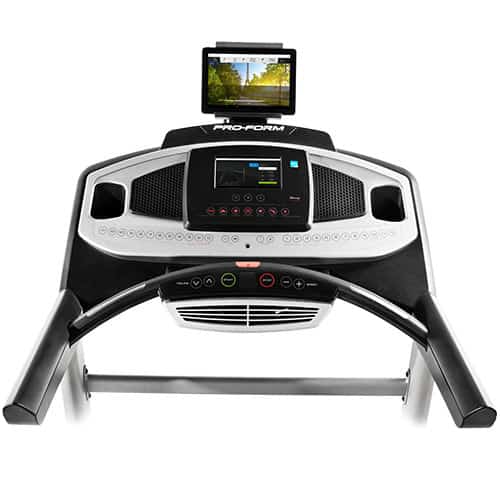 20×60" Deck Size: This size deck will work well for most users.  Anyone who is over 6-foot should definitely be looking at the 60" deck lengths.  Some other machines from ProForm (like the ProForm Pro 2000) have a 22" width if you're looking for a bit more space.
0-12MPH and 15% Digital Incline Quick Controls:  This machine can quickly change incline angle and speed to provide a sweaty butt-busting workout.  If you're looking for a decline feature, once again, you'll have to check out the Pro line including the Pro 2000 or SMART Pro 5000.
Folding Design:  The SMART Power 1295i uses ProForm's SpaceSaver design with EasyLift Assist to fold up when not in use.  This feature is handy for both saving space and for easier cleaning.  The lifting assistance massively helps with the lift effort.
EKG Heart Rate Monitor:  Track the intensity of your workout by keeping tabs on your heartrate.
Fan:  Yes, this machine has a fan.  Did you know this is actually the #1 feature our readers ask about?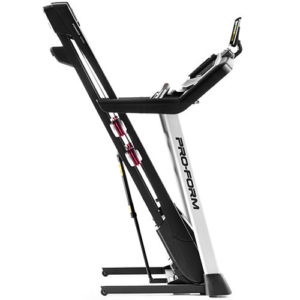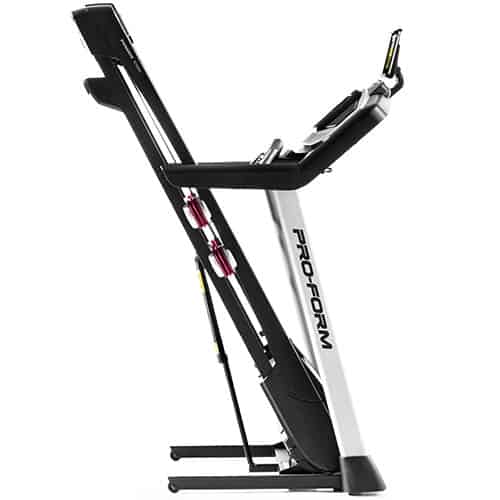 350 lb Weight Capacity:  Companies tend to overestimate what their machines can handle.  We'd put the weight limit at around 310 lbs.  If you are heavier than this, you may need to look at a higher-priced option.
Integrated Tablet Holder / iPod Compatible: Use your smart devices easily with the SMART Power 1295i.
ProShox Cushioning:  This is standard cushioning on most of ProForm's machines.  It's nothing mind-blowing, but comfortable for running.
Our Review — ProForm SMART Power 1295i
Ok, you gotta admit, the 7" HD Touchscreen on this machine is pretty sweet.  It's a great enhancement on the popular Power 995i model.  ProForm did a good job of creating a new machine that is one step up in quality and specs.  When priced at $1,299, this is a great value.
Another machine that is very similar to the ProForm Power 1295i is the ProForm Pro 2000.  For the same price, this machine gives you a wider 22″ running surface and a -3% decline feature.  The decline is great for targeting more lower body muscles during your workout.  However, you will also be downgrading to a 7″ Backlit LCD screen on the Pro 2000.  If you want the wider running surface, decline feature, AND the Smart HD Touchscreen, then  you'll have to check out the ProForm SMART Pro 5000 usually priced around $1,499.
Check out a comparison chart of all ProForm treadmills here.
Go to www.proform.com/treadmills to learn more.