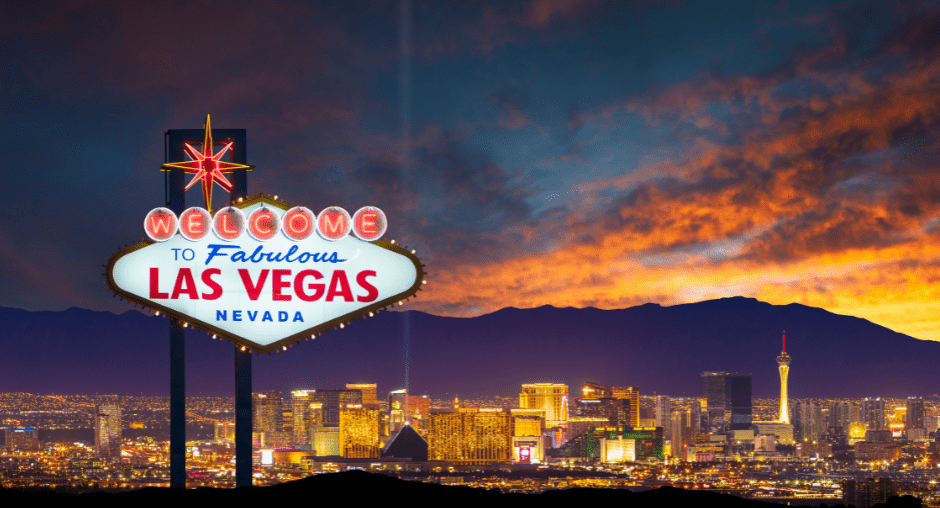 (Last Updated On: December 12, 2022)
Although you live in Las Vegas, you can feel like a tourist and stay active by exploring the great outdoor landscapes and trails, or walking around the city. But, the desert heat of Las Vegas can make it pretty difficult to workout outside… especially when it reaches the triple digits.
We have created this guide so that you can exercise without ever needing to leave your home.
To kick things off, we have selected the best treadmills for sale in Las Vegas online, for you to have an intense, fantastic and fulfilling workout indoors. These treadmills will ensure that you can receive your treadmill right to your home and assemble without even breaking a sweat. (Let's leave that to the workout). Plus, if you'd like to shop for your treadmill in person, we include a few of the best fitness stores to shop at in Las Vegas.
At the end of this guide you can find some tips and products to have an incredible workout outdoors or indoors, while still being fresh and cool.
Read on to find the best treadmill for sale in Las Vegas to be your perfect indoor escape:
#1) Horizon Fitness 7.0AT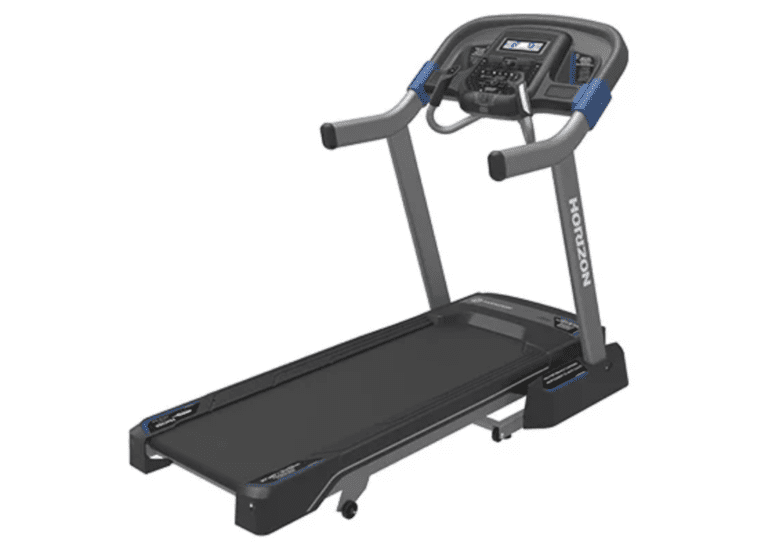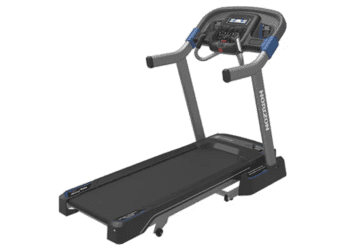 Unlike other treadmills or gym memberships, the Horizon 7.0 AT offers the flexibility and versatility you deserve. For an immersive exercise experience at home, Horizon Fitness' AT Studio Series folding treadmills use Bluetooth connectivity to connect to most live or on-demand fitness apps.
Stop seeking expensive touchscreen or memberships. Instead, use your own device to stream whatever fitness classes or media you choose, from workouts to movies and podcasts.
With a weight limit of more than 300 lbs., this foldable treadmill is suitable for all types of users, whether you want to walk, run, or even do interval training.
Also, its roomy 20″ x 60″ deck provides all the space and comfort you need to run at your pace, with shock-absorbing 3-Zone Variable Response Cushioning to give you the ideal amount of flex and support on each step.

The 7.0 AT treadmill features an incredible warranty of a lifetime on both the frame and motor. The long-lasting motor that allows 33% faster speed and incline changes, perfect for interval training.
Bonus Features: It includes a tablet holder, built-in speakers and a rapid charging port making it easier than ever to enjoy the apps that keep you motivated. Clearly listen to them through the advanced Bluetooth that can connect to multiple devices.
Its one-step hydraulic folding allows you to effortlessly store your treadmill between workouts so if you choose to workout more than once a day its no biggie.
Best of all… this treadmill is priced at just $999. It's really a steal of a deal, and a great bang for your buck.
Read our full review here of this treadmill, or click here to shop directly on their website.
Highlighted review from a buyer:

Sturdy, Great technology, and Perfect size!
I've had this treadmill for a little over a month. It runs great. Is perfectly sized. It's not too big and bulky and doesn't take up much room. The base is very sturdy and doesn't feel wobbly when you run. My husband and I put it together. The directions were pretty straightforward. The only negative is sometimes the belt shifts to one side but I'm pigeon-toed so if I lean on the opposite side it goes right back. It's not scraping or anything though. The blue tooth is great. As soon as I turn it on it syncs to my phone which is nice. The base is also long enough for a sizable stride. I'm a 6'0 female and I have plenty of room. The features and programs are great. You can have multiple users w/ your personal information. The customizable program is awesome. You can make your own run with various times, incline, and speed. – Alexandra
#2) ProForm Pro 2000 Treadmill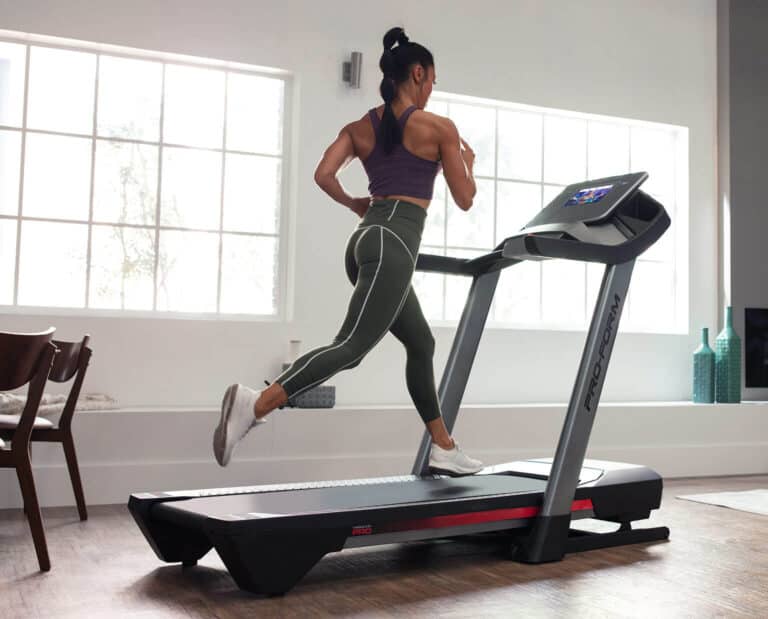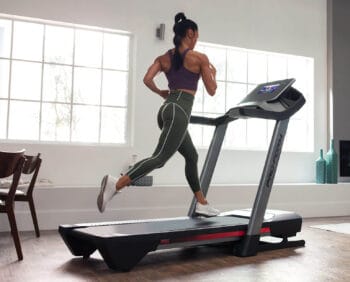 Imagine a 10″ Smart HD touchscreen that opens a wide world of different sets and sceneries to train from? This is what the Pro 2000 Treadmill from ProForm has for you because it has included a trial membership to iFIT Personal Training for a whole month. You'll be able to bring interactive personal training into your living room with this machine. Experience immersive training sessions led by world-class iFIT Trainers.

Transform your living room into a boutique Studio Class where you'll be coached and motivated by a certified personal trainer, with your speed and incline automatically adjusted for maximum results. The iFIT Trainer adapts your machine to simulate real-world terrain as you engage in a wide range of Global Workouts from around the world.

Now, although the interactive iFit technology is a great feature – even if you choose not to continue your membership, the other features of this machine makes it one of our favorites in the list.

It has a large 10″ touchscreen so that you can track all your major stats on an easy-to-read display for an informed workout in the comfort of home. There is an integrated device shelf where you can secure your own tablet, smartphone to follow along with the iFIT workouts or the training you choose.
All this paired with a large 3.25HP Mach Z Motor that's self-cooling and able to sustain you through your exercise routine, no matter how much you train.

This 20″ x 60″ large and roomy belt is ample space for even those over 6 foot tall. This treadmill can go up to 12 MPH, and offers a steepness range from -3% decline up to 12% incline. And if you use the iFIT feature, your trainer will auto-adjust everything for you for a totally hands-free experience.
And, once you are done with your workout, simply fold your treadmill deck up and out of the way for compact, convenient storage with its Folding SpaceSaver Design.
Best of all, the Pro 2000 includes 10-Year frame warranty, 2-Year parts, and 1-Year labor.
Read our full review here of this treadmill, or click here to shop directly on their website.
Highlighted review from a buyer:
Great product!
We previously had a ProForm for over ten years. Still worked when we replaced it for this model. This machine is smooth and has features such as 10% incline and speed found on units costing twice as much. Compact design is great for home gyms confined to a spare bedroom. iFit compatible. – Christopher
#3) Sole F80 Treadmill
This folding treadmill is ideal for running, jogging, or walking. Year after year, the Sole F80 treadmill has been awarded a Best Buy by multiple consumer magazines. Our team has visited the Sole headquarters many times, and the Sole F80 continues to remain a top competitor. The F80 outshines the rest in terms of quality and durability. It's a machine that's really built to last.
The strong 3.5 HP motor is a beast, especially for the price point. You'll be able to run 'til your heart is content, and enjoy speeds up to 12MPH. The F80 features the largest treadbelt out of any of the list, an extra wide 22″ x 60″. If you're taller or just enjoy having extra room on your treadmill, the F80 will be a great pick for you.
In addition, there is a 9″ backlist LCD display. While it's certainly not a technologically forward touchscreen, it's a very well designed display screen. You can keep track of stats like your incline, speed, distance traveled, caloric burn, pulse, and more. You don't have to scroll to view your information during your workout – it's all showed simultaneously.
The Cushion Flex Running Deck on the F80 is one of the best in the industry. It's not only extremely quiet, but it does a great job providing ample shock absorption to keep your joints safe while you're exercising.
Read our full review here of this treadmill, or click here to shop directly on their website.
Highlighted review from a buyer:
My previous treadmill died from a lightning strike surge, so I went out looking for that 'bang for the buck' runner treadmill. The Sole Fitness F80 seemed about right for price, quality, and reviews from heavy usage runners.
This review is 3.5 years after purchase and my F80 is still going strong. Both my wife and I use it regularly and it does what it is supposed to do – steadily function as a good treadmill. -Grand
#4) Schwinn 810 Treadmill
Designed to keep you active, the Schwinn 810 Treadmill is your affordable indoor cardio solution.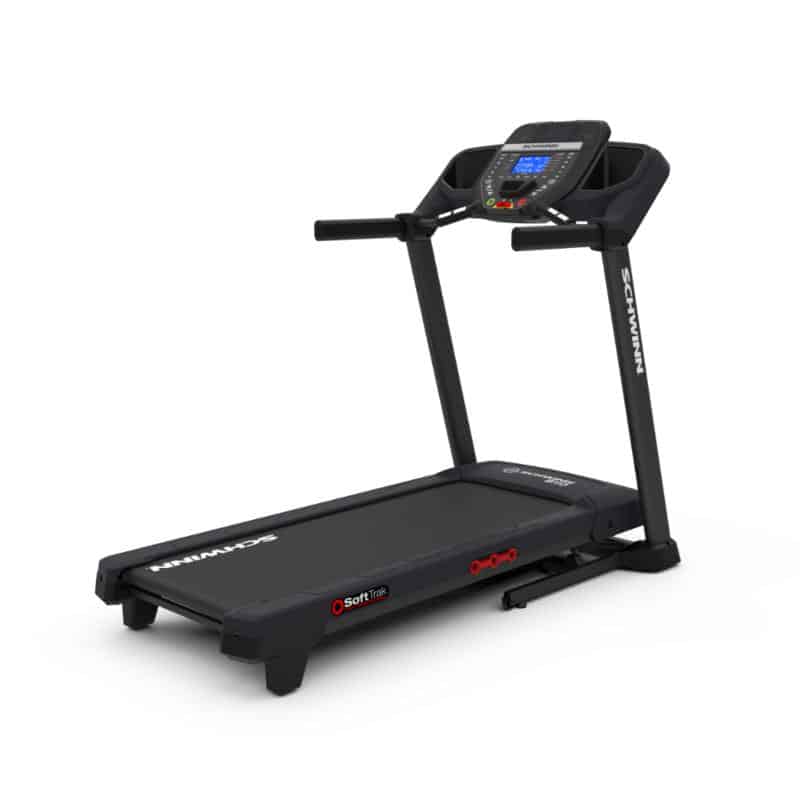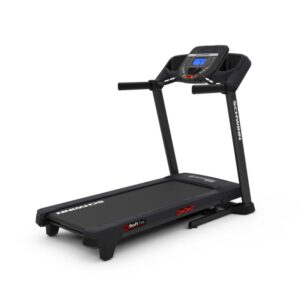 Featuring a backlit LCD screen to easily slide through 16 intuitive workout programs, plus a powerful sturdy 20" x 55" extra cushioned running path, and a super-easy Soft Drop™ folding design for comfortable and quick storage; the 810 treadmill offers quality, functionality, and a one-way ticket to a fit lifestyle.
A big highlight is the ability to synchronize it to the Explore The World™ app, allowing you to run around the world from the comfort of home. You'll be able to travel along California's golden beaches or explore Tibet in all its rustic beauty, while keeping track of your workout from your phone or tablet.
No matter your fitness level or your fitness goals, the Schwinn 810 Treadmill is ready to meet you wherever you're at. This machine offers speeds up to 10 MPH and has also a 10% motorized incline.

Also, it's integrated heart rate contacts grips and Integrated in-console speakers, media shelf, water bottle holders and USB charging port goes that extra mile for bringing authentic comfort to your workout.
Bonus Feature: It allows 2 user profiles so that you can have a separate configuration than your partner, roommate, or kid. You can still run in the same machine without having to set things up each time.
Click to shop on Schwinn's website.
Highlighted review from a buyer:
Honestly Really really Happy, better than the gym.
Seems well built, solid, very wide track, plenty of room, Very quiet! no noise at all as you run, no thumping, the shocks work so well. nice storage shelves. I have my laptop on top shelve, iPhone in center shelve, work phone on side and tv remote and water on other side.
The hydraulic release takes its time coming down and u cant force it. very nice mechanism. very nice bounce back running deck, I really love the feel.
Faster than I will ever run, and the hydraulic incline goes higher then I will ever use. So even if I was a pro runner etc this would work very nicely – Allen
#5) Marnur Electric Exercise Treadmill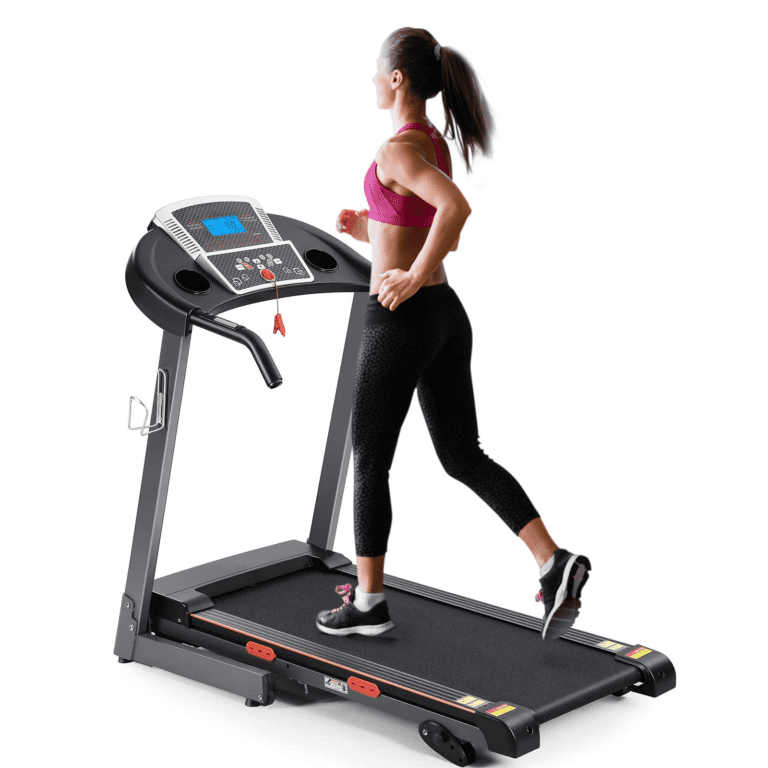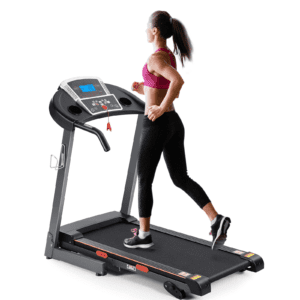 If you're on a tight budget, you'll appreciate the price point on Marnur treadmill.
Marnur aims to provide safety and a comfortable space where you can walk, jog or run no matter your height. That's why for this model they have increased the height of the armrests on both sides of the treadmill by 3 inches.

A safety insert is also built into the Marnur electric treadmill machine to prevent it from sliding while you're exercising; so, when you're running on the treadmill machine, you don't have to worry about safety issues.

More add-ons on this treadmill include its wide double-deck platform running belt, comfortable safety belts on both sides, along with a non-slip diamond-patterned running belt; plus the double-layered treadmill design greatly cushions the impact of running and effectively protects your joints.
It comes with 15 preset training modes for you to choose according to the amount of exercise needed, and the intensity is fully customizable by adjusting the treadmill speed.

Premium stainless steel makes this treadmill machine body durable, while providing up to 3% of challenging incline.
This treadmill has a 2.5HP powerful motor and a noise reduction system, allowing it to reach 8.5mph; and maintain a working noise below 60 DB so that it makes minimal to no noise so you enjoy your run with peace and never worry about disturbing your family.

This one also comes with a hydraulic lever that allows you to fold it really easily so that you don't just save space but also time. Plus, its transport wheels allow you to carry your fitness routine to the place of the house of your choice.
Bonus Features: This treadmill also includes a cup and mobile phone holder to provide entertainment while keeping yourself hydrated.
The LCD monitor displays data about speed, distance, calories burned, heart rate and more. Just by touching the handrails you'll be able to accurately sense and monitor your heart in real-time.
Click here to shop for this treadmill online.
Highlighted review from a buyer:
Best home treadmill ever – buy it NOW!
Actual user not paid reviewer. Had this treadmill for about a month now and I can't imagine a better home treadmill than this. Fantastic quality controls interface usability – absolutely nothing negative I can find on the treadmill! My wife and I use this almost every day and we both recommend it 100%. We purchased this during one of the Christmas daily sales and were able to buy it at a discount and with the free installation. I highly recommend using the professional installer because it took three to four hours which means it would take somebody like me or you likely twice that long. Before we bought this model we did a lot of research which I assume you are doing too but if you have not done your homework yet you are going to find that this exact model is at the top of nearly every single reviewers list. And now we know why!
#6) OUSGAR Electric Compact Treadmill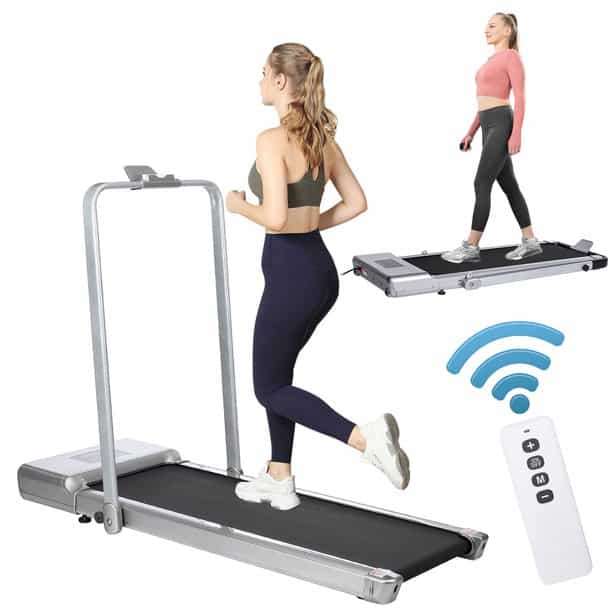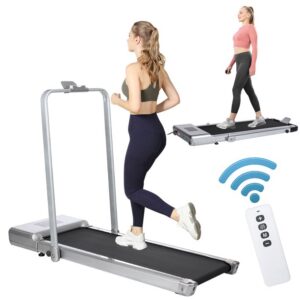 If you're extremely cramped on space and just need something indoors to get your steps in, look no further than this treadmill. This ultra 2-in-1 design compact and functional treadmill comes with two sport modes available, and only needs 2% assembly.
When the handlebar is folded up, it can be used as an under-table treadmill at a speed of 1MPH – 3MPH. When the handlebar is raised, it becomes a jogging treadmill at a speed of 3MPH – 6MPH. You can watch a movie or chat online with your friends while safely running.
With transport wheels we can easily move and store it under a sofa, bed or desk, this machine will greatly save you on space.
It features an LED display for viewing exercise data, such as calories, time, and speed, while exercising, so you can visualize your workout and stay motivated. Through the remote control, you can also control the treadmill and monitor during exercise.
Bonus: This 220 lbs. weight capacity treadmill comes with lubricating oil, so that your tread belt runs smoothly and always has its maintenance on point.
Click here to shop for this treadmill online.
Highlighted review from a buyer:
Perfect compact treadmill. Came in the mail today and tested it out! I was afraid the handle bar would be short, but it's the perfect height. The phone holder was easy to install. The treadmill itself is way quieter than I anticipated from other reviews. This will definitely get the job done! – Kayla
#7) Merax 8030C Treadmill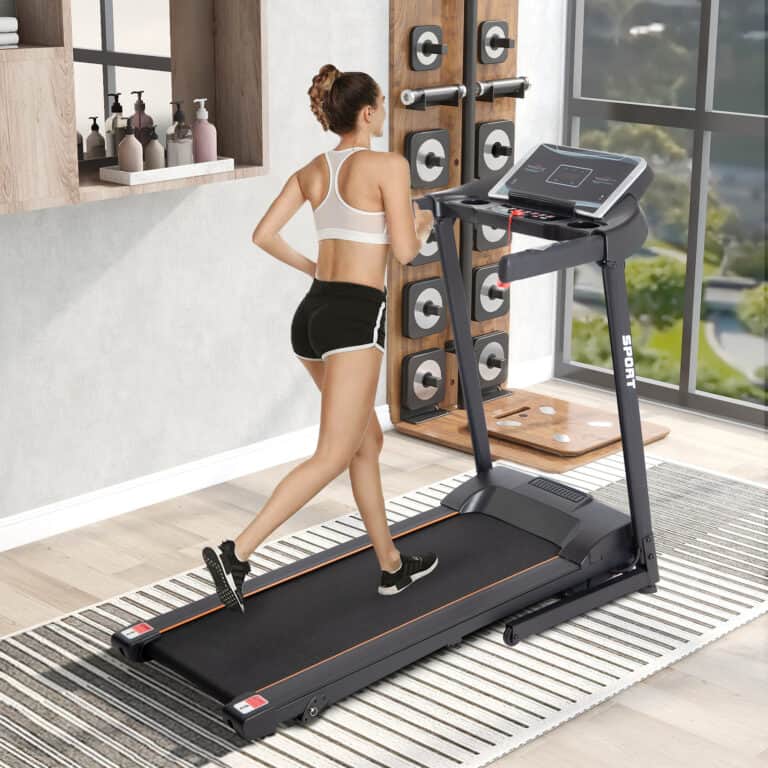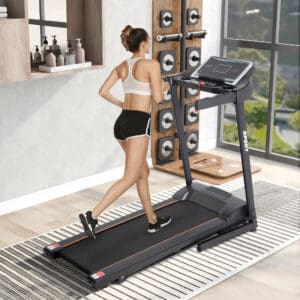 Compact and foldable, this treadmill is built to last. It comes with all the required tools and instructions and 99% assembled, simply unfold it, tighten the screws, and get going on your exercise journey.
Featuring an intuitive interface with a speed function, you can target specific muscles with ease or choose an interval training program from the preset list. Monitor the running time, distance traveled, calories burned with a LCD display so you can see your progress and set goals during your workout.
The Merax 8030C Folding Electric Treadmill Motorized Running Machine features a 16″ wide grass patterned belt providing optimum tread, while offering enough space to walk, jog and run comfortably. No matter the speed you reach, the grass pattern anti-slip belt design provides optimum friction for enhanced grip and traction while you are running.
A built-in device shelf that keeps your tablet or phone secure and conveniently close so that you stay motivated during your workout while you run through the built-in dual speakers or through your headphones with the included headphone audio port.

It reaches a 10 MPH digital quick speed, and 3 manual incline levels to customize your workout preferences and intensity. Plus it has 3 workout modes and 12 automatic workout programs.
Not to mention its powerful vacuum motor that reduces noise while running indoors; and Its safety emergency stop key keeps you in control at all times, stopping the treadmill when pulled for your safety.
Both handles have speed, start/stop adjustment buttons that are really easy to reach.
Bonus – Space Saving: The tread belt comes with fitted base rolling wheels on the treadmill underside to provide easy and simple transport that protect your floors and make carrying it around a breeze.
Click here to shop for this treadmill online.
Highlighted review from a buyer:

Awesome treadmill, well worth the money!I finally bought this treadmill after a lot of research. It seems to be a very well-made product. It was mostly preassembled, I put it together all by myself and it only took me less than half an hour, very easy. I love that it's not bulky because I have limited space for the treadmill. The base is sturdy, the belt is wide and long enough for me. More importantly, it's quiet! There are 12 pre-set programs that are easy to use. I have been using different speeds which work fine for me.
This treadmill is awesome! So far I have been using it everyday and it has performed very good. Well worth the money! – Michael
#8) Exerpeutic TF1000 Walk to Fitness Electric Treadmill
Walking on the Exerpeutic TF1000 is one of the easiest and most effective ways to achieve a regimen of regular exercise.
Unlike outdoor walking, treadmill fitness walking has the benefits of shock absorption and the convenience of exercising in your o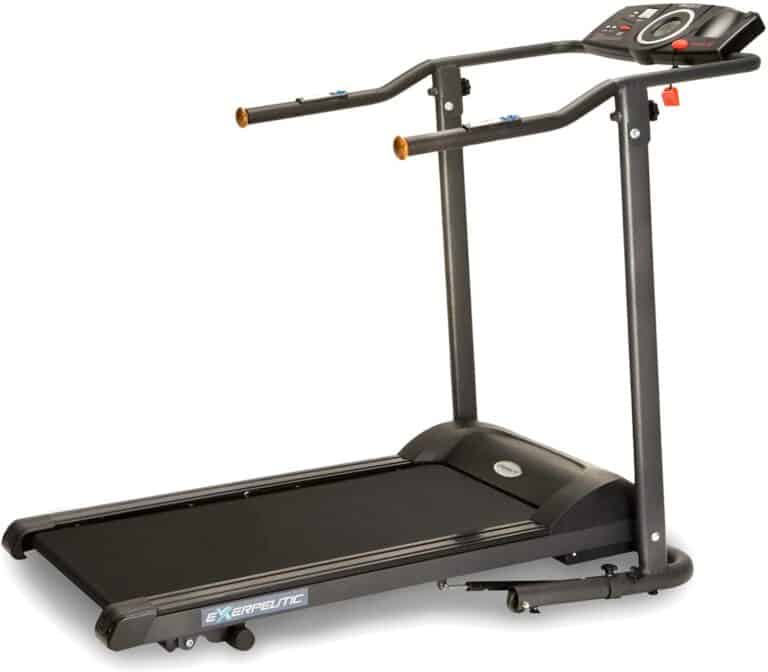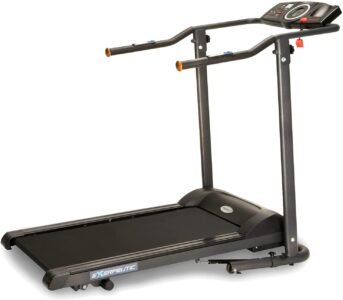 wn home, in front of a TV or just listening to your favorite music.
The Walk to Fitness machine can help you lose body fat, tone muscles and is a great way to stay in shape.
As for assembly, it's so simple. The Exerpeutic TF1000 just needs you to attach the computer and you are ready to go.
This treadmill has been tested up to 400 lbs. user weight (and for more than two years without failing), allowing you to walk your way to fitness at any age and body size.
It comes with a 1.5 Horse Power High Torque Motor with "Quiet Drive" technology so that when walking, so you don't miss a word of your favorite TV show or podcast.
The treadmill belt has been widened to a fitness club size of 20" for safety along with extra large 18" safety handles (with incorporated speed and on/off buttons) that are 2x the standard length.
It also features a LCD display window for you to comfortably track time, distance walked, calories burned, speed and pulse monitoring.
It folds up easily for storage and can be wheeled around.
The TF1000 has a good warranty as well. 5-Year motor warranty, 1-Year frame, 90 days parts and labor.
Click here to shop on online for this treadmill.
Highlighted review from a buyer:
Just what I was looking for!
Since I'm just starting to work out I was looking for a heavier-duty machine I definitely found it in this product I absolutely love this machine it does exactly what it says it's going to do is supports the 400 lb Max limit I don't meet that limit but I could meet that limit and it would still work just fine I have other people in my family that use it as well couldn't ask for a better deal for a better price and a better quality – Mrs. Leon
Where to Buy a Treadmill in Las Vegas
We understand that not everyone is fond of shopping for their new piece of fitness equipment online. So, check out one of the best rated fitness stores in Las Vegas to visit.
Nevada Home Fitness
To shop from the widest variety of fitness equipment, you'll want to check out Nevada Home Fitness. Their store carries the largest selection of fitness equipment in-store. This equipment store is run by fitness equipment experts who will be able to give you advice on machine selection to ensure that you get the best treadmill for your needs. Their store has a 5 star rating on Google.
Nevada Home Fitness also offers financing. Their staff provides options for delivery, installation, and moving options. In the event that your treadmill breaks down, their store has on site equipment repair as well.
3993 Dean Martin Dr., Las Vegas, NV 89103
Hot And Sweet: Tips to Get the Most Out of Your Workouts in Las Vegas
The average daytime temperature for summers in Las Vegas is around 103 degrees Fahrenheit. It's a dry heat, and working out in these conditions can not only be challenging, but dangerous at times. But, you don't have to let the heat stop you from accomplishing your fitness goals.
Remember, staying hydrated is extremely important. But, how much water do you need?
We suggest you use some hydration calculator to figure out how much you should be drinking.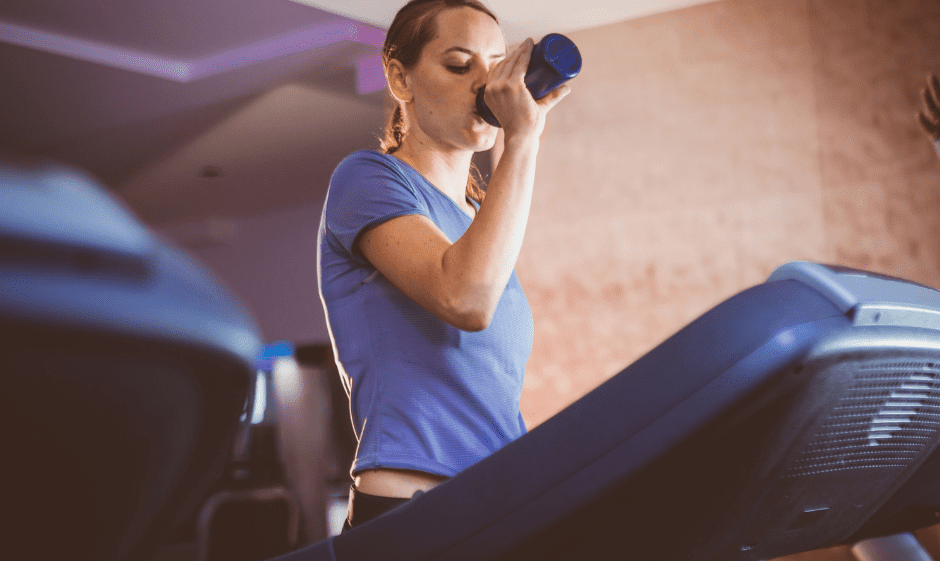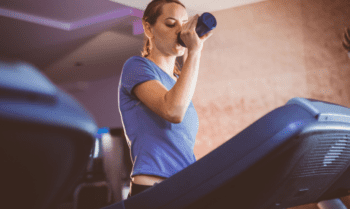 Additionally, it is recommended that you drink natural drinks to replenish important nutrients and electrolytes. This is especially important if you're sweating a lot in the heat, or even just got in a super sweaty treadmill workout. When you drink water without a nutritional supplement, your body finds it difficult to absorb it.
Check out these 5 products below that you can use to get the most out of your workout, whether you're exercising outdoors in the Las Vegas weather – or if you're in the comfort of your own home getting your sweat on on your new treadmill.
1. Chill Pal Mesh Cooling Towels: They help you keep cool by using a thinner, more comfortable, and incredibly breathable design. Soak them, wring them out, and enjoy them.

2. Teardrop Spray Bottle: This 12oz bottle is great to fill with fresh water to spray you down throughout the workout.

3. Personal Water Mister: A wide-mouthed 1.5-liter bottle allows the addition of crushed or fully cubed ice for a cold blast.

4. O2Cool Deluxe Misting Fan: You'll get up to 1,000 mists in one bottle, safe flexible fan blades and the water opening is large enough to pour some ice inside and have some serious fresh air coming your way.
5. Reusable Gel Bead Pack: It can be frozen for fast-acting cold therapy. Plus its flexible gel beads in this cold pack allow it to remain flexible even when frozen so that it can adapt easily to any part of the body.
There you have it!
With all of these fantastic treadmills reviewed, highly-rated fitness stores, and stay-cool tips, we know you will be able to crush your fitness goals all while staying safe, cool, and motivated.
This article was written by Victoria Franco and published on Friday, 29 April 2022.