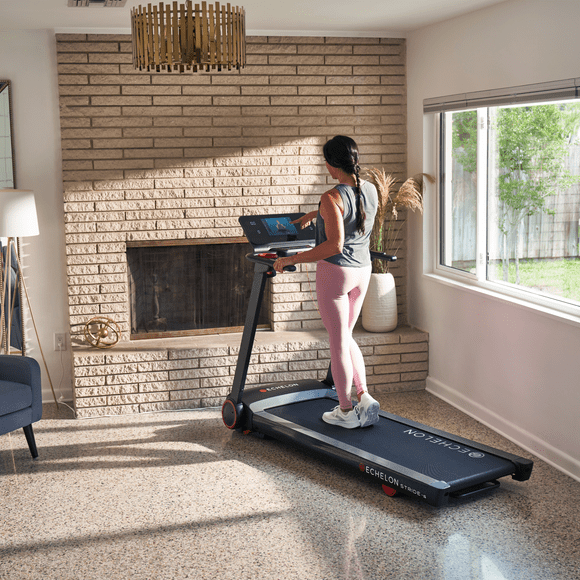 (Last Updated On: January 10, 2023)
Less than 25% of Americans engage in the minimum physical activity recommended by the American Heart Association guidelines. Walking is one of the easiest ways to get started and stay active.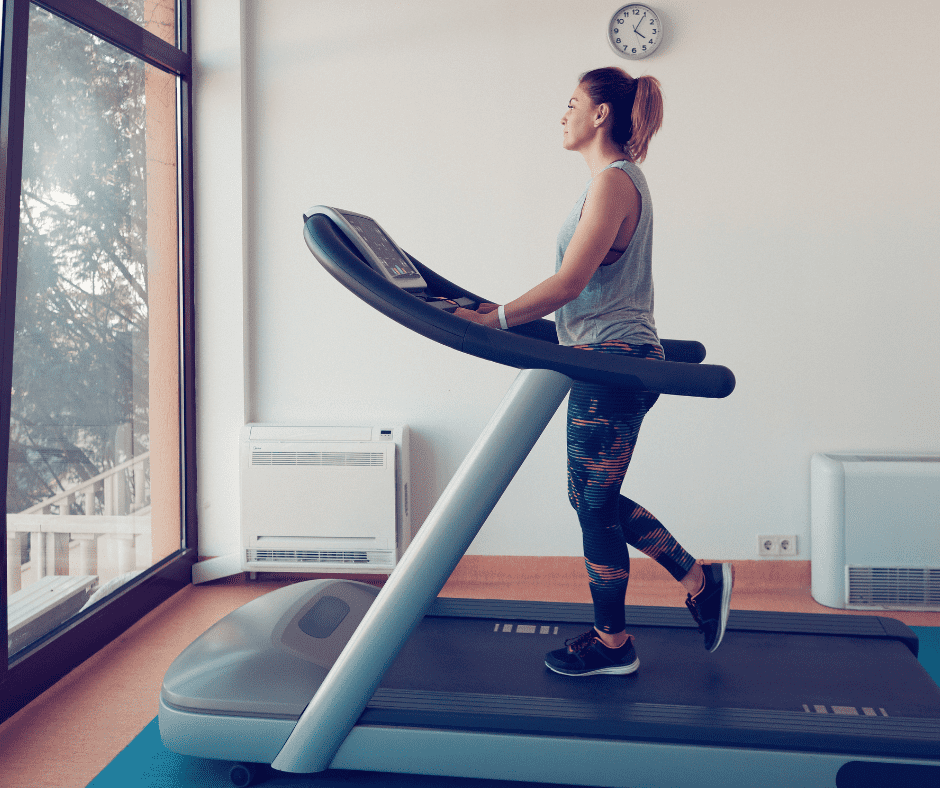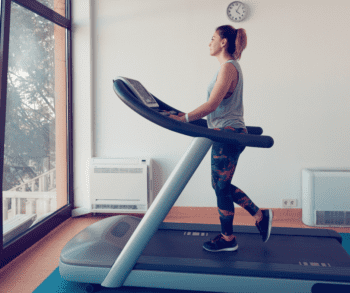 Treadmills are a great way to exercise if you aren't able to head to the gym. However, treadmills can be bulky and take up a lot of space. 
Flat treadmills, also referred to as compact, folding, or thin treadmills, will allow you to get your steps in right in the comfort of your own home. These models are perfect for space-conscious home use, and can even be more budget-friendly.
Often, one of the trade-offs when you buy a flat treadmill will be a smaller running surface. While a small running area is okay, especially if you're needing a compact machine, it's important to look for a machine that won't compromise on stability. 
That's why it's important to choose your new flat treadmill carefully. If you need a durable and compact treadmill, designed to be used comfortably at home to achieve your fitness goals, here are the 5 best models that have been rated by our fitness experts based on dimensions, quality and durability, engine power, top speed, incline and, of course, price criteria.
Best Flat and Compact Treadmills
Best Overall Flat Treadmill: Echelon Stride
The top option on the market is the Stride treadmill from Echelon. Not only is this treadmill compact, it's extremely user-friendly. The Stride treadmill is 69″ L x 31″ W x 49″ H, and it features their exclusive auto-fold feature. With just the touch of a button, the machine will fold down to just 10″ tall. This means that when you're not using it, you can store it pretty much anywhere.
Of course, being able to fold down flat is not an impressive feature if the specs of the treadmill don't match up. We are very impressed with the all-around features on the machine, that's why it earned our number one pick.
The Echelon Stride treadmill offers:
20″ x 55″ Running Deck – This is a standard size and will work well for most people who are 6 foot or under.
Integrated sensors on the handlebars for heart rate monitoring
Cushioning built-in to the treadmill deck to absorb joint impact
Up to 12 MPH speed and 12 levels of incline
Vertical + horizontal transport wheels to make moving it out of the way a breeze
Console screen with built-in tablet holder
Best Foldable Treadmill for Runners: Xterra TRX3500 Foldable Treadmill
The Xterra TRX3500 is equipped with a strong 3 HP motor, making it a great choice for runners. While it's not nearly as compact as some of the other machines on this list, it's still smaller than a lot of residential treadmill choices.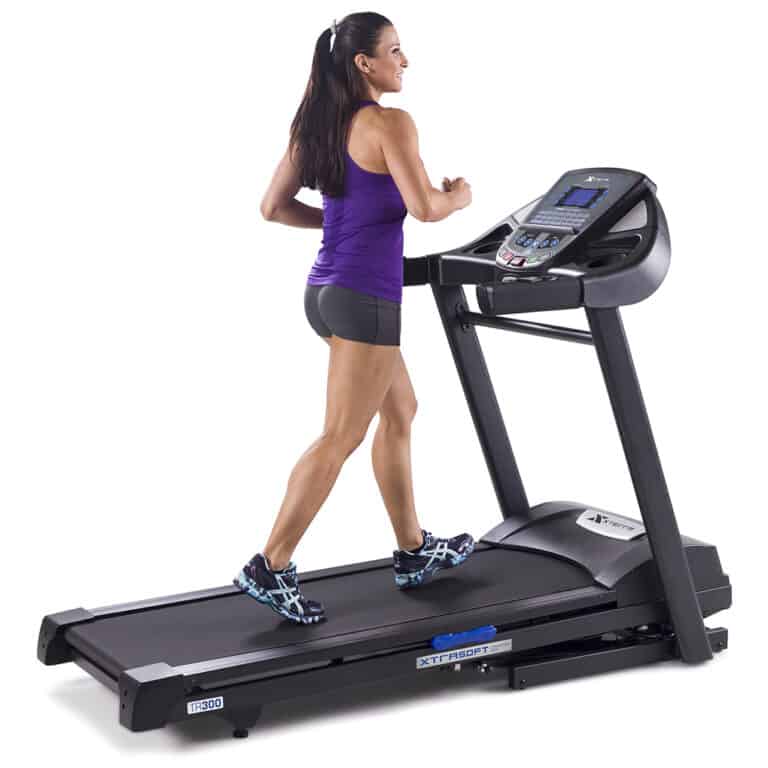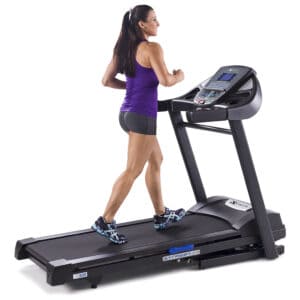 The dimensions are 77.2″ L x 35.5″ W x 56.1″ H. When it's folded, it will not lay down flat like the Echelon Stride. Rather, it's best stored upright in the corner of a room, or even in a closet.
The folded dimensions are 51.2″ L x 35.5″ W x 65.8″ H.
Other features to note on the Xterra XTRX3500 include:
12 MPH top speed and 12 levels of incline
Large 20″ x 60″ running area 
Pre-installed workout programs (30 preset, 2 custom, 1 heart rate control)
XTRASoft Deck Cushioning
Lifetime frame and motor warranty
Compare current pricing to get the best deal!
Shop now at DICK'S Sporting Goods
Best Budget Option: Horizon T101
Aside from being a small treadmill option that has the option to fold it out of the way, the Horizon T101 is the most affordable choice on the lineup.  Lightweight yet extremely powerful, the Horizon T101 dimensions are 70″ L x 34″ W x 55″ H when assembled. When the treadmill is folded, it boasts dimensions of 46″ L x 34″ W x 61″ H.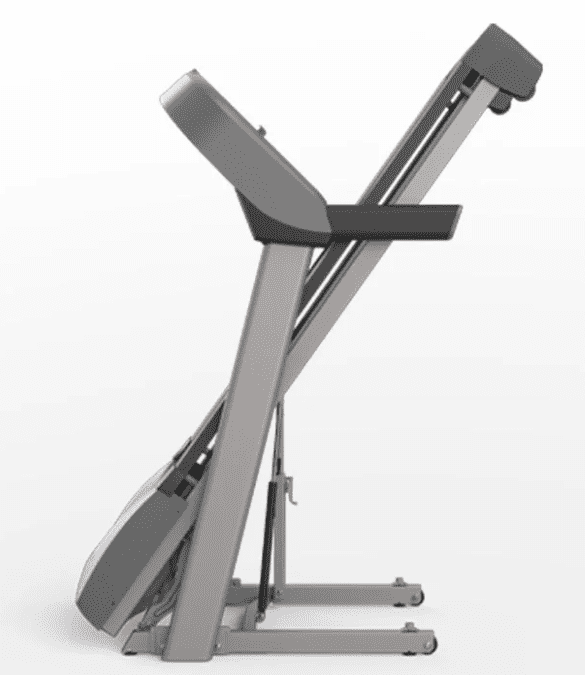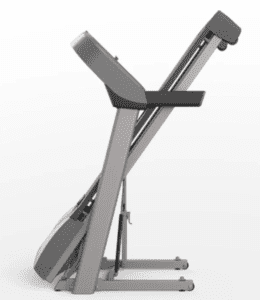 The console includes a Bluetooth speaker, a built-in fan, and a tablet shelf for personal devices. The T101 also has a Horizon 3-Zone Variable Response cushioning pad on the deck. This results in less impact on your joints, as well as a very quiet workout experience. It's small and quiet, which makes it the perfect treadmill for an apartment or a shared living area. 
Some other impressive features on the T101 treadmill: 
Supports users up to 300 lbs.
20″ x 55″ running deck
Up to 10 MPH speed, up to 10% incline
FeatherLight Folding technology to make folding easy
Three LED window console display
Contact grips for heart rate monitoring
Lifetime frame and motor warranty 
Compare current pricing to get the best deal!
Shop now at HorizonFitness.com
The Most Durable: Sole F63 treadmill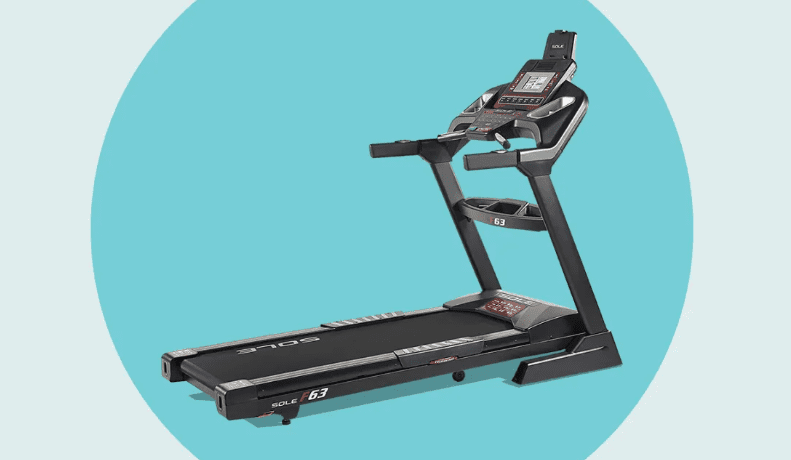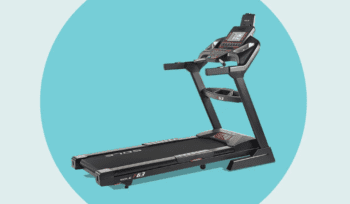 If we could use one word to describe treadmills that come from Sole Fitness, it would be durable.
Sole has a strong reputation for producing quality equipment that is reliable even after years of heavy use. This sturdy treadmill is extremely strong, compact, and smooth. It comes with a full lifetime warranty. When assembled, the F63 dimensions are 82″ L x 35″ W x 66″ H and when folded, the dimensions are 68 inches high, 33″ wide, and 43″ deep.
Other features on the Sole F63 are: 
Strong 3.0 HP motor 
Pulse grips and chest strap HR monitoring
Bluetooth compatible 
6.5″ LCD display with tablet holder
Up to 12 MPH speed and up to 15% incline
Easy-assist folding for easy storage
Compare current pricing to get the best deal!
Shop now at SoleTreadmills.com
Best with Fitness Technology: ProForm Pro 2000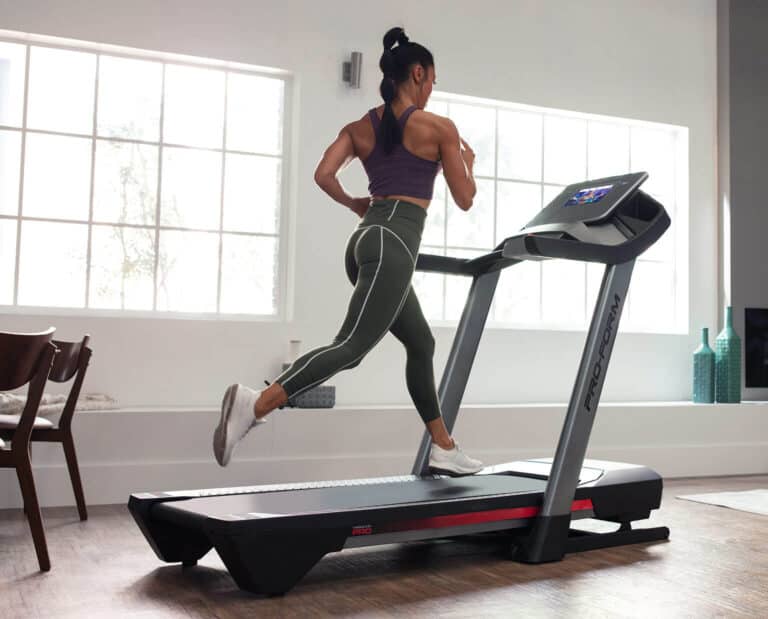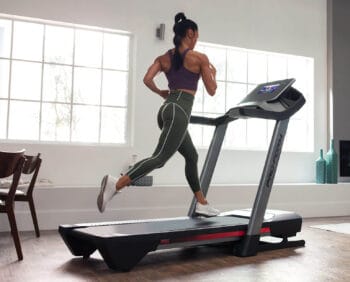 The ProForm Pro 2000 really shines in the area of interactive fitness technology. ProForm treadmills offer the exclusive iFit technology. iFit is designed to help keep you motivated and accountable on your fitness journey.
With features like access to certified personal trainers, interactive live and on-demand workouts, scenic workouts, community leaderboards, and more – the Pro 2000 is worth considering just because of iFit alone.
Check out the other top features on the Pro 2000 treadmill from ProForm:
Dimensions:

35.3" Wide x 77.3" Deep x 59.6" Tall

EasyLift Assist to store away with ease
Strong 3.25 CHP MachZ motor
10″ Smart HD touchscreen to access iFit and view workout stats
-3% decline up to 12% incline
ReBound Pro deck cushioning
Bluetooth enabled 
10-year frame warranty, 2-year parts, 1-year labor
Compare current pricing to get the best deal!
Conclusion
There are a lot of choices out there when you're treadmill shopping, but we did the hard work for you to find the best flat treadmills.
We hope that one of these treadmills will meet your needs and achieve your health and fitness goals. Happy shopping!