Tailored Towards the Discerning Customer
We had the opportunity to visit the Johnson Fitness headquarters in Wisconsin, which is the company that builds Vision Fitness.  It is an impressive operation with a staff devoted to quality control, innovation and customer service.  All important elements when considering a treadmill brand.
Vision Fitness treadmills are tailored towards the discerning customer who wants the very best in a running machine.  These are not your run of the (tread) mill machines that are purchased from large retailers, but instead these treadmills are part of an elite group that offers commercial grade quality for the home.
Johnson Fitness is the third largest manufacturer of fitness equipment in the world.  In fact, they are the same company that brings us popular brands: Horizon Fitness and Matrix Fitness treadmills.
Check out this video of our visit to the Vision Fitness facility:
Vision Fitness Treadmill Features
Choice of Console – This is a unique offering only found on Vision Fitness equipment.  You have a choice of consoles based on your fitness needs.  And the advantage is that you only pay for the features you desire.

Elegant+ Console – In contrast to the Classic Console, the Elegant+ gives you a full color 10" touch screen display with additional interactive features designed to motivate and entertain you as you workout.   It includes workout tracking through ViaFit, virtual workouts through Virtual Active and is Passport Ready. There are 15 installed programs, including 4 heart rate programs, Sprint 8 and 2 HD virtual video workouts.
Classic Console – This LED console is designed for the user who wants a basic console with minimal features.  Why pay more when your intentions are to get on the treadmill, start it up and run or walk, and you're not interested in fancy displays and additional programming. The console offers 5 popular installed workout programs and is Passport Ready – See Below.  The workouts include a target heart rate program and a Polar chest strap.
Touch+ Console – The Touch+ console offers all the features of the Elegant+. In addition the display is increased to 15.6", you have the ability to plug in an iPod or iPhone and play music or media through the installed speakers, and you have a workout tracking calendar as part of the programming.  The workout tracking will track your individual workouts.  It also includes workout tracking through ViaFit, virtual workouts through Virtual Active and is Passport Ready. There are 19 installed programs, including 4 heart rate programs, Sprint 8 and 2 HD virtual video workouts.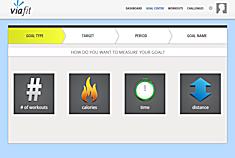 ViaFit – ViaFit is available with the Elegant+ and the Touch+ consoles on the Vision Fitness T40 treadmills.  If you are keeping up with the latest fitness trends, one of the most popular trends is tracking your health and fitness.  The ViaFit is an app that is available for both desktop and mobile devices.  As you workout on your T40 the data is pushed into the Internet cloud. By going to your personal ViaFit.com account you can track your progress towards your fitness goals.
Equally important, is that ViaFit becomes a clearing house for other popular fitness hardware like Fitbit, and apps like Fitness Pal and Nike+.  With one app you can pull together all your health and fitness stats and monitor your progress towards your goals. Furthermore, you can define fitness goals like calories burned, total exercise time, total distance and number of workouts and through ViaFit you can track your progress towards these goals.  Defining fitness goals and tracking your progress is one of the best ways to achieve your goals.  Finally, one of the best features of ViaFit is that it is free.  A competitor offers a similar tracking package that cost $125 per year.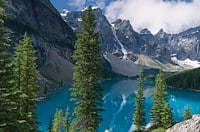 Virtual Active – One of the biggest drawbacks of a treadmill is the fact you run in place and indoors.  With Virtual Active your overcome the boredom of treadmill running.  Virtual active allows you to virtually exercise outdoors and is embedded in the Elegant+ and Touch+ console . There are two videos that allow you to experience virtually running outdoors in the foothills of the Rocky Mountains and the American Northeast and includes the sounds of the outdoors.  The treadmill will incline with the terrain and moves in conjunction with your speed.  You have the ability to purchase more videos of additional famous landscapes.
Passport Media Player – With the Passport Media Player you have the ability to experience running virtually and watch it on your TV.  This feature is basically Virtual Active displayed on a TV.  It is available with all three consoles and costs an additional $199 for the media box.
Sprint 8 – Sprint 8 is a scientifically proven workout that is exclusive to Vision Fitness and is available on the Elegant+ and Touch+ consoles.  You will find interval training on most treadmills, but in comparison the Sprint 8 program is like interval training on steroids. It is a 20 minute workout designed to lower your body fat by 20% over an eight weeks period.  It starts with a warm-up and then alternates between 1.5 minute recovery and 30 second sprint followed by cool down.
In the process you are activating muscles and releasing human growth hormones.  After the workout it continues to stimulate HGH growth in comparison to other moderate exercises.   Sprint 8 was invented by a certified personal trainer and is based on research and study and is particularly beneficial to user over 30 that are experiencing somatopause, "a medical term for the weight gain, loss of muscle, energy decline and wrinkled skin you experience when you hit middle age." Interval training is also popular with professional athletes in getting the most benefits in the least amount of time.
Vision Fitness Mechanics
Vision Fitness Drive System – What makes the Vision Drive System unique to the industry is that they manufacture their own key components like motors and electronic boards.  Consequently they are engineered specifically for the Vision Fitness treadmills, and this integration makes for an sounder running machine that is less likely to have service issues. The bulk of treadmill manufacturers utilize third party components like motors and electronic boards.
Johnson builds some of the best treadmill components in the industry. An example is the 3.0 HP continuous duty motor found on the Vision Fitness T40 treadmill.  It is designed for maximum efficiency, which effectively allows the motor to run at low RPM.  This results in a very durable motor that comes with a lifetime warranty.  Furthermore, Johnson motors utilize a digital drive which is designed to instantly respond to the push and pull of the belt, thus reducing lags and surges, The motion is more consistent, which then minimizes the stress to your joints.
It should be noted that in comparing sizes of motors you will find that many of the lower end residential treadmills are boasting higher HP motors.  First, there are no standards for treadmills motors, so they may not actually have a higher horsepower.  Second, it isn't the horsepower that is as important as is the efficiency of the motor.  Similar to a powerful turbo 4-cylinder engine found in premium cars.
Infinity Deck – Johnson Fitness engineered one of the best deck and shock absorption systems available on a treadmill.  They've tested it to 21,000 miles and it kept on running.  The deck features are extremely important in reducing the impact to your joints and lower back and limiting stress and strain.  With too little shock absorption you will get a jolt to your entire body as you impact the deck.  With too much shock absorption and you are likely to get reverse shock as the deck bounces back.  The Vision Fitness treadmills achieve a fine balance with their commercial grade cushioning system.
Most residential treadmill manufacturers use rubber grommets and will have two or three on each side of the deck for cushioning.  The problem with this type of cushioning is one size does not fit all.  It may work perfectly for medium weight individuals but will not provide enough shock absorption for light weight individuals or too much bounce for heavy weight individuals.  Or may work well for walkers but over compensate for runners.
Johnson uses a hollowed out elastometers that better absorbs shock based on the weight of the individual.  There are three on each side of the deck and are the same elastometers used in Johnson's $10,000 Matrix brand commercial treadmills.
The Infinity Deck shock absorption is designed like a running shoe in reverse, where you have more shock absorption towards the front of the deck where you foot lands and less towards the back where you want a solid push off.  A further example of Vision Fitness treadmill durability is that the cushioning system has a lifetime warranty.  I am not aware of another treadmill company that offers this coverage.   This is a premium shock absorption system typically found on commercial grade machines.
The last aspect of the Infinity Deck is the superior treadbelt.   The belt is designed with a patented waxing system that never requires lubrication. It is actually woven into the fibers.  In addition they use a thicker coating on the deck to further reduce friction and the life of the treadbelt.
268 – 276 lbs. Unit Weight – This is commercial grade heavy and the extra weight insures that the machine will be rock solid for even the heaviest users.  In fact, their treadmills are all warranted for users up to 400 lbs.
Extended Warranty  –  Warranties on fitness equipment often reflect the durability of the machines.  The Vision Fitness treadmills come with one of the most extensive warranties in the industry.  You get lifetime coverage on the motor, which is standard, but you also get a lifetime warranty on the cushioning system.  Typically you get 5-years.  The 2-year labor coverage is standard, but Vision Fitness extended the parts warranty to 7-years for the TF40 and the T40.  Overall this suggests their components and machines are going to be very low maintenance, and seldom require service or replacement.
Customer Service – Usually fitness equipment customers do not think about the importance of quality customer service until they need it.  However, one of the biggest complaints by fitness equipment buyers is poor customer service.   Johnson Fitness has some of the most responsive customer service in the industry.  When visiting their corporate offices we found the staff took pride in the quality of their customer service and the feedback we have received from customers reinforces their commitment.
Vision Fitness Treadmill Models
Vision Fitness TF20 ($2,199-$3,199) – The TF20 comes with a 57? treadbelt and a 2.75 HP motor. You have your choice of consoles.
Vision Fitness TF40 ($2,799-$3,799) – The TF40 comes with a 60? treadbelt and a 3.0 HP motor. You have your choice of consoles.
Vision Fitness T40 ($2,599-$3,599) – This is the non-folding version of the TF40.  If you do not need a folding treadmill you save $200.
Vision Fitness T80 ($3,999-$4,999) – This is a heavy duty machine designed to handle commercial demands. The T80 comes with 22" wide treadbelt and emphasizes durability during heavy use. You have your choice of consoles.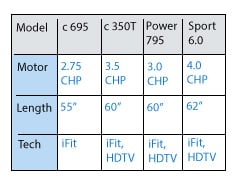 Vision Treadmill, Our Advice
There are a number of reasons why you would want a Vision Fitness treadmill for your home.  First,  you are getting a very forgiving workout with the Infinity Deck. It is designed to minimizes the impact to your joints and reduce the stress, and it has the benefit of being maintenance free.
Second, you are getting commercial grade durability.  Many of the components are also utilized on their commercial grade treadmills, and more importantly the components are built specifically by Johnson fitness and were singularly designed to integrate with their machines.  The quality of the components and the engineering are reflected in the warranty.
Finally, you are given a choice of the level of interactivity with the selection of the three consoles.  If you are a person that just wants to hop on a treadmill and run you can select the Classic console.  If you want the ability to track your results, combine data with other fitness platforms and experience virtual running in famous landscapes you have the Elegant+ and Touch+ consoles.  You pay for the level of interactivity you desire.
Vision Fitness treadmills belong to the upper echelon of fitness equipment.  They are built to commercial standards, but sold for residential use. If you want the best in quality, durability and interactive technology, then Vision Fitness treadmills should be a top consideration.
To learn more, check out VisionFitness.com.