(Last Updated On: November 10, 2020)
Cancelled Race Wasn't Going to Stop this Star Runner From Shining! 
When most of us hop on our treadmill, we aren't planning to set a world record. A personal best, or maybe just a butt-kicking session, yes. But an actual world record, probably not.
Except that is exactly what Zach Bitter did. Now to be clear, he didn't just set out to break a world record. He did it!
Who is Zach Bitter?
Zach Bitter is an ultra-marathoner that didn't want to let staying in make him feel down and out. His life is dedicated to his running and he was going to be his best no matter the location. This was merely the newest in his impressive list of running accolades.
Bitter is already held to be the fastest on track and trail at the length of 100 miles.  You heard that right, 100 MILES!
And now he can add the record for the fastest on tread belt to the list.
Why in the Heck?
As an ultra-runner, Zach's life revolves around honing his craft and being his best. So what does one do when their craft needs a bit of an alteration? You find a way to show your best in the face of something new.
When the race he had been training for was cancelled, Bitter realized that there was a new opportunity in front of him. As Zach says, "Instead of losing out on all of my training, I decided to redirect my efforts to setting new world records."
How Did He Do It?
Bitter took all of his training and put it into the only place that he could, his home. Specifically, the treadmill in his home. This amazing feat was actually done in the comfort of Bitter's own home in Phoenix, Arizona.
I mean, if that isn't an endorsement for working out from the comforts of home, I don't know what is.
First of all, choosing a treadmill that could stand up to the challenge was of the utmost importance. An ultra-marathoner needs to ensure that nothing will stand in their way or stop them from reaching their goals.
Bitter teamed up with NordicTrack and they decided the x22i Incline Trainer was going to give him everything that he needed to meet the demands of his intense running regimen. This was no joke, since an average week for Bitter reaches 120 miles.
Another important aspect of setting Bitter up for success was allowing him to feel that he could take the breaks he was able to take when running on track or trail. To do this, they used two side-by-side identical treadmills.
As Bitter put it, "The biggest thing was that I needed mental refreshers. On the track, I felt anxious if I stopped, like I was wasting time. On the treadmill, it was almost necessary to break, even if I was just switching treadmills."
There was another good reason for the switch, the NordicTrack Incline Trainer machines are built to time out after a certain length of use. Even a person that runs for 12 hours can appreciate it.
The Unexpected Challenges of Running 100 Miles on a Treadmill
This didn't happen on a whim overnight. Even for an elite runner, these situations were a bit out of the ordinary and there were kinks that needed to be addressed. "We had about four weeks to plan," Bitter said. "There was plenty of potential for things to go wrong, but luckily, nothing major really happened."
One such "nothing major" was accounting for the heat coming from the treadmills. For most of us, by which I mean 99.99% of us, we would never even take this into account. However, for an ultra-runner, temperature of your running terrain is incredibly important.
Running indoors on a treadmill raised the temperature that Bitter was used to from 60 degrees to between 70 and 75 degrees. Now that might not seem like much, but that's the difference between a sweater and thinking we're ready for the beach for a lot of us.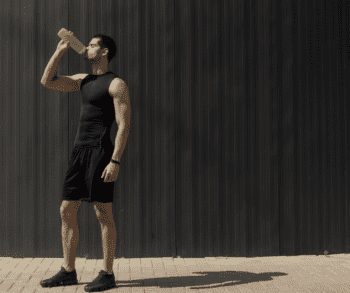 This meant recognizing the changes to address the needs of the athlete. For instance, Bitter began feeling dehydrated more quickly, but made up for it by ingesting more electrolyte tabs and boosting his liquid intake.
Just because Bitter was undertaking something that most of us would never dream of, doesn't mean it had to be arduous and dreadful. Thanks to NordicTrack technology he was able to keep it fun. Zach played with speed and incline to make sure his run was interesting.
Throughout the literal ups and downs on the Incline Trainer, he made sure to keep it on his pace, which was under 7:00 minutes per mile.
How is Crew Cheered Him On
Bitter didn't do this alone, his wife, Nicole, was right there making sure it went smoothly. But she wasn't the only one watching.
In fact it could have been anyone! The entire run was livestreamed for anyone to watch. Bitter listened to podcasts and music while he ran, but even in his home he had a lot of support. Several other ultra-runners joined on the livestream to cheer him on every step of the way.
That sense of community is inspiring and something we should all strive for.
And The Results…
Ok, so we said he set a world record, but what is it?
Bitter ran 100 miles in 12:09:15!
I'll give you a second to think about that… that's an average mile at 7 minute 17 seconds for 100 miles in a row… over the course of 12 hours… wowza!
Now, we don't recommend trying this right on your own. Because let's face it, he's a running superhero. But, as you move forward on your own fitness journey, we'll leave you with Zach's own words:
"This challenge is representative of what the entire world is living through, and I hope my event is a reminder for everyone to stay mentally strong, so you can go the distance."
Sources:
https://www.businesswire.com/news/home/20200516005023/en NordicTrack Treadmill Makes History With Ultra-Marathoner Zach Bitter's New 100-Mile World Record; 2020
https://www.nordictrack.com/learn/zach-bitter-breaks-100-mile-world-record/  Ultra-Marathoner Zach Bitter Breaks 100-Mile World Record On His NordicTrack Treadmill; 2020
https://www.runnersworld.com/runners-stories/a32613503/zach-bitter-treadmill-100-mile-world-record/ Two Treadmills, Liquids Only, and a Comedian: Inside Zach Bitter's 100-Mile Treadmill WR: Andrew Dawson; 2020
https://www.azcentral.com/story/sports/2020/05/16/zach-bitter-breaks-100-mile-treadmill-world-record-his-phoenix-home/5207095002/ Ultramarathon runner Zach Bitter breaks 100-mile treadmill world record at home in Phoenix: Dana Scott; 2020