An Incline Trainer May Be Just What You're Looking For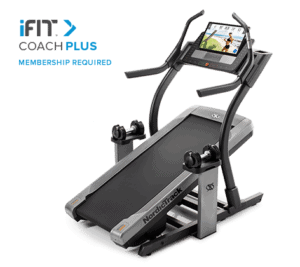 Not all treadmills are created equal.  And, the NordicTrack Commercial x11i and Commercial x22i Incline Trainers have a slew of features that put them a head and shoulders above the rest. 
So, which one is right for you? Read on to find the top reasons we love these machines. Plus, we'll help you find which model is perfect to help you get in your best shape this season.
Reasons We LOVE the NordicTrack Incline Trainers:
Low Impact – Who says you can't get an awesome workout while just walking on a treadmill?  Certainly not NordicTrack.  They've designed these unique high incline machines to activate your leg muscles, pump up your heart rate and get a serious sweat while walking.  Best of all, you can do all of this with a very low impact workout session.  This makes the incline trainers a fantastic option for anyone that wants to challenge themselves without challenging their joints.
Burn More Calories – The extreme inclines on the NordicTrack Commercial x11i and Commercial x22i mean that users are in for some serious cardio. The same way that walking or running hills makes for a more intense cardio workout, the 40% incline on these models will have your heart pumping in no time. This translates to more calories burned in a shorter amount of time.
The ability to get a fantastic workout in a shorter amount of time makes the Incline Trainers great for anyone that wants to improve their fitness, but may not have a lot of extra time to spend on the treadmill.
Target Specific Muscle Groups – Not only do the NordicTrack Commercial x11i and Commercial x22i offer more incline than you find on other treadmills, you also get more decline as well. This provides a real-life feel when you are doing a workout that involves hills.
More importantly, the additional decline lets you focus on a wider range of muscle groups. Anyone that has even walked or run up and down large hills knows that going downhill requires a different set of muscles. Using the incline trainers allows you to really work those muscle groups and get a well-rounded workout.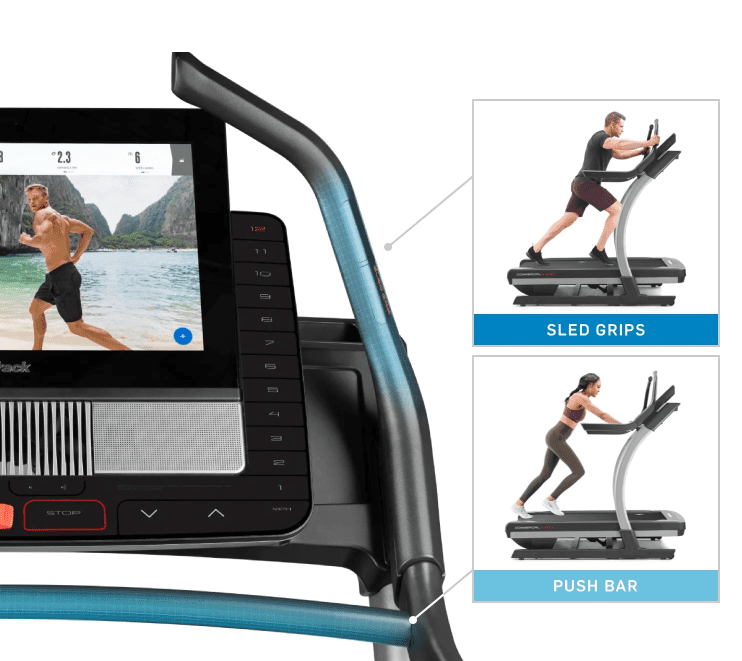 NEW FEATURE!! Next Gen Sled Push – This recent addition delivers a brand new benefit for anyone using the Commercial Series Incline Trainers.
The Next Gen Sled Push allows users to get a sled push workout on their Incline Trainer. A sled push is a workout that involves pushing a weighted sled a set distance. This is a full body workout that really delivers results.
By adding a sets of upper handles and a push bar on the front of the Commercial x11i and Commercial x22i, NordicTrack has given users the ability to perform this workout without any additional equipment or space. The hand placement aligns your body to properly perform the exercise. You simply set the machine to 1.0 mph, grasp the handles or bar, and push your way to a full-body training session.
NordicTrack Commercial x11i and x22i Features –
When it comes to performance, the Commercial x11i and Commercial x22i Incline Trainers offer quality, power, and durability. They are built to ensure that you get the workout you are looking for each and every time.
4.25 Continuous Duty HP Motor – These machines offer a powerful motor that can handle any user. Even with the intense incline on these machines, you'll never have to worry that the motor won't be able to keep up.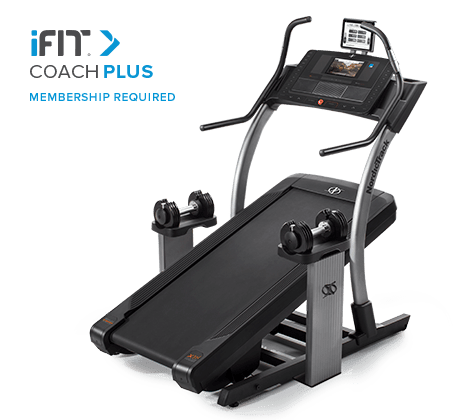 22" x 60" Treadbelt – You'll never feel cramped on this roomy treadbelt. The 60" length is pretty standard on a machine of this price, but the width is worth a second look. The additional 2" of width compared to many other models will provide you a spacious workout no matter your exercise routine.
Incline and Decline – As we discussed above, the staggering range of 40% incline to -6% decline on both the Commercial x11i and Commercial x22i is going to guarantee a fantastic workout with a "real hill" feel. Get your heart pumping and your muscles firing as you quickly burn those unwanted calories.
44 Installed Workouts – There's always something new to try on the Commercial x11i and Commercial x22i. Each model has 44 pre-programmed workouts to keep you moving and shaking.
iFit Live – With the use of iFit Live you can customize your workouts to be anything you want. Get access to live trainer-led workouts from professional trainers guaranteed to keep you motivated.
If live classes aren't your thing, there is a vast library of other workouts available at your fingertips. You can also keep things a little closer to home with the integration of Google Maps. Create and experience custom routes anywhere in the world or right outside your front door.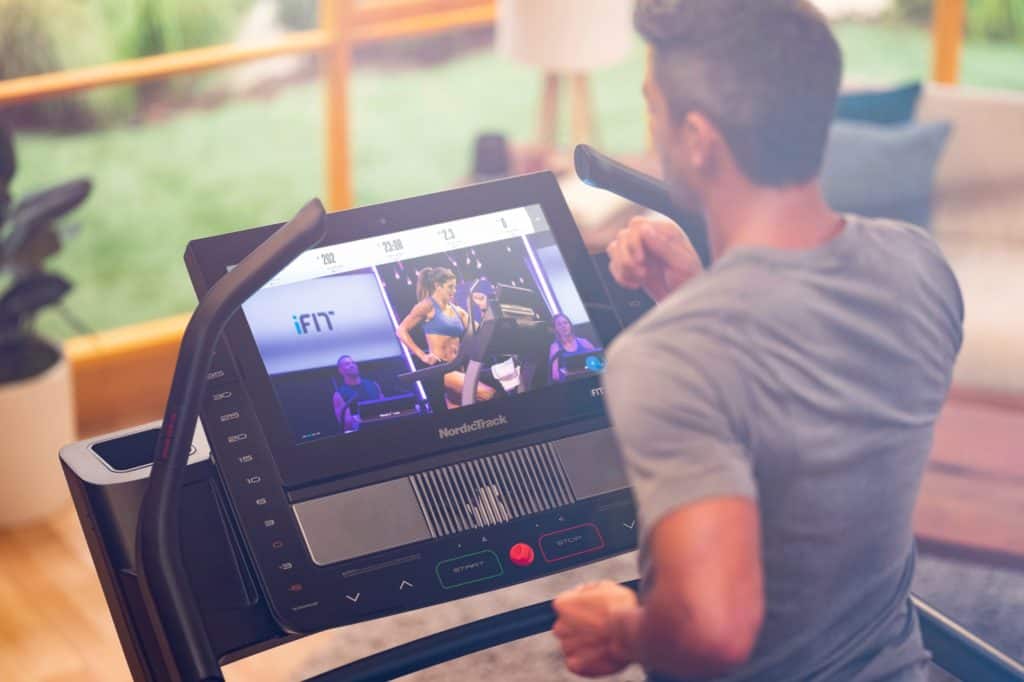 iFit also allows you to track and share all of your progress. Being able to view and actually see your progress is a great way to stay motivated! Note that each model comes with a 1-year membership to iFit. After that it doesn't become a paid subscription service.
Reflex Cushioning – Find the cushioning level that's right for you. NordicTrack's Reflex Cushioning allows you to adjust the firmness of the deck to suit your needs. Whether you want to simulate real-road conditions or create a more low-impact surface, you can make that change with an easy switch.
Differences Between the NordicTrack Commercial x22i and Commercial x11i
The only real difference between these two models is going to be found in the form of technology. The Commercial x22i has a huge 22" Smart HD Touchscreen. This is compared to the 10" Interactive HD Touchscreen on the Commercial x11i model.
This extra large screen creates a really immersive experience if you are going to be taking advantage of all that iFit has to offer. The larger screen keeps you right there in the action during those live training sessions.
Which NordicTrack Incline Trainer Is Right For You?
Since both of the Commercial Incline Trainer models offer the same performance and mechanical features, you may be having a hard time deciding which one is the right fit for you.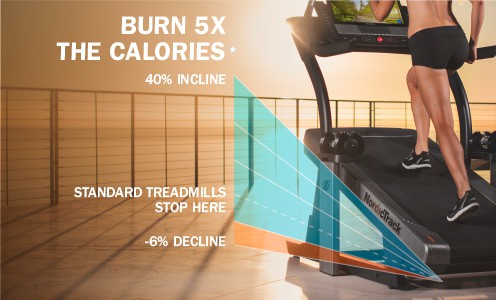 Since the only major difference between the two models is the sizing of the screens, you could always ask yourself what you need in the technology department. If you are planning to buy the iFit subscription then the larger screen may be worth it to ensure you are getting the most for your subscription price.
If you are more concerned about the durability of the machine and the physical results you'll receive, you won't be disappointed by the Commercial x11i.
Check out our reviews of both the Commercial x11i and Commercial x22i to help you decide which model is right for you!