(Last Updated On: March 9, 2021)
How to Run in the Winter Without Freezing to Death
You might have thought that the apocalyptic year 2020 was over, but January 2021 welcomed us with a polar vortex. Spring is coming, but it's not quite here yet.  Parts of the country are still seeing frigid temperatures.
Running During the Polar Vortex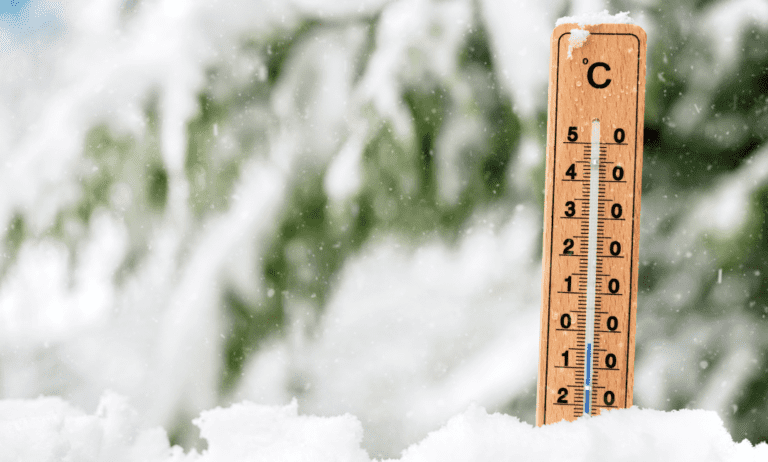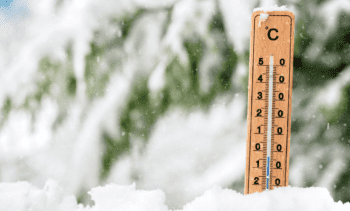 But, it's 2021, and you're determined to accomplish your New Year's Resolutions this year. And nothing is going to stop you, not even a polar vortex. Obviously, the cold winter months aren't a problem if you run inside on your treadmill. But, if you like to run outside and get some fresh air, it's best to be prepared.
And running in low temperatures calls for extra prep time. Anthony J. Yeung from Esquire says "temperatures in the 30s and below tend to lock up your body and turn your extremities into icicles, causing stiff joints and tightened muscles, so cold weather running requires special preparation." (3)
So, if you do decide to brave the cold and run outside during these cold winter months, here's five helpful tips to help you prepare for running in the cold.
Dress Like It's Warmer
Choosing what to wear – in other words, how many layers to wear – when preparing for a run in the cold is probably the most important part of your pre-run prep. If you wear too much, you'll be hot and uncomfortable. If you wear too little, you'll be freezing cold.
Even if the thermometer says that it's 15 degrees outside, a good rule of thumb is to dress like its 10 to 20 degrees warmer. Running generates a lot of body heat, and even though it's cold outside, you're still going to sweat.
A recent article from Runner's World said "you want to be warm without sweating so much you get a chill. You should be slightly cool when you start." (4) So, maybe go for one layer less than you think, and even if you're a little cold at first, soon you'll warm up and by mid-run, you'll be at a comfortable temperature.
Keep Your Head and Hands Warm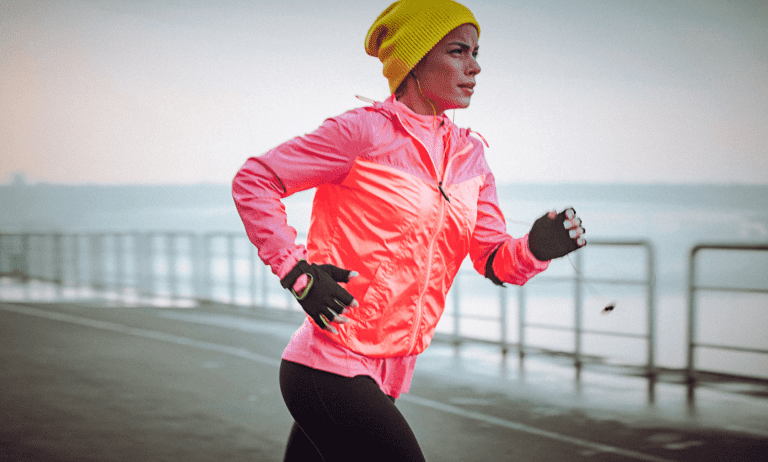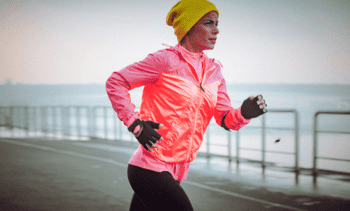 Your hands, your feet, and your head are the areas of your body that will get the coldest first. If you can keep those three zones warm, your run will be much more enjoyable.
Gloves are an essential for running in the winter. Even with gloves, your hands will probably be pretty chilly, so it´s a good idea to throw some hand warmers in your gloves too. If your fingers are frozen, your run will not be pleasant. So, grab those gloves, and keep your fingers warm!
Choosing a good beanie or head warmer is important as well. Make sure to choose one that keeps your ears warm – and one that's stylish too, of course!
Make Sure You Have the Right Shoes
If you live somewhere where temperatures drop below freezing, you'll need to be extra careful about running outside. Slipping across ice and falling and hurting yourself is a real danger in places where temperatures drop below zero.
To avoid slipping on ice, make sure to run at a time when it's well-lit outside, and to always be alert and to watch out for potential hazards. Having the right running shoes is super important.
Shoes with good traction are also an essential. When running in the winter, you'll need shoes that keep your feet warm and dry so you can trek through the snow and rain without fear.
Darryl Dalcerri from Lompoc, California says "when it's raining, I slip my feet into plastic baggies, then put on my running shoes. The baggies keep my feet dry even when I run through puddles." (4)
That's right, grab those plastic baggies, and lace up your running shoes. Your feet will thank you later.
Do a Good Warm Up Inside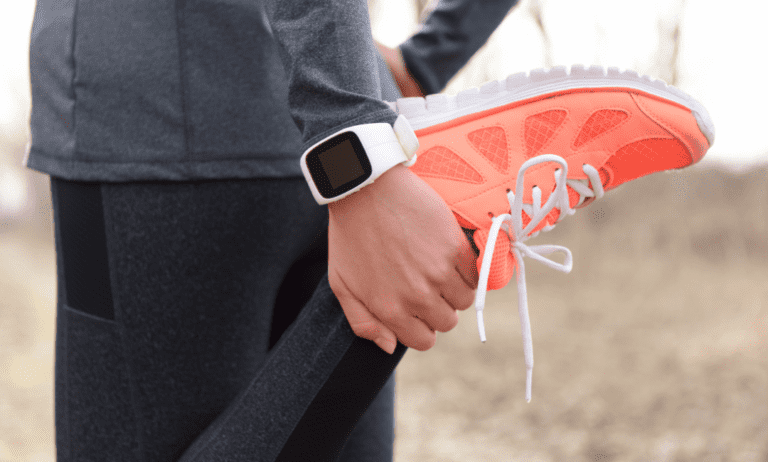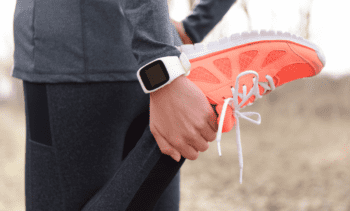 Before any run or any type of exercise, it´s important to warm up. But instead of warming up outside in front of your house or apartment like you would in the warmer months, during the winter, try warming up in your living room.
Doing a good warm-up inside will help your body adjust and prepare without having to also deal with the sudden drastic change in temperature. That way, when you step outside and start your run, your muscles already be warmed up, and the change in temperature won´t be so bad.
Remember, the best type of pre-run stretches are dynamic stretches like leg swings, high knees, butt kicks, and even a few quick jogs back and forth in your living room. And now that you're all warmed up, you're finally ready to get outside!
Try Runs That Are A Little Shorter Than Usual
In the winter months, it´s best to keep your runs a little shorter than usual. That way, you can have time for a proper cool down inside and you can stay motivated to go on another run later.
Plus, in the cold, you typically run faster, so if you're looking to hit a new PR or get done a little faster than usual, the winter months are great times to run outside!
Most importantly, make sure to take care of yourself and be cautious at all times.
You're All Ready to Go!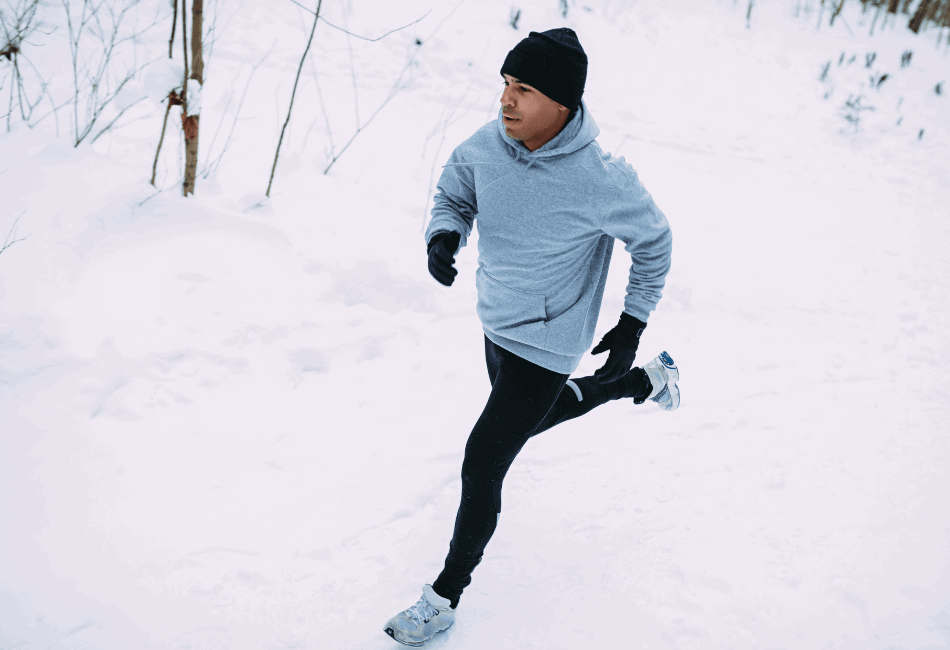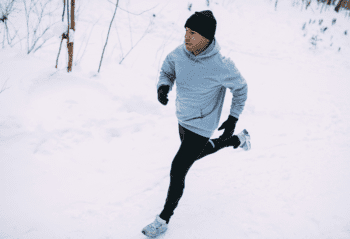 The first few runs in the winter can be a little brutal, but if you make sure you're prepared, it will be a lot easier. And remember, "it just takes a couple of runs to get your respiratory system adept to dealing with frosty air." (5) And with these 5 helpful tips, you´ll be well prepared to crush your run – even if it is below freezing outside!
Sources:
1 Polar Vortex Could Bring Big Winter Storms  
2 Madrid is Buried Under Heaviest Snowfall in 50 Years
3 How to Make Cold Weather Running Bearable in the Dead of Winter
5 Cold Weather Running Tips for Beginners