(Last Updated On: December 12, 2022)
Is the AirRunner Worth the Price Tag?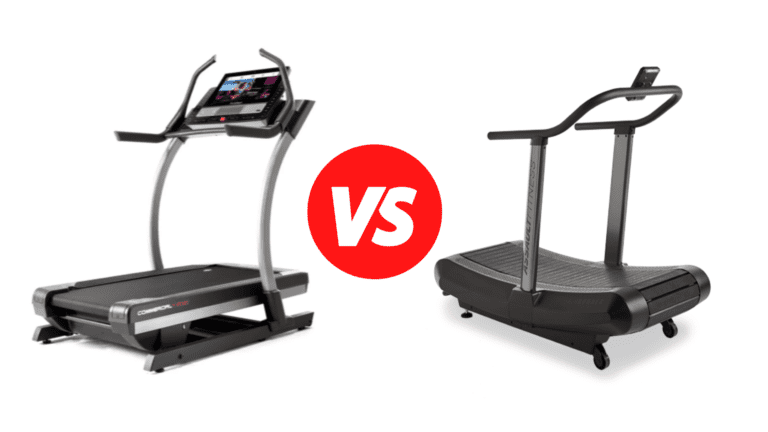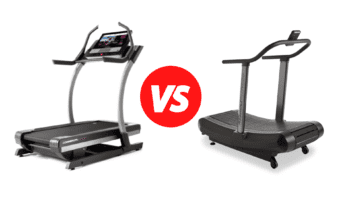 Assault Fitness AirRunner
Based out of Southern California, Assault Fitness is a brand usually heard of in the CrossFit community. Assault Fitness is a division of a larger fitness equipment company that you may have heard of, LifeCORE Fitness. In recent years, Assault Fitness has started to make their way into becoming a more common household name.
Most of their popularity is from rage over their Assault AirRunner machine from members in the CrossFit community who have at-home gyms for their training. The Assault AirRunner is a curved treadmill designed for really intense workouts. On their website, Assault Fitness mentions that the AirRunner is designed for HIIT (High Intensity Interval Training) workouts.
One of the most interesting things about the AirRunner is that it's completely motor-less. Yes… you read that right. The Assault AirRunner runs completely off the power of your own two feet, it's self-propelled. Talk about a kick-butt workout.
Here's another thing about the Assault Fitness AirRunner that you should know right off the bat: it has a price tag of $3,699.
NordicTrack Commercial Incline Treadmills
Some of the most popular in-home treadmills on the market today are the Commercial Incline Treadmills from NordicTrack. NordicTrack is a really well-known brand in the industry that has earned their trustworthy reputation throughout the years by building high-quality, durable equipment.
One of the experts on our team, Fred, has visited the NordicTrack headquarters in Utah. The last time he visited, he was told by the staff at NordicTrack HQ that of all the equipment that gets offered to the employees at a discount, the Commercial Incline Treadmills were the top choice.
By far, the most popular machine among our consumers in the NordicTrack Commercial Incline Treadmill x22i. As we mentioned, members of our team have personally tested out the Commercial Incline Treadmills so we can really vouch for the effectiveness of these machines.
Although offered for under $3,000, the x22i from NordicTrack is still considered a premium, commercial-grade treadmill in the same category as the Assault AirRunner.
Check out a comparison chart with all of the NordicTrack Incline Treadmill models here.
Assault Fitness AirRunner – What We Like
62" Long Running Surface – This is slightly longer than the usual 55" or 60" length we see on most treadmills.
350 lb. User Weight Limit – A generous weight limit for those just starting their fitness journey.
Tread Belt Rated for 150,000 Miles of Usage – This will make maintenance on your tread belt virtually zero.
No Electricity Usage – Reduces your carbon footprint.
Steel Frame – A heavy duty material for the frame.
Powered By You – No minimum or maximum speed restrictions.
What We Don't Like…
17.1" Wide Running Surface – This is a few inches narrower than most treadmills, and some users may find it limiting.
No Built in Programs/Technology – If you're unsure of what to do on a treadmill and prefer built-in workout programs, you're in the dark with the AirRunner.
No Incline Feature – Since this is a curved treadmill, there is no incline option.
Small Screen Size – The AirRunner comes with a basic LCD screen, but it is fairly small, and there are no extra technology features on it. It comes tablet holder/shelf, however users have reviewed if you put a phone or tablet on the shelf it blocks the whole screen, so it is not very useful.
Hefty Price Tag – The price tag alone at almost $4,000 reduces the rating of this machine to many consumers just due to affordability.
Warranty – 5-year frame, 3- years parts, 1-year labor. We would expect a better warranty for the price.
NordicTrack Commercial Incline Treadmill x22i – What We Like
4.25 Continuous Duty HP Motor – This is a monster motor. It will easily handle most users at most levels of intensity.
22" Wide Treadbelt – This is a little wider than the Assault AirRunner and will provide more room for users.
iFit Technology – iFit technology is exclusive to NordicTrack and ProForm machines. With iFit, you can enjoy custom workouts from certified iFit trainers right in the comfort of your home. Keep track of your stats, goals, and progress and utilize custom routes and views with the iFit integrated GoogleMaps technology. iFit truly steps up your workout game to a whole different level. **Note: At the time of this review, the x22i comes with 1-year iFit membership FREE with purchase.
Incline and Decline Capability – Mimic going up and down hills with the -6% decline to 40% incline capabilities.
22" Smart HD Touchscreen – This is the largest screen we have ever seen on a treadmill. You can enjoy your iFit workouts on an extra-large screen.
44 Installed Workouts – After your free trial, if you decide you don't want to continue your iFit membership, the x22i comes with 44 pre-installed workouts to keep you motivated.
Next-Gen Sled Push – To add even more variety to your workouts, the x22i comes with the option to do a sled-push workout. They added a push bar and sled grips so you can "push" your workout by yourself.
Warranty – 10-year frame warranty, 2 years parts, & 1 – year labor. This is double the frame warranty as the Assault AirRunner.
What We Don't Like…
60" Long Running Surface – Although this is pretty wide for an at home treadmill, the Assault AirRunner has it beat by 2 inches.
Runs Off Motor – Some users who are trying to be more eco-friendly may find this as a negative when comparing to the Assault AirRunner.
iFit Membership Only Included for 1-Year – There are 44 installed workouts you can choose from on the x22i in manual mode, but you cannot access all the features iFit has to offer without a membership. At the time of this review, you get a 1-year iFit membership included with your purchase, but after that it's $39/month for a family membership.
No Tablet Holder – You get the huge 22" screen on the x22i, but some users will find it a drawback that they can't place their tablet on the machine.
So… Which Machine Is Our Winner?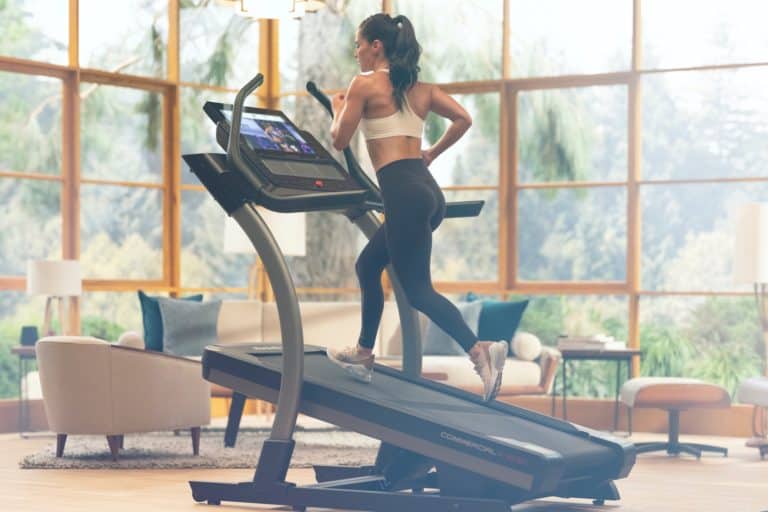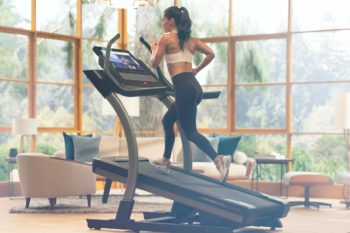 The Assault AirRunner and NordicTrack Commercial Incline x22i Treadmill are both great machines in their own ways. However, for the sake of this review, we would have to give the NordicTrack x22i our recommendation.
The x22i Commercial Incline Trainer from NordicTrack is a better buy for the majority of consumers. The x22i comes with heavy-duty motor, large display screen, technology features to keep your workouts fresh and challenging, incline and decline capabilities, and a much better warranty. All of this is offered in the x22i for $700 less.
Although the AirRunner from Assault Fitness is a unique machine, it will be impractical for most consumers to foot the bill on this treadmill – especially considering that it is only powered by your feet and has no technology to assist users with their workout programs.
We feel the Assault AirRunner is a machine that would be best suited for experienced athletes who are looking for an addition to their home gym to enhance their training routine.