It Doesn't Get Any Better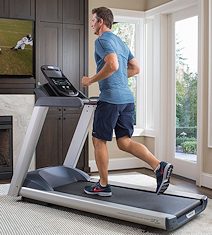 I've visited the corporate headquarter and manufacturing facilities of Precor Fitness in Woodinville,WA, and was thoroughly impressed. They are one of a few U.S. treadmill brands that are actually built in the states. Their manufacturing operation is state of the art.
Precor has been in the business of building quality treadmills for over 23 years. You pay a premium for a Precor treadmill, but you are assured of getting an extremely durable machine that incorporates the best ergonomic designs found on any treadmill.
Commercial Quality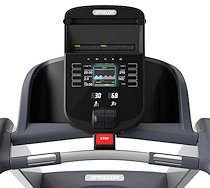 Precor treadmills are built to withstand extensive use and are ideal for serious runners. Their high-end residential models are designed are very similar to their commercial models found in health clubs, in fact, they utilize many of the same components. These are components that have been extensively tested to withstand the rigors of a commercial setting.
Industry data shows roughly 3% of fitness equipment sold has some initial service issue — one out of 33 units.  Precor is substantially below that figure with only .6% — one out of 166 units. And this reflects the fact that their products are built to commercial standards.
There are 6 different Precor treadmills, which are broken down into the 200 Energy series and the 400 Precision series.
Precor Treadmill Models
TRM 211 Energy Series – $1,999
TRM 223 Energy Series – $2,699
TRM 243 Energy Series – $2,999
TRM 425 Precision Series – $3,999
TRM 445 Precision Series – $4,799
TRM 811 Treadmill – $7,615 *For Commercial Use Only
TRM 835 Treadmill – $8,755 *For Commercial Use Only
200 Energy Series
The 200 Energy series treadmills are their entry level models. These are built in Taiwan, but the engineering and design features are of the highest quality. The three models are the TRM 211, TRM 225, and the TRM 245. The Energy series has a traditional shock absorption system that utilizes rubber grommets. The lower mechanics are basically the same on all three models and include a 3.0 continuous duty HP motor and a 20″ x 52″ running surface. The main difference is in the console, display, and interactive electronic features.
400 Precision Series
The Precor Precision 400 Series treadmills are basically their commercial models sold for residential use and are built in the U.S. There are two models, the 425 and 445. Their lower mechanics are identical. Their main difference is the choice of consoles. The Precor 445 has their premier console.
400 Precision Series Features
Integrated Footplant Technology — Unique to Precor treadmills, this feature preserves your natural gait by adjusting the belt speed to the foot speed changes that occur with every step. It creates a more natural walking/running motion to help you stay balanced and in control of your stride by mimicking your natural walking or running motion.
Ground Effects Impact Control System — The Ground Effect System provides one of the best shock absorption systems in the industry. It is designed to absorb shock in the front of the deck while providing a solid liftoff in the rear. The unique design provides consistent shock relief regardless of your weight the type of exercise. Research shows the that this system absorbs about 38% of the shock. Bottom line – you won't find better shock absorption on any treadmill.
Heavy Unit Weight — Although all their treadmills are quite heavy, the precision models are commercial grade heavy. This means you get machines that are solid as a rock.
Generous Warranties — An indication of the quality of the components is the 10-year parts warranty. Ten years is a long time to guarantee the parts of a complicated piece of machinery. It should also me noted it includes wear and tear parts.
Running Surface — You get an extra wide 22″ x 56″ running surface.
Decline Deck – The deck can be declined to 2% simulating going downhill.
Precor Consoles
The Precor TRM 211 comes with a very basic console without handrails. The upgraded 20 console is found on the TRM 223 and TRM 425, while the 243 and the 445 offer the 40 premium console. Both have handrails, storage for water bottles and reading racks with clips for tablets.
The 20 console has fairly standard features and comes with 5″ high contrast LCD display. It has 10 preset programs and allows for 2 user IDs. There is also wireless heart rate monitoring and SmartRate® target heart zone. It shows you what zone your heart rate is at.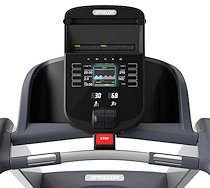 The 40 console, found on the Precor TRM 243 and TRM 445, is designed to maximize and personalized your workout. Here are a few of the features…
7″ color liquid crystal display
Lever style motion control for easy adjustment
4 user IDs
Suggested workouts based on your fitness goals
23 preset workouts
27 feedback metrics, includes 5 graphs
Touch or wireless heart rate monitoring
Heart rate target zone monitoring
Ability to save your workout for future use (16 total)
USB port for smartphones or tablets with plugin for headphones
Ability to download future software updates
Reading racks with clips for tablet
In addition the 40 console is Preva compatible. Preva is Precor's mobile app. You can save your workout through the USB port to a mobile device and download it to your online account. Through your account you can store workouts, get training recommendations, and record and review your stats. Preva is also available on their commercial models so regardless if you are using your residential or one of their commercial models all your workout data can be downloaded to your online account.
Which model should you choose?
For those that want a superior deck and cushioning, what you find on commercial models, you'll want the 400 series. However, for many users the deck and cushioning on the 200 series will be more than adequate. And for those that want the best interactive experience your choice would be either the Precor 243 or 445.
Our Review – Precor Treadmills
Quite often I get feedback from readers who decided to give up their gym membership and purchase a treadmill for the home. Many are disappointed because the moderate priced treadmill they bought just does not have the feel of the commercial models they have grown accustomed to. It comes down to if you want a treadmill for the home that feels like a commercial Precor treadmill, you need to buy a residential Precor Precision treadmill.
The company focuses on providing you with one of the lowest maintenance machines on the market. Both the Precor residential and commercial treadmills are extremely durable and designed to withstand abuse. That is why their Precision series comes with a 10-year parts warranty.
Furthermore, the company is equally focused on providing you with the most satisfying running experience in the industry. Their philosophy is making the product move the way you move and to build residential treadmills that are as close to commercial treadmill experience as possible.
Precor invests considerable money into research and development in order to surpass your expectations. You'll find other treadmills that match or exceed the specs found on Precor machines for less money, but they they can't match the experience.
Visit the manufacturer site to learn more at Precor.com/Treadmills