15% Incline and -3% Decline
This machine is made by Icon Fitness, which is the same company that produces the NordicTrack and ProForm brands.  Epic treadmills can most often be found for sale at stores like Costco and Sears.
---
Note: Definitely check out some similar models from NordicTrack and ProForm.   You will find lower pricing and better specs with more sophisticated technology features.  We suggest you start by looking at the ProForm PRO 5000 and NordicTrack Commercial 1750.
---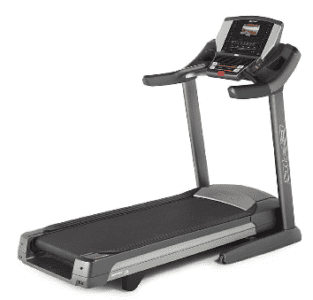 Since Icon is the largest manufacturer of fitness equipment in the world, they are often able to deliver very high spec machines for reasonable prices.
Top Features on the Epic A35T Platinum Treadmill
3.5 CHP Motor –  This size motor will work well for users of all abilities.
15% Incline and -3% Decline – You will be able to train running both up and down hills with the Epic A35T.
LED Display – This machine only comes with an LED display.  You may want to check out the more sophisticated displays including touchscreens, internet connectivity, and iFit Live from ProForm or NordicTrack.
20×60″ Running Surface – This machine has a larger running surface that will work for tall individuals.
User Weight Capacity – The A35T will work well even for higher weight individuals with its 400 lb weight limit.  However, we would recommend you limit use to around 350 lbs as companies tend to overestimate this value.
NOTE:  This machine does NOT include iFit Technology.
Our Review – Epic A35T
Although this treadmill is built by the same makers of ProForm and NordicTrack machines, we would not put them in the same league.  You will be able to benefit from more features with a machine like the NordicTrack Commercial 1750 or the ProForm PRO 2000.  
Plus, these treadmills are not widely available.  Oftentimes, you will only be able to purchase refurbished versions nowadays.  You'd be better off buying a newer machine with a current warranty in place.