This is a "Hot Seller!"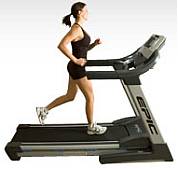 The Epic View 550 treadmill is getting considerable exposure because of a "Best Buy" review from a prominent consumer review magazine. When I was at the corporate headquarters I was told this model is a "hot seller".
The reason is obvious. This treadmill is packed with features,but sells for a bargain price. How can they afford to do that?
---
Note: The Epic View 550 is about 5 years old and I feel it has run its course. Treadmills have improved dramatically during that time. I feel the newer NordicTrack Commercial 1750,which is built by the same company, is a better product and a much better value.
---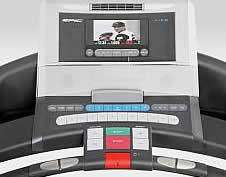 Epic is a subsidiary of Icon Fitness, the largest fitness equipment manufacturer in the world. They do over a $1 billion per year. Due to the economy of scale, they can offer more for less.
Here is what you get on the Epic 550
7″ Flat Screen TV – Icon Fitness is equipping a number of their treadmills with TVs, and they are hot items. Running or walking in place is boring. Having a distraction like a TV makes the time go by as you burn off those calories. Boredom is one of the biggest deterrent to getting in shape.
Intermix Acoustics Sound System – For a speaker system built into a treadmill the sound is impressive. It includes a subwoofer, which gives it additional range. This is probably the best sound system on any treadmill.
20″ x 60″ Extra Long Treadbelt – Ideal for taller users and runners. You can sprint and not feel like you are running off the edge.
3.0 HP Continuous Duty Motor – They claim the motor is commercial grade, which is pushing it, still this motor should be able to handle high speeds and steep incline workouts without straining. You'll find the motor is relatively quiet, even when cranked-up.
2.5″ Rollers – When it comes to rollers the larger the better. Large rollers increase the life of the treadmill and reduce friction and noise.
28 Workout Programs – A variety of programs can give you variety and increase motivation. The programs automatically adjust the incline and speed of your treadmill, each focusing on an aerobic, weight loss or performance goal.
Built-in Fan – Normally I would not mention this feature, but according to the manager of Internet sales, the fan is a extremely popular item. They design it to blow at your chest, which is more effective in keeping cool man!
Warranty – The warranty covers one-year parts and labor. Considering your investment, I would increase the coverage by a year or two with an extended warranty. It makes sense to protect your investment.
Our Review – Epic View 550
For a very reasonable price you get a treadmill that entertains, motivates, and less we forget, burns calories and gets you in shape. It is adequate for both walking and jogging, and can handle multiple users.
Icon Fitness dominates the fitness equipment market. I'll talk to competitors and they'll grudgingly admit they can't figure out how Icon can offer so much for so little. The Epic View 550 is a perfect example.
Leading Consumer Magazine
CR gave the Epic View 550 a "Best Buy" for two years. They rated it "Very Good" for construction, and "excellent" for ease of use, ergonomics and exercise range.