A Very Cheap Manual Treadmill with No Motor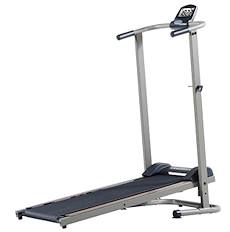 There are two reasons to consider buying the Weslo CardioStride 3.0 treadmill.  First, it is very cheap, in fact, it is one of the cheapest treadmills on the market. Second, it is a manual treadmill so there are no motors or electronics that can break down.
---
Note: I would suggest that if you plan to primarily walk or moderately jog you check out the ProForm Performance 400 C Treadmill.  It typically cost $599, but this is a real treadmill, with motors, decent shock absorption, some stability and a decent warranty.  It also comes with installed workout programs.
---
Why You Do Not Want to Buy the Weslo CardioStride 3.0 Treadmill
Non-Motorized – The belt moves by the pressure of walking on it. I find walking on a manual treadmill to be bizarre.
Small 17" x 41" Treadbelt – This is a very confined space to exercise within.  This treadmill can at best handle an average height user.  With even a normal stride length you are going to feel like you are walking off the end, and 17″ is a very tight space to walk in between.
Light Weight – The assembled weight is 52 lbs. Because of the light weight and inferior construction the Weslo CardioStride 3.0 treadmill is one of the most unstable treadmills available.  They rate it for users up to 250 lbs.  How can a 250 lbs. individual exercise on a 52 lbs. machine?
Walk, Don't Run – Forget about jogging on the Weslo CardioStride3.0.  Between the small walking surface, the light weight and being manual it could be scary trying to run on this treadmill. And there is a good chance you would break the thin wooden deck.
Manual Incline – You have to adjust the incline manually, and it only adjusts to two positions.
Our Review  – Weslo CardioStride3.0 Treadmill
For those who are considering buying the Weslo CardioStride 3.0 treadmill, I appreciate the fact that you have good intentions to lose weight and get back into shape, but you need to be realistic.   I realize the price is appealing, but consider what you are getting.  To motivate yourself to get back into shape you want a machine that provides a rewarding experience.  The Weslo CardioStride 3.0 is not that machine.