Don't Throw Away Your Cash!!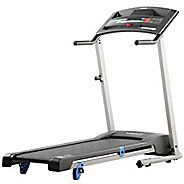 I know times are tough, but you REALLY do NOT want to spend your hard-earned money on the Weslo Cadence R 5.2 treadmill!  Don't let that low price tag fool you!  You'd be throwing away cash on this machine.
Icon Fitness does make some really nice treadmills, such as their NordicTrack and ProForm lines.  Unfortunately, the Weslo Cadence R 5.2 treadmill is not so nice.  It is inexpensive for a reason.
I've checked out this particular treadmill at a local Walmart store.  What I found was a flimsy, light-weight, cheap product.  It wasn't difficult for me to see why the price on the Cadence R 5.2 was so low.
---
Note: An alternative to the Weslo R 5.2 are some of the less expensive ProForm Treadmills. They are built by the same company but are more durable and come with 1-year parts and labor warranties.  Check out the ProForm 520 ZN, ZT6, or Performance 400i.
---
If you're on a tight budget, as many folks are right now, you might be attracted to the Weslo Cadence R 5.2 treadmill because of its affordability.  Talk yourself out of buying it, though!  Don't give in!  You'd be better off dressing for the weather and getting your exercise outside than buying this treadmill.
If you cannot afford something better now, my advice is that you wait awhile longer to buy any fitness equipment.  Save a little money each payday until you have the funds to purchase a better quality machine than the Weslo Cadence R 5.2.  (Remember: "patience is a virtue.")
What About Those Features?
If you read a description of the Weslo Cadence R 5.2 treadmill and look at a list of its features, you might think you're getting a pretty good deal for the price.  No matter how good this machine may sound, it's still just a low-end, budget treadmill made up of cheap, inferior parts.
The "Impulse 2.25 THP Drive Motor"
It's a cheap motor that certainly is not powerful enough to efficiently handle joggers or runners or anyone over 200 pounds.  Even if you weigh less than 150 pounds, this motor is apt to strain and be noisy.
The shipping weight of the Weslo Cadence R 5.2 is a mere 124 pounds. 
That isn't very heavy for a treadmill!  The short, one-year frame warranty is proof that the lightweight frame is not built to be sturdy or durable.  Just walking on this treadmill is enough to cause it to vibrate and wobble, as though it may fall apart at any moment.
A 2-position manual incline feature is included on the Weslo Cadence R 5.2 treadmill. 
Because the incline does work manually, there isn't an incline motor to worry about breaking down.  However, anytime you want to change your incline level during an exercise session, you have to stop your workout to do so.  There is also the issue of how unstable the unit is when the deck is flat.  Imagine how much more unstable it is when used at an incline.
The 16" x 50" tread belt is rather small for anyone who is above average height. 
There simply isn't a whole lot of working area…even for walking. Take a ruler or tape measure and see just how little space 16″ is.
Other features on the Weslo Cadence R 5.2 treadmill include:
Digital speed control – Allows you to adjust the speed up to 10 mph.  Nevertheless, the higher the speed, the more wobbly and uncomfortable the workout.
Four workout programs – These programs provide a little workout variety, but this treadmill really is made for low-intensity exercise only.
LCD display – Lets you monitor the progress of your exercise sessions until the display quits working properly.
Our Review – The Weslo Cadence R 5.2 Treadmill
Think about the cost of the Weslo Cadence R 5.2 treadmill and wonder how a treadmill can be so inexpensive.  Last I looked it was selling for $284 with shipping. The ONLY way a treadmill can sell for so little money is by using the cheapest materials in its construction.
The fact that the company which sells the Cadence R 5.2 backs it with only a one-year frame and motor warranty and a 90-day parts warranty is confirmation of the low-quality of this machine.
One last note, this treadmill is only suited for walking. It does not have the stability, durability or shock absorption to handle joggers and runners.