So Cheap It Isn't Practical
There is a price point where a treadmill is so cheap it just isn't practical as a cardio exercise machine.  The Merit 715T treadmill falls into that category.  Who is the Merit 715T marketed to?  People who want to get back into shape and probably want to lose weight, but do not want to spend too much money.
Often those individuals have the desire, but may lack the discipline.  Consequently the treadmill becomes an expensive clothes hanger.  If you end up spending several hundred dollars and end up finding the couch more appealing than your treadmill, you are not out all that much money.
However, when it comes to a treadmill, you have to realize they need to be built to withstand abuse.  They are subjected to constant impact, and the machine must pull along the weight of the user at various speeds.    With a treadmill like the Merit 715T you have a low priced machine that must compromise on the components and engineering in order to reach a budget price point, and consequently it may not be up to the handle the abuse.
---
Note:  We should point out that the Merit machines are built by Johnson Fitness, who also makes the Horizon and Vision Treadmills.  Overall, these other two brands have MUCH higher quality, can take the abuse of running, and are backed up by some of the best customer service in the industry.  You will not find any compromises or cheap components here.  You may consider spending only $200-$300 more to reach their entry level model, the Horizon T-101. Also consider ProForm Treadmills. They are also more money, but are more durable and come with a longer warranty than the Merit machines.
---
Merit 715T Treadmill Features…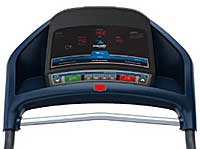 1.5 Continuous Duty HP Motor – This is a very small motor by treadmill standards.  It is not recommended for joggers or people who are very heavy.  I would say, someone over 200 lbs.  When you get above 6 MPH it will probably start straining from the speed.
18″ x 47″ Treadbelt – Once again this is a very small treadbelt.  Take a tape measure and measure 18″.  That is not a very wide area to walk on, and with a 47″ length you may feel like you are about to fall of the end.  As with the motor, this belt it not designed for joggers, or very tall individuals.
Manual Incline – If you want to change the incline you have to stop the machine and make the adjustment.  Also, the Merit 715T treadmill only inclines to 5%.  Typically treadmills allow you to adjust up to 12%-15% with the push of a button.
108 Lb. Treadmill Weight – The weight of the treadmill is an important factor in the stability of the machine. At 108 lbs. you have a very lightweight treadmill that will lack stability, particularly if you use it for jogging.
Short Warranty – It comes to no surprise that cheap treadmills have short warranties. These machines are not very durable, consequently it is not cost effective to back them up with lengthy coverage.  The Merit 715T treadmill comes with a one year motor, and 90-day parts and labor warranty.
Poor Shock Absorption – Although the shock absorption on the Merit 715T is better than walking on concrete, the impact reduction is nothing like that found on higher price machines.
Final Comments
If you can afford it, invest more money in higher price treadmill.  I would suggest spending a minimum of $599, but spending even more will guarantee you a treadmill that will last and provide a more pleasurable cardio workout.  (Note: There were 9 people who gave the Merit 715T treadmill a one star rating out of five.  Although 8 gave it a five star rating.)
This model is available for sale on Amazon.com.