Unreliable Right Out of the Box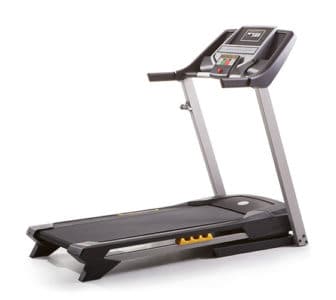 The Trainer 520 from Gold's Gym is available to purchase at Walmart or over Amazon.com.  It is made by the same parent company that makes ProForm, NordicTrack, Epic, and Reebok machines.  Unfortunately the quality on the Gold's Gym machines varies widely and this particular model seems to be a dud.
For around $450, you are getting a machine with only a 90 day warranty on parts and labor.  User feedback we've seen shows that the treadmill is not built to the highest standards.  That's a fancy way of saying, "It was broken right out of the box!"  Customer service for this company also isn't the best as we've seen several complaints of unhelpful representatives.
---
NOTE:  This model is available to purchase on Amazon.com.
Instead:  We suggest you spend about $200 more and get a machine like the ProForm Performance 400i or Sport 5.0.
---
Features on the Gold's Gym Trainer 520

2.5 HP Motor – This motor comes with a 5 year warranty. The top brands that we recommend come with a minimum motor warranty of 25 years.  The warranty gives you a good idea of the motor's overall quality.  Plus, this particular rating is just peak horsepower, NOT continuous duty horsepower.  It is not equivalent to other machines with 2.5 CHP motors.
18×50" Tread Belt – We usually recommend you buy a machine with a tread belt that is at least 20×55". This smaller belt will make you feel cramped.  Still, if you are on a tight budget and are shorter in stature, you may be able to get away with this size belt.
16 Workout Apps – This is a reasonable number of programs for the price. If you want more sophisticated programming on a Gold's Gym machine, you should check out the 430i Trainer with iFit.  Better yet, check out a budget model from a company like ProForm.
300 lb Weight Limit – This value is grossly exaggerated. We'd recommend you keep the weight limit to 230 lbs at a walking speed.  Smaller folks may be able to do some light jogging, but this machine isn't going to handle heavy running for long.
iPod Compatible – Listen to your favorite tunes while you run. This is a nice feature.
Cushioning – Again, we'd just recommend this as a light use machine. Anyone who wants to do regular long runs, may not be happy with the cushioning.
Our Review of the Trainer 520 Treadmill
This machine falls near the bottom of Gold's Gym products.  Be ready for a possible struggle with customer service if your machine has trouble right out of the box.  That's not to say you won't buy it and have a perfectly fine experience.  Many people really enjoy their lower cost machines.  It all comes down to how you are going to use the machine, how large or small you are, and also a little bit of luck.
You may want to expand your budget by about $200 and get a budget model from a company like ProForm or Horizon.  ProForm has a Performance 400i for around $599.  You'll receive a stronger motor, larger belt, iFit programming, and a much better warranty.  In the end, you'll get much more value for your buck!
Check out a review of Gold's Gym Trainer 430i or Trainer 720.
Buy the Gold's Gym Trainer 520 Treadmill on Amazon.com.