Mixed Reviews on this Budget Model

Gold's Gym treadmills are built by Icon Fitness, which is the same company that makes NordicTrack, ProForm, Reebok, Epic and more.  The quality on Gold's Gym machines varies quite a bit.  The reviews on this particular machine also vary quite a bit.  Some users we heard from loved the machine and said it worked perfectly.  Others said it only lasted for days to weeks before it broke down and needed to be returned to the store.  With only a 90 day warranty on parts, several were left without even that option.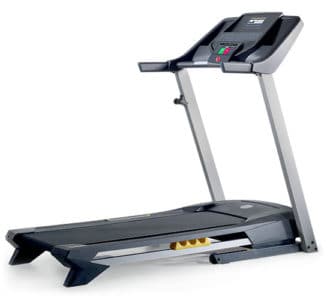 You get what you pay for, and for a $400 machine, you can't expect much.  If you are on a tight budget or looking for a beginner level walking machine, this may be a great choice for you.  Just be prepared for compromises in quality.  Make sure you use it a good bit in those first 3 months to make sure you're not one of the unlucky buyers with a faulty machine.  If possible, we would definitely recommend you invest another $200 in a budget model from a company like ProForm.  You'll receive much better quality and a stronger warranty.
---
NOTE:  This model can be found on Amazon.com.
Instead:  We'd recommend you take a look at some of the models from ProForm, which comes from the same parent company as Gold's Gym.  In general, you will find a much higher level of quality and a stronger warranty to back it up with ProForm machines.  Check out the reasonably priced ProForm Performance 400i.
---
Features on the Gold's Gym Trainer 420 Treadmill
0-10% Incline – Boosting the incline on your machine while walking is a great way to boost your burned calories. This incline doesn't go as high as more expensive models, but it's enough to make you break a sweat.
16 Workout Apps – Again, this isn't a fantastic selection, but for this price range, it's reasonable. If you want a Gold's Gym machine with iFit capability, you'll need to check out the Trainer 430i.  Just be aware of that machines extremely narrow 16" walking surface!
Cushioning – The cushioning on this machine will work well for walkers. Runners may find it too bouncy.
18×50" Tread Belt – This is a fairly small tread belt. Most of our recommended machines are at least 20×55" in size.  If you are over 5'7", you will feel very cramped on the Trainer 420.
SpaceSaver Design – This machine folds, which is always a good thing as long as the machine maintains stability.
2.5 HP motor – This is a bit misleading because it is the peak horse power, not the continuous horse power rating. This machine will strain if you are too heavy or work out too much.
Display – LCD with racetrack. We've heard mixed reviews on the display.  It really comes down to what you're expecting.  If you're looking at a full color touchscreen on a brand like NordicTrack, it's hard to come back to reality with this model's display.  It's not fancy for sure.
Warranty – This is a big RED FLAG For this machine. It only has a 90 day warranty for parts and labor.  Many users complained that their machine broke down very quickly and they needed to return it.  If this happens after the first 3 months, you're out of luck.  Common complaints were belt slipping, motor burnout, and even belt deterioration.
Our Review of the Gold's Gym Trainer 420
As we mentioned before, this may be an acceptable machine for you if you are tight on a budget, small in size, and lower in weight.  A tall or heavier person would not be able to use this machine for long.  It's going to be a machine that we only recommend for walking or light jogging.  Serious runners would want a different machine.
We really recommend that you increase your budget by $200-250 and get a quality machine from ProForm or Horizon.  The Horizon T101 is a fantastic little treadmill with a lifetime warranty on the motor.  Plus, both of these brands offer more sophisticated fitness tracking programs.
Check out a review of Gold's Gym Trainer 430i or Trainer 720.
Buy the Gold's Gym Trainer 420 now on Amazon.com.