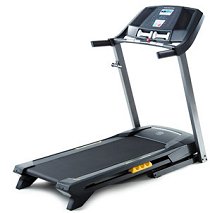 Poor Durability and Stability Ratings
The Gold's Gym Trainer 410 treadmills falls into the budget category. It sells at a bargain price but at the cost of durability and stability.
The Gold's Gym Trainer 410 treadmill has only a shipping weight of 155 pounds, which is light for a treadmill. As a matter of fact, the frame was never intended to be very strong and durable.  That is why it is backed by only a one-year warranty.
---
NOTE:  This model is no longer for sale from Walmart.com.  They have several other models including the Gold's Gym 420 Treadmill.
Instead:  We'd recommend you take a look at some of the models from ProForm, which comes from the same parent company as Gold's Gym.  In general, you will find a much higher level of quality and a stronger warranty to back it up with ProForm machines.  Check out the reasonably priced ProForm Performance 400i, ProForm 520 ZN, or ProForm ZT6.
---
At such a light weight, the Gold's Gym Trainer 410 treadmill is going to wobble even when used at a slow pace.  If you ever want to build up speed or use the incline for added intensity, you certainly are not going to get a very smooth ride.
In spite of the not-so-high quality of the Gold's Gym Trainer 410 treadmill, this unit has received quite a few favorable reviews.  Of course, the affordable price is a plus in today's economy.  Also, because it is lightweight, it is easy to move around, and it doesn't take up as much space as most higher-end models.  It's relatively simple to use, as well.  You don't need any special skills or talents.  Basically, if you can walk, you can operate the Trainer 410.
What About The Gold's Gym Trainer 410 Features?
For a treadmill that sells for under $400, the Gold's Gym Trainer 410 has some appealing features.  Included on this particular model are the following:
Eight Installed Workouts – It's always nice to have a variety of workouts from which to choose.  Variety prevents exercise boredom and challenges the body in different ways. You get four weight loss and four performance workouts.
Power incline – Even if you can't comfortably exercise at a jog or run on the Trainer 410 treadmill, you can use the power incline to increase the intensity of your workouts.  Once again, the unit may not feel too sturdy while using the incline, but it's worth a shot.
Cooling fan – With a fan in the console to keep you cool, workouts can be more bearable.
2.0 Continuous Duty Motor – The motor is sufficient for walkers. It will probably strain from excessively overweight individuals.
Grip pulse monitor – Even by walking at a steady pace for several minutes, you can raise your heart rate.  The heart rate monitor allows you to keep track of just how high your heart rate goes and allows you to work within your targeted range.
LCD display – Monitor your progress on this display, which shows time, distance, speed, calories burned, and pulse rate.
18" x 50" running surface – It's called a "running surface," but it's really better suited for walking.  It's rather small for longer strides and taller individuals.
300 Lbs. Weight Limit – They've got to be kidding. A 155 lb. treadmill is going to handle a 300 lb. user? Do the math.
Our Review – The Gold's Gym Trainer 410 Treadmill
In spite of the good reviews that the Gold's Gym Trainer 410 treadmill has received, it simply is not such a great machine.  Yes, if it's all you can afford, if you plan to use it only for walking, and if you are of average size or less, you might be able to get your money's worth out of this unit.  On the other hand, it is compiled of inferior components, which are apt to require maintenance and are likely to have a very short life.
The parts are covered only by a 90-day warranty.  That tells you right there that even the makers of the Gold's Gym Trainer 410 model do not have too much faith in its durability.  With an unsteady frame, a cheap motor, and cheap parts, workouts are not going to be smooth and cushiony.  The machine will probably not be the quietest, which can grate on your nerves after awhile.  Face it, this is a cheap treadmill!  That's why it costs so little!
Note: The company that builds Gold's Gym treadmills also builds ProForm and NordicTrack. They offer some good values in the plus $700 price range. Most models come with a liftetime warranty on the motor and at least a 1-year parts and labor coverage.
Also see the Gold's Gym CrossTrainer 570 Review and the Gold's Gym Trainer 690 Review.