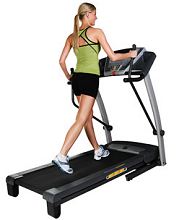 Movable Cross-Training Handle Bars on a Treadmill
Sold only through Walmart.com, the Gold's Gym Crosswalk 570 treadmill has a little something that most other treadmills do not have: movable cross-training handlebars.
---
NOTE:  This model is no longer for sale on Walmart.com.  There are several other Gold's Gym models for sale like the Gold's Gym Trainer 430, Gold's Gym Trainer 720, and Gold's Gym 420 Treadmill.  We have not yet had a chance to review these models.
Instead, we'd recommend you take a look at the ProForm Performance 400i, ProForm 520 ZN, or ProForm ZT6 which are all similarly priced.  ProForm comes from the same parent manufacturer as Gold's Gym and you will find that they produce quality machines.
---
Several people who bought the Gold's Gym Crosswalk 570 treadmill said they bought it because of its affordability.  A number of those people even gave this machine pretty good reviews!  I gotta tell you that, for a treadmill that costs below $1,000, the Crosswalk 570 does have some things going for it.
Just be aware that the Gold's Gym Crosswalk 570 IS NOT a top-of-the-line model, and it could end up having maintenance issues and a very brief lifespan.  Generally speaking, you do get what you pay for!  I certainly wouldn't recommend buying this machine to use for intense running.  Nevertheless, if you don't have a lot of money to spend on fitness equipment, this particular treadmill could be one to consider for walking.
Let's take a look at what the Crosswalk 570 has to offer:
16 Installed Workouts – You have your choice of a variety of goal oriented workouts that include aerobic, endurance, weight-loss or performance exercise routines.
Moving handlebars to combine upper body workouts with lower body exercise – This is a feature that sounds good on the surface; however, it can be rather awkward using the handlebars as you walk.  You really need to be very close to the console to operate the movable handlebars.  This means that you have to walk at the very front of the treadbelt, making your stride shorter and the workout less comfortable.
2.8 HP Motor – They rate the motor by the peak horsepower, and not continuous duty horsepower.  That probably puts the continuous duty rating, which is the industry standard, at around 2.0 HP. Adequate power for walkers. The motor is backed by a 25-year warranty, which isn't such a bad deal.
20" x 55" treadbelt – This is a decent size walking surface for a treadmill in this price range.
iPod dock – It's been found that exercising to music can really keep one motivated.  The Crosswalk 570comes with built-in speakers. The iPod dock lets you plug in your iPod and rock to your favorite tunes.
Backlit LCD display – The backlit display is easier to read than than a non-backlit display..
Heart rate monitor – Pulse sensors are located in the handlebars, which can make taking a heart rate reading a bit awkward while you're walking.  To get an accurate reading, however, and to see if you are working in your targeted heart rate zone, you need to continue walking while checking your heart rate.
0% to 10% incline capability – To increase the intensity of your workouts, you can increase the incline level with the touch of a button.  Walking on an incline can make your exercise sessions more efficient.
Our Review: Gold's Gym Crosswalk 570 Treadmill
Although the Gold's Gym Crosswalk 570 treadmill is made by Icon Fitness, it isn't one of Icon's best treadmill models.  It IS fairly inexpensive, making it more affordable for people who do not have much extra money to spend on frivolous things.  It also has some decent features.
If you buy the Crosswalk 570, you might find that you really like it…at first, however, this is a budget treadmill with limitations.  It is designed for moderate usage and primarily walkers.  The stated user weight limit is rather high and I would place it at about 200 lbs.  The Crosswalk 570 comes with only a one-year parts and labor warranty.  Consider extending the warranty to protect your investment.
The theory behind the movable handlebars on the Maxx Crosswalk 650 is a good one: work the upper body and lower body simultaneously to get a more efficient workout.  In reality, however, this type of setup works much better on an elliptical trainer.
The Gold's Gym Crosswalk 570 is only available at Walmart.com. There is free shipping to your local store, where you have to pick it up. There is an additional cost for shipping to your home.
Note: The company that builds Gold's Gym treadmills also builds ProForm and NordicTrack. They offer some good values in the plus $700 price range. Most models come with a liftetime warranty on the motor and 1-year parts and labor coverage.
Also see Gold's Gym Trainer 410 Review and the Gold's Gym 430 Trainer Review.