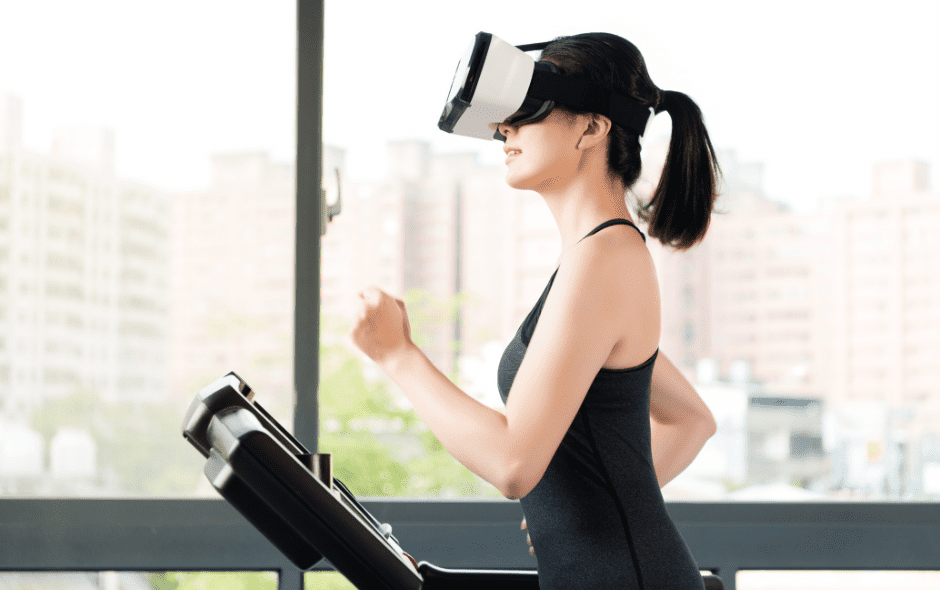 (Last Updated On: June 17, 2022)
Are you a huge fan of VR games and you feel you can play for hours without noticing time passing by? 
Technology has made a major leap and VR headsets and controllers have taken us to another world that sometimes is quite difficult to differentiate from reality.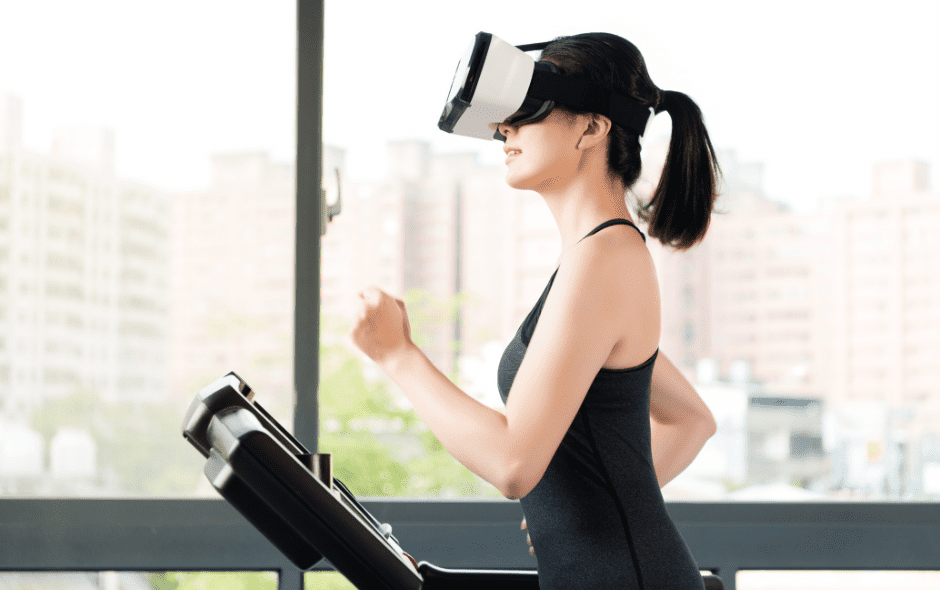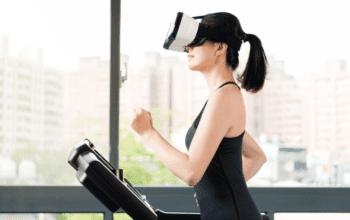 Treadmills like the ones from NordicTrack and Proform already offer some kind of a VR experience with iFit, where trainers from all around the world can take you through incredible landscapes while adjusting speed, incline and other features on your treadmill… being very far away.

Now, you can take that experience a step further and be fascinated by high-quality graphics that take your fitness journey to a whole new dimension.
Not getting enough exercise while playing a virtual reality game or getting bored by your fitness routine, can make you ditch your training sessions.
VR treadmills were born to solve these problems. These new technologies will allow you to walk, run, hop… even fly.
VR treadmills will take you to a whole new level of immersion. By using the best VR treadmills, you can stay healthy in a small space while walking around in the virtual world.
And even more! You can combine the VR omnidirectional treadmills with, for example, VR gloves for a life-changing, unforgettable experience.
These experiences always sound exciting but if you tend to get bored quickly, you can rapidly hop on a new adventure and revamp all the adrenaline of testing your body in a whole new environment.

But, before we deep dive on our 5 absolute favorite VR treadmills, let's explain exactly what they are and how they work.
What Is a Virtual Reality (VR) Treadmill and How Do They Work?

One of the greatest VR accessories for a truly immersive VR experience with 360-degree movement is the VR omnidirectional treadmill (ODT).
They're virtual reality walking and running platforms that let players move in different directions to explore the virtual environment, such as forward and backward, left and right, and diagonally.
The VR treadmills employ inertial sensors to track your position, stride length, and speed before sending the information to a computer, which turns it into game actions.
After being processed, the data is converted into gestures in a computer-generated environment.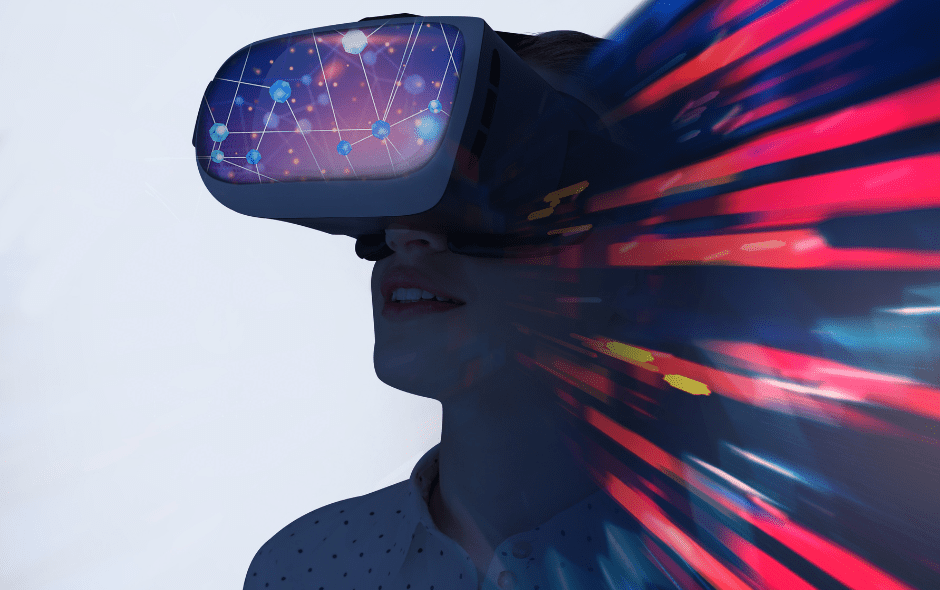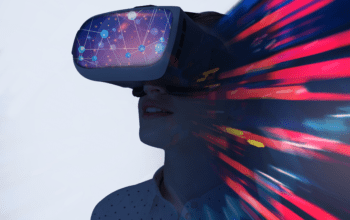 Fencing or a waist brace linked to the treadmill with hard bars limit the VR running and walking platforms, while keeping you safe.
The Infinadeck and Cyberith Virtualizer, for example, are virtual reality treadmills that provide total freedom of movement.
In comparison to controller-based movement, such a natural approach ensures a deeper integration into a virtual environment and provides a more realistic experience.
As a result, users may walk and run as if they were in the actual world in a virtual setting. With the treadmills, you must utilize virtual reality headsets or goggles.

These VR walking platforms are pretty different from our favorite and absolute best treadmills for working out at home. If you have the possibility, test both. You won't regret it!
Now, let's dive right into the most enjoyable and fun list of VR treadmills, designed to enhance your VR experience.

The 5 Absolute Real-Like VR Treadmills Ultimate Guide
1. Virtuix Omni VR Treadmill
The enormous omnidirectional treadmill in the Virtual World allows full freedom of movement including walking, running, crouching, kneeling, jumping, strafing, and backtracking throughout 360 degrees.
This is one of the best VR treadmills for action games.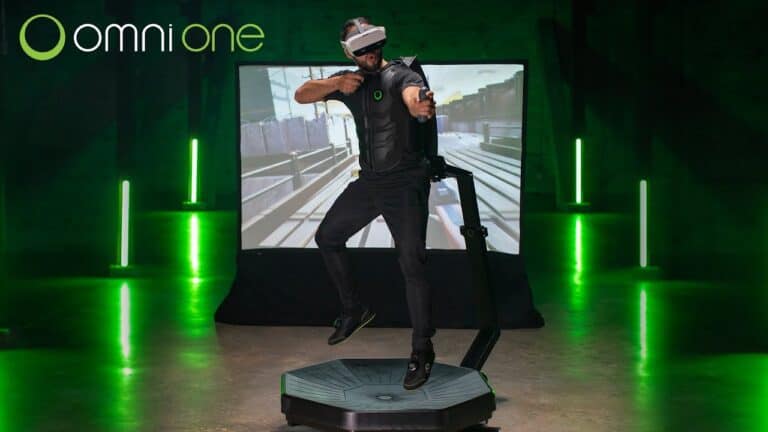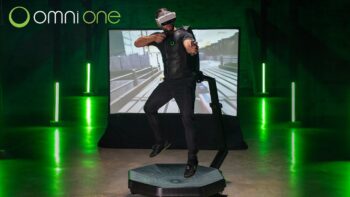 You'll have the impression that you're on the action field for real, given it was specially designed for gaming, which means you'll get the ultimate sense of freedom with this one.
The Omni VR standing platform works with both the Oculus/Meta Quest headset and the HTC Vive to provide a great VR experience.
Also, it's really intuitive. The speed limit is just limited on how fast you can go and the game's movements are exquisitely synchronized with the user's speed and position.

You can even move in 360 directions without losing quality. There is no special tutorial needed and you can easily fold it to store it when you're finished.

The only downside is that it isn't as suited for tall people as we would like. If you are too tall, maybe you have to be constantly bending or squatting.

An amazing highlight – Rather than being attached to a ring around the entire treadmill, with the Omni One you're attached to a single vertical bar , making it smaller than its predecessors..
A detail that we love – This VR treadmill comes with a pair of special shoes that are custom-made for your foot size. Yes, you read it right. Custom-made shoes which means a perfect, seamless fit that will help to reduce friction between you and the floor you're running on.
Your customized shoes will also keep your foot stabilized which means no lateral slipping.
PRO TIP: When ordering this VR Treadmill, don't forget to specify your shoe size.
Featured on CNBC, Forbes and Fortune you can check their website to get notified when this new remastered version comes out. 
2. Cyberith Virtualizer ELITE 2
Walking, crouching, jumping, and even sitting with it are all possible with the ELITE 2. With a fully integrated optical sensor system, low latency and smooth movement are guaranteed.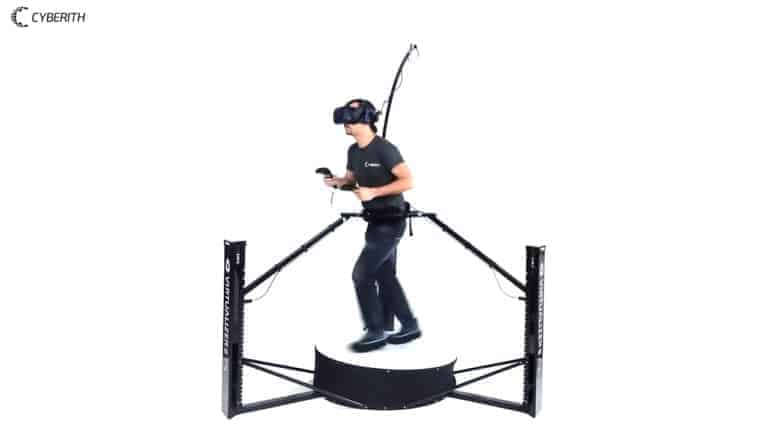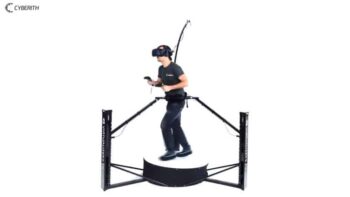 An incredible feature of this one is that you can be walking in one direction and look in another, while shooting in the opposite direction. That 's wild!
The ELITE 2 provides special software that allows developers to use Virtualizer for non-immersive VR games by simulating a keyboard and mouse.
Wearing shoes with a special covering, the users slide their feet over the round VR platform. On the other hand, a treadmill tilts automatically in the direction a gamer walks, making it easier for them to physically explore worlds created by computers.
Structure – The virtual relief and direction you walk in will make the platform adjust its incline.
It also comes with a rounded sensor platform, a moving body limiter for securing you while in use. And even an arch for attaching a VR headset, together with three base pillars.
How movements are monitored – Through a device, the user feeds movements and informs of body placement in space using sensors built-in to these pillars.
For where you're going, you don't need shoes – No need to wear special shoes for this one because it monitors your steps. The working method is focused on gliding.
You can even climb stairs while walking on this platform in the real world.  
Size and Design – The Cyberith Virtualizer is smaller than the Omni. The whole rig is more moveable than most other VR-running platforms due to the smaller podium.
Cyberith is a good alternative to Virtuix Omni for some people because of this. No official price has been released yet since bulk shipping doesn't exist.
Big highlight – The company makes its software development kit (SDK) available to third-party developers so that they can customize the VR treadmill for their own virtual reality applications.
And there already are software packages for the Unreal and Unity engines.
Highlight of this VR Treadmill: It's easy to use and adjustable to the wearer which means it fits all body types and can be used by different players. Also, it comes with over-sized shoes that are worn over your regular shoes.
Check their website here for product updates. 
3. Kat Walk Mini
If you are interested in playing realistic action games, this is a great choice because this treadmill is one of the smallest and lighter in the VR treadmill market.
It has a height of 5'4″, and a base area of 16.6 square feet, which means it's suitable for a regular apartment.
Great highlight – It features a rotating seat and special safety belt which aids you in comfortably and smoothly performing a great variety of activities.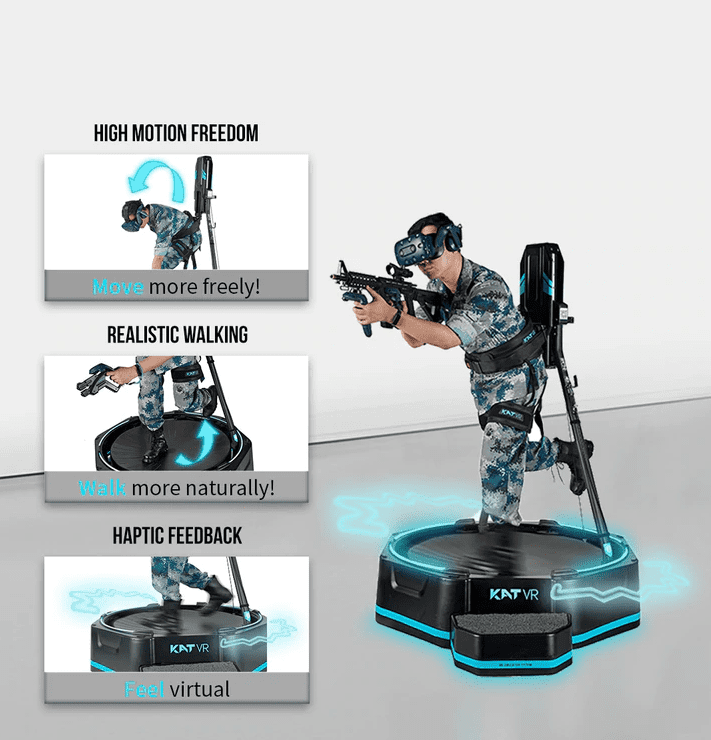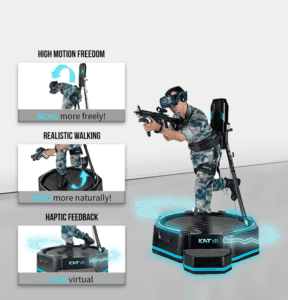 As a result, the VR treadmill aids and balances players as they move, changing to allow users to safely squat or get down to pick up virtual objects in a computer-generated world.
The Kat Walk Mini is for persons who are between 5'11" – 6'5″,and weigh up to 285 lbs.
Because it was meant to be an independent universal controller, the VR treadmill is compatible with popular virtual reality head-mounted displays (HMDs) such as HTC Vive, Playstation VR, Oculus Rift, and Windows Mixed Reality.
Kat Walk Mini uses contactless sensor technology instead of a pair of sensors on the gamer's feet to track their movements.
Based on sensor input and HMD tracking data, the sophisticated motion mapping algorithm identifies the exact position and speed of each foot, allowing for decoupled head and body movement. It takes less than 20 milliseconds to complete the process.
The walking motion on this treadmill is the polar opposite of Cyberith's. You may have a more realistic and immersive experience in the Virtual World because it does not employ the gliding effect.
The specific shoes that come with the treadmill are used to interact with the rig, just as they are with the Omni.
No ring, more freedom to move – Unlike the Omni and Cyberith, the Kat Walk does not have a ring that wraps around your waist.
Customers used to complain about the ring restricting their movements, they used to hit their hand on the band around the waist when, for example, drawing their sword in the game.
So, the ring has been removed from this treadmill's design.
Even more space to move – There's no cage on this treadmill, it relies only on a slim-fit belt to keep you safe and secure which means you'll get an almost lifelike experience.
You can move as it would in the actual world.
Great shock-absorption – The user's knees are protected by a shock-absorbing base plate on the Kat Walk Mini. 
And the vendor is now working on a customized retractable seat that will allow for longer play sessions in order to ensure a satisfactory level of operation for VR driving experiences.
Additionally, the firm provides a freely available software development kit (SDK) that lets game developers to simply integrate their games and virtual reality applications onto Kat Walk Mini.
View their website for updates on this product. 
4. Infinadeck
The Infinadeck absolutely raises the bar for virtual reality by allowing you to walk in any direction possible. And the possibilities go beyond wild! You can not only walk in a 100% computer-generated world. You can also interact with it. This unit can be used to manage jumping and running actions in any VR environment.
You can go through it in any direction, turn around, and look around to see what's going on. This is comparable to how we travel in real life, which is by going from one location to the next.
To get a sense of what this experience looks like, just think about the 360° Youtube videos, same here but really moving around.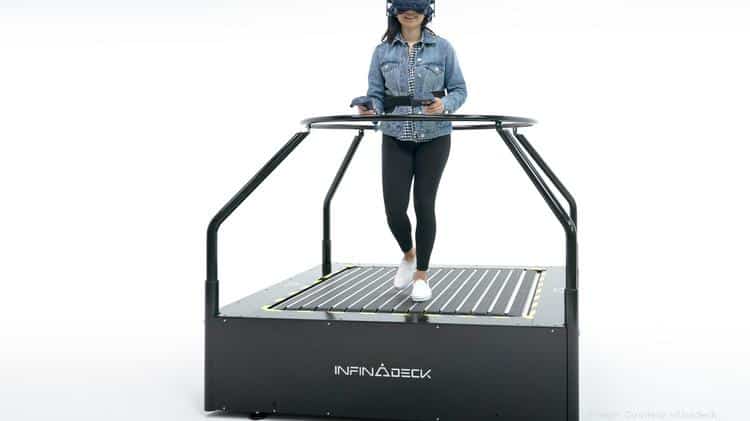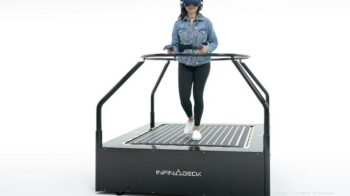 When you come onto the stage, you'll be in an entirely different environment, and you'll have to quickly learn how to rewalk. At first, it will be a weird feeling but, for sure, a good one!
Extra protection and safety – Infinadeck features hard bodily limiters that you can use. These bars also protect you from slipping off the platform while you're exploring a virtual world.
The HTC Vive trackers are used to determine where the user is on the virtual treadmill.
The treadmill's tracking technology assists it in distinguishing between crouching, lowering, walking, and heading in a specific direction.
Special belt for a more natural movement range – The treadmill belt is made up of dozens of narrow stripes. The speed difference between the belt and the stripes allows the user to go diagonally with ease.
A really natural feeling – The belt speed of the VR ODT can be changed to reflect the virtual area you're walking through.
This means that the pace on the Infinadeck VR treadmill adapts automatically as you go faster or slower. In less than a second, the computer identifies whether you want to run or walk.
For example, when you're walking up a mountain, the device causes the belt to slow down, causing you to walk slower in the virtual world than you would in the real world. As a result, you get the impression that you need to employ more affordance to get over the hill, and vice versa on the way down.
The top speed of this augmented reality treadmill is 8 mph, which is adequate for games but insufficient for morning running.
Plus, the Infinadeck works similarly to the Kat VR treadmill, but without the requirement for specific footwear. So, it becomes more easy for you to get immersed in the virtual world.

Note: The protection system is Infinadeck's largest unexpected weakness. Although it has safety bars and an excellent tracing system to keep you within the platform,  you run the risk of knocking your head on the counter if you pick up virtual objects. Also it can happen because of bowing
too close to the hard restriction circle.
During 2021, Infinadeck was ranked one of the top virtual reality treadmills. One of the reasons is because it allows third-party virtual reality developers to adapt their experiences on the treadmill thanks to Infinadeck's SDK.
Check out their website to learn more. 
5. Aperium K-01 pod
The world's largest virtual reality treadmill was constructed by Aperium. Its K-01 model is a one-way system designed for niche gaming rather than residential use.
However, we felt it deserved a place in our list.
It employs V-Orient technology to subtly reposition a digital 3D environment, giving users the illusion of walking rightwards, leftwards, and diagonally while physically walking just forwards.
The speed of the belt on the Aperium K-01, like all of the finest VR treadmills featured above, will alter according to what's going on in the virtual world.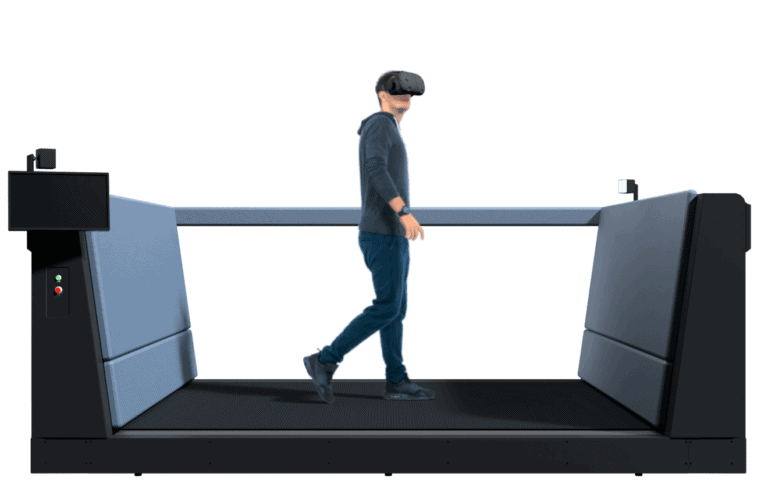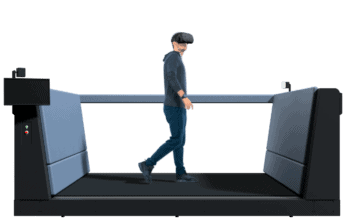 Unlike other software tools, the VR ODT comes with a full-ATX device that generates a video signal and transfers it to a virtual reality head-mounted display like the HTC Vive.
Way better than safety rings or body limiters: Instead, this device includes high stop panels with a height of more than 3 feet.
This virtual reality treadmill employs two base stations on opposing panels to track user motions and location in space, as well as a sensor put on the customized belt a player should wear.

On the plus side, it has a minimal maintenance cost, is compatible with most VR headsets, and is completely configurable by third-party developers.
The only drawback we discovered was that, due to its size, moving this treadmill from one location to another takes a lot of work.
Using the Aperium K-01's operator interface and touch screen display, a VR app may be configured and activated. And the company even provides an SDK that allows third-party developers to port their Unity-based VR apps to the Aperium K-01 pod.
We know, Aperium K-01 isn't exactly a suitable match for your living room, with dimensions of 10.5 x 8 ft, which is why it's designed for commercial usage. But, it's an incredible VR treadmill that allows you to sneak-peak on features that will soon be available on more budget-friendly treadmills.

View their website here to learn more. 
Google: Leading the VR Treadmill Race?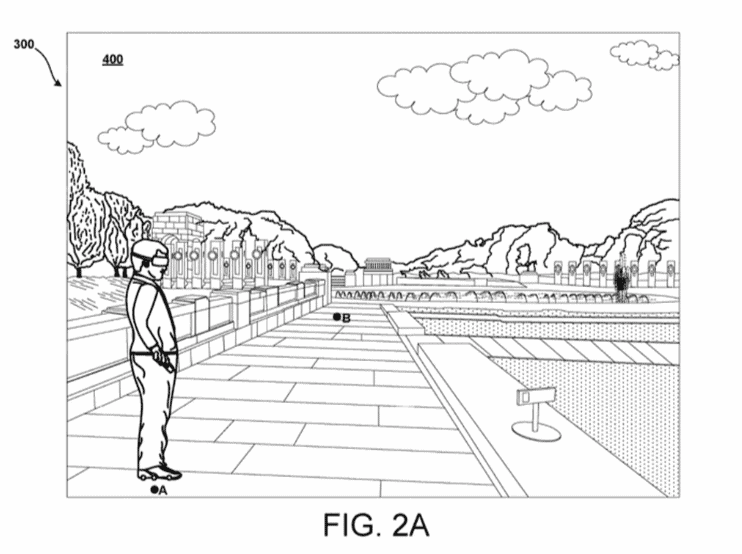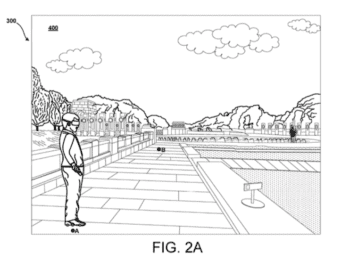 To overcome all of the issues with current VR technology, Google has developed a unique idea called Motorized VR Shoes. These are basically roller skates that allow you to walk normally.
You'll feel as though you're walking in a virtual environment eternally while the motors and wheels oppose your natural movement and keep you safe inside a VR safe zone using Google's VR shoes.
The shoes will be used by Google to track the user's movements. If, for example, the user approaches the virtual borders of the VR environment too closely, the tracking device will detect it and wheel the person back to a safe spot.
For now, the Motorized Shoes are only a patent since they can't figure out yet how to avoid the consumer from falling over. Another concern with these shoes is that some people could find it strange to go around in the real world while only viewing the virtual world. The change will likely take some time to adjust to, but we will all get used to it eventually.
Best VR Treadmills Affordable Alternatives
If you don't have enough room or money to get any of these VR treadmills, there are some more budget-friendly VR treadmill alternatives:

VR Mats: VR safety mats help you to stay balanced and centered. 
VR Chair: Sitting in a chair while gaming for long periods, can cause back pain and posture deformities. These types of chairs enable a seamless VR experience offering even automatically turn to wherever you are looking when you connect the VR Head tracker to any VR headset.
CyberShoes: Your feet are strapped into Cybershoes, and you're situated in a Cyberchair, ready to begin your virtual reality trip. With the Cybershoes on your feet, you may stroll alongside giants through snow-covered valleys, meander through dragon-lit battles, or charge into abandoned towns to exterminate mutant hordes as if you were truly there.

3dRudder: WIN! With the revolutionary 3dRudder foot-powered VR motion controller, your movements will be much more precise and feel more natural. It's a perfect match for the VR Chair.

VRgo: Take complete control of your hands, allow yourself to engage in a range of novel interactions, sensations, and movements that seem natural with these gloves.
Common Questions That You Might Have About VR Treadmills
Why Do We Need VR Treadmills?
VR Treadmills contain a movable seat and a customized waist belt that allows the user to execute numerous tasks securely and pleasantly. As a consequence, a virtual reality treadmill will support and steady the user in any position, even bending to reach certain realistic objects in the virtual world.

But, one of the most relevant reasons for using this kind of treadmill is that people don't have to suffer from obesity or a sedentary lifestyle. Even while being professionally a gamer, for example, they can still stay fit and healthy.
What Is the Main Purpose of Virtual Reality?
Virtual reality is being utilized to create immersive worlds for clients so that they can enlighten, amuse them and help them have a healthier, more fit life.
In addition to gaming, virtual reality is employed in a variety of sectors, including research, engineering, military, and YES! Fitness.
What Are the Side Effects of Virtual Reality?
The effects of just using virtual reality headsets for a short time have been researched.
In these tests, however, there was no sign of visual loss. Nausea, irritated eyes, headaches, and eyestrain are some of the transitory symptoms that some people encounter if they have their headsets on for too long (*more than 8 hours).
Is VR Bad for Your Brain?
According to scientific research, virtual reality does not cause chronic brain damage in adults or children.
However, dizziness, despair, and collapse are some of the symptoms that might arise throughout using excessively VR devices.
Treadmills for VR Might Arrive Sooner Than We Think!
The world of virtual reality is expanding day by day. Although the price of an omnidirectional virtual treadmill is a little costly, people are accepting these ideas well.
In the very future, we will see some more accessible VR treadmills and we will for sure be able to gift these VR treadmills to our loved ones.
An object which is useful in daily life and for health, and that allows you to run at the most beautiful places in the world, will eventually become a must have.
You can run in the Sahara desert in the morning and jog in the beautiful Mexican Caribbean beaches by sunset. And all from the comfort of your home, provided by your virtual reality treadmill. Sounds too good to be true, right?
Luckily, these magic devices already exist. And more budget-friendly ones will appear to make real our desire to train whenever and wherever we want, and get in the best shape of our life.


This article was written by Victoria Franco and published on Monday, 9 May 2022.