(Last Updated On: September 14, 2017)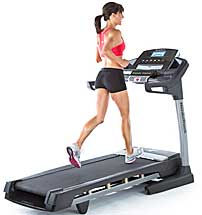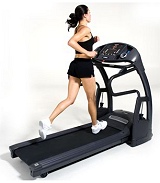 I often get inquiries from my readers asking if they should buy a used treadmill?  Obviously there is an extensive secondary market for used treadmill,just go to eBay or your local Craigslist.  These treadmills were bought by individuals who had good intentions of losing weight and getting in shape in the convenience of their home.  However,many people never got past the good intentions. Consequently,they have an expensive clothes hangar that takes up excessive space.  And they end up selling it.  What makes buying a used treadmill appealing is saving considerable money over a new treadmill, but there are some considerations.
Considerations when Buying a Used Treadmill…
Make sure the treadmill is not too used.  The best bargains for used treadmills are models that are virtually new and there are quite a few of them out there.  How do you know if a treadmill has low mileage?  Often the motors will have a gauge that tells you how often it has been used.  In addition, by simply running on the treadmill you can tell if there are any obvious noises that suggest overuse.
Make sure the treadmill is right for your fitness goals and your body type.  For example, if you are a runner you will want a treadmill that can take the abuse that comes with running.  That would suggest you want a machine that was originally priced at $1,299 or more.  If you are extremely overweight you want a heavy duty treadmill that  can accommodate your weight.  If you are very tall you want a model that can handle your long strides. Avoid cheap used models that originally sold for less than $500.
Make sure the treadmill is not too old.  You may find an older treadmill that seems like an incredible deal, but they often are dated in features and functions. Over the last decade the quality of treadmills has increased substantially and you get more for less.  Bigger motors, longer decks, better warranties, etc.  And many manufacturers now have treadmills that can connect to the Internet, which offers exciting features that are designed to motivate you in achieving your fitness goals. I recently ran on a treadmill that was around 10 years and cost originally around $1,700.  It was nowhere near the quality of my 1-year old $999 treadmill.
Warranties are generally not transferable.  Consequently, if you buy a used treadmill you are screwed if you have a service issue.  And getting a treadmill serviced can be very expensive.  New treadmills $800 and over tend to come with a 1 year labor, 3 year parts and lifetime warranty.  Models over $1,299 often include 2 year labor, 5 year parts and lifetime motor coverage.
There are some excellent deals if you buy a used treadmill, but let the buyer beware.  What may seem like an incredible bargain could end up costing down the road, or also become an expensive clothes hangar.
Read more about buying a treadmill:
Treadmill Buying Guide | 7 Helpful Tips
How to Select the Best Running Treadmill for your Body and Budget: Treadmill Benefits (Part 1/3)
How to Select the Best Running Treadmill for your Body and Budget: Running Treadmill Features (Part 2/3)
How to Select the Best Running Treadmill for your Body and Budget: What Should You Pay? (Part 3/3)