We often get inquiries on which treadmill brand is a better value, the NordicTrack treadmills or the ProForm treadmills.  In fact, they are built by the same company on the same assembly lines with many of the same parts!
We've witnessed this personally when our team was out at their manufacturing facilities. There are some models that are unique to each brand, but others are almost identical.  They'll mix and match features like motor size, deck length, iFit technology, workout programs, sound systems and built-in fans.
Nearly Identical Machines: NordicTrack Commercial 1750 and the ProForm PRO 5000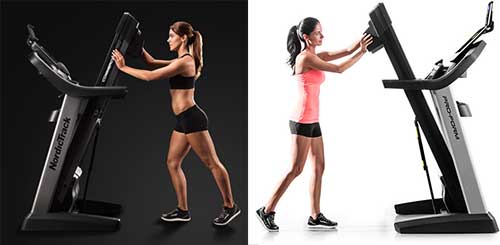 One recent example of some matching Mollies are the NordicTrack Commercial 1750 and the ProForm PRO 5000.  Just looking at these two models, it is clear that they are cut from the same mold.  Here are some more similarities and differences:
Similarities:
iFit Coach Ready
7" Smart HD Touchscreen
38 Workout Apps
22×60" Tread Belt
0-12 MPH Speed capability
15% Incline and -3% Decline
Space Saver Design with Easy Lift Assist
5" Rollers
5-Year Parts and 2-Year Labor Warranty, Lifetime Frame and Motor
Differences:
The PRO 500 has a 4.0 CHP motor and the Commercial 1750 only has a 3.8 CHP motor. The word "only" really doesn't fit here because these are both monster motors that would work well for users of any size or ability.
The Commercial 1750 requires iFit Coach Plus ($468) and the PRO 5000 requires only a basic iFit Coach subscription ($144). You can cancel both after the initial period if you choose.
Price: At the time of this writing the PRO 5000 was $1,499 and the Commercial 1750 was $1,599.
Why Is It Important for YOU to Know This?
The advantage for you as the consumer is that you have two different opportunities to get a great machine from two different sources.  That's more chances to get a killer deal by working the sales.  Sometimes one model is priced higher and sometimes the other is priced higher.  It just seems to depend on the direction of the wind for these companies.
Check back on our site often because we keep track of which brands are running the best deals at any given time.  We can also help you sort through the many various options between NordicTrack and ProForm.
How to Make Your Decision – ProForm or NordicTrack Treadmills
If you are considering either a NordicTrack or a ProForm treadmill you first want to determine what your fitness goals are and which features will accommodate those goals, i.e. motor, deck length, workout programs.
Then shop around…
See which models have the features you are looking for and at what price. You may find by shopping both brands you can save yourself several hundred dollars.
To help you get the best value, we monitor the NordicTrack and ProForm sites regularly.  We'll alert you to some great buys as they come available.
Check Out Our Reviews on NordicTrack Treadmills and ProForm Treadmills Below
Or, check out these specific models:
ProForm – Click here for our review of the ProForm Brand.
Or, check out these specific models: