You Get What You Pay For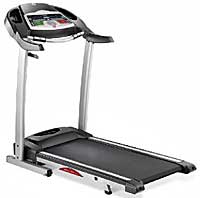 I tend to be a snob when it comes to treadmills.  A treadmill can take considerable abuse from constant impact,therefore it needs to have significant substance in order to last for the long haul.  That is one of the reasons I tend to discourage people from buying low budget models.   The other reason is that these machines are more likely to breakdown,and I don't want to be responsible recommending a treadmill that has potential for  service issues.
However, there is a need for inexpensive treadmills.  That need comes from individuals that want to lose weight and get back into shape in the comfort of their home, but who have a very limited budget.
Enter Merit Treadmills.  They are built by Johnson Fitness, who also builds Horizon, Vision and the new LiveStrong treadmills.  Merit competes against budget brands like Weslo and Image.
You Get What You Pay For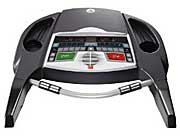 As I mentioned treadmills, by their nature, take a lot of abuse.  The rollers, belt, motor and deck are subjected to constant stress and strain.  For example, when you run on a treadmill, you impact the deck at 2.5X your body weight.  So a treadmill needs to be a precision machine, where the rollers, deck, belt and motor all work in unison over a protracted period.
When you spend around $400 on a treadmill that does not afford you a highly engineered machine with quality components.  Does that mean you should avoid a Merit treadmill at all cost? No, these treadmills may make sense for you if you have limited resources.  And they further make sense if you are not sure your investment will not end up being a clothes hanger.   But you need to realize the limitation of budget treadmills.
Merit Treadmill Reviews
Merit Treadmill Features
Small Walking Area — The deck and belt size are small in comparison to your typical treadmill.  For example, the Merit 725T has a 18″x45″ walking area.  Take a tape measure and see how wide 18″ looks.  Furthermore, 45″ is not very long.  Your typical treadmill is around 20″x55″, and these days many manufacturers are selling treadmills with lengths of 60″ or more.  At 18″x45″ you are going to feel very constrained, particularly if you are relatively tall or large.
Small Motor — The Merit 725T comes with a 1.25 continuous duty HP motor.  That is the horsepower rating when running at a comfortable speed.  This is not a very powerful treadmill motor, typically they are 2.5 HP or more.  Why do you want a powerful motor?  So it won't strain during higher speeds, steep inclines or from excessive weight of the user.
Limited Warranty — Surprise! Budget treadmills comes with very limited warranties.  In the case of the Merit 725T you get 2-year motor and 90 days parts and labor. Which suggests the company is not that confident the treadmill is going to last for the duration.  Compare that to the NordicTrack C 600, which sells for a reasonable $699 and comes with a lifetime motor, 2-year parts and 1-year labor warranty. Obviously NordicTrack has confidence in the durability of their machine.
Stability — The Merit 715T weighs 94 lbs.  That is not very heavy for a treadmill.  Put a user on it over 200 lbs. and it is not going to be extremely stable or have a solid feel.  In contrast the Sole F63, which sells for $999, weighs a hefty 255 lbs.  There is a huge difference in the stability.
User Weight Limit  — They rate the user limit on the Merit treadmills between 250-275  lbs.  I feel that is very excessive when you factor the motor, the deck thickness and the weight of the machines.  I would put the limit at around 200 lbs. and that may be pushing it.
Positive Amazon Customer Reviews
I've listed a number of reasons why you do not want to buy Merit Treadmills, but there are two reasons why you may want to.  First, their cheap.  Their most expensive treadmill is $499 with shipping through Amazon.com.  That's equivalent to 4 months of my cable bill.
Second, customers generally give the various Merit treadmills high ratings on Amazon.com.  They average 4 out of 5 stars.  In fact, one satisfied customer weighs 250 lbs. and runs on his treadmill.
So does that mean I don't know what I am talking about.  Hmmmm! I stand by the comments I made above.  And if you understand these limitations you are in a better position to be an educated consumer and it may be that a Merit Treadmill is a good choice for your needs and budget.
I do not recommend Merit treadmills for heavy users, multiple users and runners.  It doesn't mean you can't end up getting years of usage from your Merit treadmill if you are over 200 lbs. and a runner, but it is simple economics.  However, the chances of having service issues increases with the less money you spend.
For someone who want to get back into shape and has a limited budget, these treadmills may have Merit (Sorry, I couldn't resist.).  But if you want a durable machine with good shock absorption and some bells and whistles you may want to upgrade.
Upgraded brands to consider are NordicTrack and ProForm.