Costco Models Built by Icon Fitness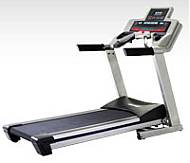 Epic Treadmills are built by Icon Fitness,which is the largest fitness equipment manufacturer in the world. They also build ProForm,NordicTrack, Reebok, Weslo and Image.
Epic treadmills are built specifically for Costco, although these models utilize the same design and features found on other Icon treadmills.
---
Note: Also check out NordicTrack and ProForm treadmills. They are both built by the same company and have a wider selection and typically better deals.
---
Typically the best deal from Epic is their Epic View 550. It has some impressive features for the price…
7″ Flat Screen TV – It takes the boredom out of running place.
Intermix Acoustics Sound System – I've heard this sound system and the clarity is impressive. What really is unique is the built in subwoofer. A treadmill with a subwoofer – that's a hoot.
20″ x 60″ Extra Long Treadbelt – Ideal for taller users and runners.
3.0 HP Continuous Duty Motor – Although their claim that it is commercial grade is pushing it, still this motor should be able to handle high speeds and speed incline workouts without straining.
2.5″ Rollers – When it comes to rollers the larger the better. Large rollers increase the life of the treadmill and reduce friction and noise.
Normally a treadmill with a 3.0 HP motor and 60″ long treadbelt would cost in excess of $1,800. When you factor in the flat screen TV and sound system, this is quite a deal.
Also, this particular model received some "Excellent" ratings from a prominent consumer ratings magazine for ease of use, ergonomics and exercise range.
Check Out Our Epic Treadmill Reviews:
My Visit to the Epic/Icon Corporate Headquarters
I visited the Icon Fitness manufacturing facility last August and overall was very impressed. They showed me the rigid testing each model goes through. I learn about the components they use. For example, they use MacMillan motors, which have a good reputation.
Overall, I was impressed with the direction that Icon Fitness was heading. They have had a quality control issue in the past and that has improved dramatically. In fact, I find it hard to believe this was the same company that made throw-away fitness equipment several years ago. Now they offer some of the best value in the $500 – $1,500 price range.
Our Review – Epic Treadmills
I believe there are some excellent bargains in the Epic Treadmill line-up, particularly when the Epic View is selling for $1,299. However, with certain models you can get a better value with other Icon brands like NordicTrack and ProForm.
I suggest you shop and compare the Epic, ProForm and NordicTrack treadmills to guarantee you are getting the best value. Compare features and warranties. Basically, these brands all use the same components and are built at the same plant. It is just a matter of how they mix and match different features for each model. Click below to go to the treadmill product pages for each brand and compare models.
Customer Reviews
On Epinions.com one customer thought the 550 was an good value. Two complained of various mechanical problems giving it a poor rating.
Regarding the Epic 425 one customer stated:
"If you're looking for a treadmill w/ a good price and a high weight capacity, this is a great unit. I use it every morning now and love it."