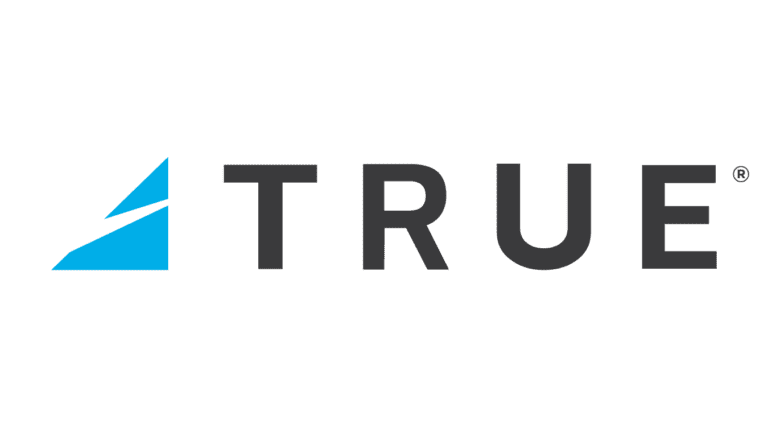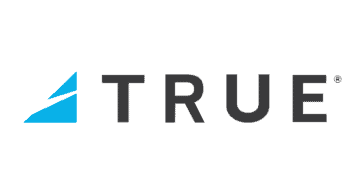 True Sports, the company we now know as True Fitness Technologies, Inc., and the maker of True treadmills, was launched with the introduction of a treadmill for home use in 1979. But it wasn't until 1988 that True Fitness branched into the commercial fitness equipment market.
Over the last three decades, True has become better known for their commercial treadmills than their residential machines, but their residential models are designed to take a beating.
Today, True treadmills represent some of the fitness equipment industry's best treadmills in both the residential and commercial markets. The design and quality of True Fitness treadmill components means True continually ranks at the top of any significant treadmill review—right up there with Precor and Landice.
True Treadmills – Quality and Service that Ranks With the Best
True Fitness is headquartered in O-Fallon, Missouri. While they are also one of the few treadmill companies that still builds their treadmills here in the United States, they do, like many manufacturers, build their entry level models overseas.
As a company, True Fitness is committed to quality and a customer-first approach. True Fitness engineers are on site during the manufacturing process to ensure the equipment that comes off the line is up to standards. As a result, true treadmills look good, feel great, and are built to last.
True's customer-first approach is all about offering great customer service, as well as designing their treadmills for safety and comfort. True's dedicated customer service team supports customers through every aspect of ownership from choosing the right equipment, to selecting a delivery method and installation options, to operational troubleshooting and scheduling repairs.
Features
The company's customer-first ideal extends far beyond customer service. True was the first fitness equipment manufacturer to introduce a removable safety key on a treadmill back in 1987. Since then, True has added other innovative features to its treadmills to keep your workouts safe, comfortable, and effective including automated heart monitoring and adjustable low-impact running surfaces.
Automated heart rate monitoring

. True's HRC® Cruise Control helps you monitor and maintain your target heart rate. When you enter your target heart rate into the machine, it will automatically adjust your speed, resistance, and incline throughout your workout.

Low-impact running surface

. True's signature Soft System® deck is available on select treadmills to decrease impact and stress on your joints, so you can run longer and farther with less pain. Soft Select® allows you to modify the firmness of your treadmill running surface for a tailored experience—a softer surface protects sore joints, and a firmer surface mimics the feeling of training on hard pavement. And the orthopedic belts, standard on most of True's treadmills, enhance the deck's capacity for shock absorption.
Some of the core specs for True treadmills, from entry level to top of the line include: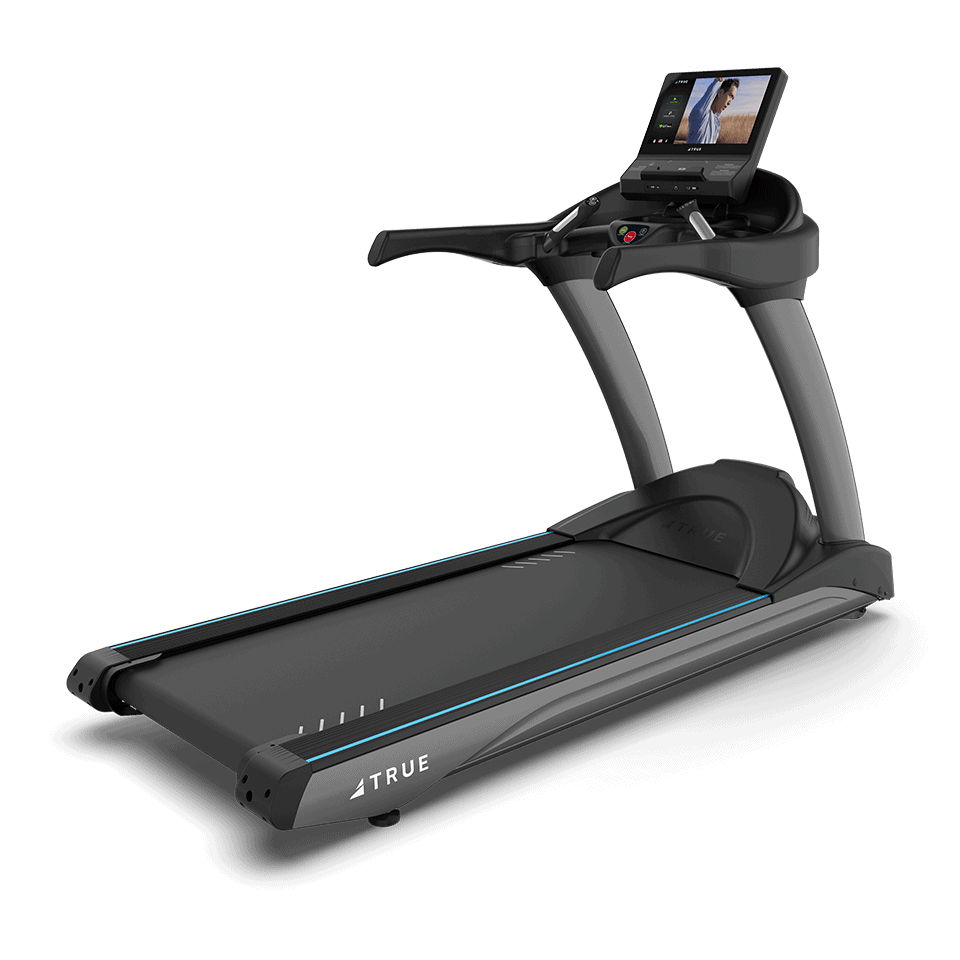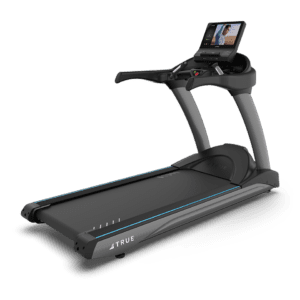 Motor: Motors on True's residential treadmills range from a 3 HP DC motor on entry level models to a 4 HP DC (continuous) motor on the 950 model.
Incline/Decline: 15% incline levels are offered on all True's residential models.
Product weight: True treadmills range from 220 lbs for the M30 entry-level model to 324 lbs for the 950 model.
Console options: True's consoles range from 7" LCD displays with 7 programs and 2 custom workouts on entry level models to a 8.5" six-window LCD display on the TPS300 model, a 9" touchscreen display on the Z5.4 model, and choices of up to 16" displays on the 950 model.
Warranty: True's residential warranties come with lifetime on the frame, 30 years on the motor, 5 years on parts, and 1 year on labor. Residential warranty on parts for the TPS300 model is 7 years and parts warranty for the Z5.4 model and the 950 model is 10 years.
The Commercial Quality Advantage
There is a distinct advantage to you, as a customer, when you choose a treadmill from a company like True Fitness that builds both commercial and residential fitness equipment. That's because commercial treadmills are designed to withstand the extreme abuse of a public environment. Fitness equipment in gyms, health clubs, and hotels may be in operation for as long as 10 hours a day or more, day after day. For efficiency, these companies will use many of the same commercial components to build their residential models. And as a result, residential treadmills built with commercial components are simply more durable over time.
But wait… Is commercial quality really an advantage?
True Fitness promises its residential treadmills will bring you "club-quality at home." And we definitely trust the company knows what it's talking about. But is "club-quality" really what you're looking for?
Some may argue that commercial quality or "club quality" can bring "overkill" or "too much machine" to a home user. As you shop around to assess your best treadmill options, you'll likely encounter several issues with commercial treadmill companies that also sell home models.
The prices are higher

. The prices from companies that sell commercial-grade treadmills for the home typically are not as competitive as treadmill companies that sell only to the residential market.

The comparisons are difficult

. While commercial brands generally offer higher quality components on their home models, the specs on the commercial grade treadmills sold for the home typically are not fully comparable to brands that offer models specifically for home use.

The electronics are minimal

. Companies like True, Landice and Precor tend not to include as many innovated electronic features on their commercial grad treadmills, so it follows that their residential models lack certain "bells and whistles" like full-color touch screens and Internet connectivity.
Awareness is the key to making your best decision. And now that you're aware of the challenges that can be presented to you by commercial brands that offer models for home use, you'll be able to shop with greater confidence.
What Others Are Saying About True Treadmills
There is no question that True Treadmills are some of the very best running machines out there. And we don't want you to just take our word for it. Check out some of the reviews listed below.
This review comes from Runner's World magazine and is specific to the True Z5.4 model:
"Our testers consistently found the Z5.4 to be quiet, soft, stable and smooth underfoot. They also liked the bright display and found the programs easy to navigate. Plus you can adjust the belt's cushioning to one of 12 preset levels with a convenient side lever. (Another nice feature of the belt: it's wider – 22 inches vs. the standard 20). The handrails extend only slightly away from the console, so most runners won't hit them with their arm swing."
This review comes from Kiplinger's Personal Finance:
"Going for quality is crucial. Her first choice is the True 540 HRC because it has a roomy running surface and attached heart rate monitor. The company's machines also have a solid reputation. You can adjust the platform's hardness and modify its preset workouts for speed and elevations."
Of course, when we're doing our homework, we always appreciate a candid take. This comment, about the True 550 HRC model (which in all fairness is not currently offered for sale on the company's web site), is from someone who was a bit less than perfectly satisfied with their True treadmill.
"I have had a True for over two years.  It has broken down twice now.  We put about 800 miles per year, so it is definitely light use.  For that price, this thing should not be breaking down at our usage level."
Our Review – Are True Treadmills Worth It?
If you're asking yourself, "Are True Treadmills worth it?" you'll want to take a look at the real underlying question. The real question isn't whether a True treadmill is a good machine because it is in fact an excellent machine. Period. The real question boils down to whether a True treadmill is a good value compared to other options. Once you've homed in on that, you can decide whether a True treadmill is worth it to you.
From our extensive experience selecting treadmills for home use, we've learned that unless you have multiple users accessing a single home machine daily, or unless you are a marathon runner in active training, a True treadmill can quickly fall into the category of what we refer to as "overkill" for home use. And for us, if something's in the "overkill" category, it may not be worth it.
True treadmills are offered at a premium price. Of course, certified pre-owned and remanufactured models are available, and it certainly may be worth your time to check them out.
But if your budget demands something more affordable, we recommend Sole treadmills.
We're not the only ones who are fans of Sole. We ran across this statement in a consumer magazine article about a treadmill review that ranked a number of popular treadmill brands:
"Surprisingly the True PS300, which was the highest ranking True model in a popular consumer magazine only came in sixth. Several of the models that ranked above it were considerably less money. That included the Sole S77."
So, the bottom line is this. If you're looking for a durable, quiet, well-built treadmill that will accommodate the workout needs of a serious runner, we recommend you at least consider Sole.
Sole treadmills combine solid construction with good electronic connectivity and a low impact joint-friendly deck… all in a unit that is ideal for home use without falling into the overkill category. In other words, serious runners who are looking for a quality machine that is built to last are likely to find what they're looking for with Sole.
To learn more about Sole, click here to read our full review on each model or click here to shop directly on the Sole website.
This article was written by Lane Therrell and published on Friday, 18 March 2022.
FAQs
How much is a True Fitness treadmill?

The treadmills from the True Fitness brand range anywhere from $2,000-$6,000.

Is True Fitness a good brand? 

To sum it up – yes. True Fitness excels in making premium fitness equipment. Consumers who are just looking for a home use treadmill may find their machines a bit too much and overpriced for their needs.

Where are True Fitness treadmills made?

True Fitness headquarter location is in St. Louis, Missouri.