Yowza Daytona Treadmill
| | |
| --- | --- |
| Brand: | Yowza Fitness |
| Expert Rating: | |
One of the Few Left Standing at Yowza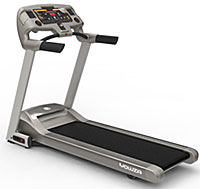 The company that builds this machine, GreenMaster, has been manufacturing fitness equipment for the last 27 years, and they are very good at their job. The Daytona is a perfect example. It is engineered to provide a superior running experience, in addition to having an impressive service record. The lifetime motor, 5-year parts and 2-year labor warranty is an indication that this is a low maintenance machine.
However, stateside, Yowza is floundering a bit. We've been saddened to see this company go downhill in the last few months. They have discontinued many of their models. We'd recommend you check out options from other brands over Yowza at this point.
Yowza Fitness is OUT OF BUSINESS.

We are still waiting to hear more information about this company but it seems they are no longer producing machines.  

NOTE: Check out the Sole F85 for a more reliable option. Unlike Yowza, Sole is a very reliable company with a solid reputation.
Check Out Our Video Review of the Yowza Daytona:
Daytona Treadmill Features
Deck and Shock Absorption Design — The Yowza Daytona does an excellent job of handling the impact of runners. First the deck sits on a series of rubber elastometers that look like big black marshmallows. They are thicker at the front of the deck and thinner towards the rear. They are placed this way because you will want more shock absorption towards the front where you foot lands, and less in the rear where you need to push off.

To further reduce the shock of impact the front of the deck utilizes a rocker arm. This Swing Arm Suspension helps reduce strain on your ankles, knees, hips, and back. With each step, the Swing Arm moves with your motion. The combination of the elastometers and the Swing Arm contribute to a very forgiving shock absorption system.
Motion Control – One of our favorite features on the Yowza machines is the patented Motion Control system. Sensors are built into the console that allow you to simply wave your hand to speed up, slow down, or stop the machine. This provides a far superior solution to other machines that require you to punch buttons mid-workout.
3.5 Continuous Duty HP Motor — At this price most treadmills have at least a 3.0 HP motor. The motor that Yowza uses on the Daytona is industrial strength and quiet. It will run effortlessly at running speeds and should last the lifetime of the machine. In fact, it comes with a lifetime warranty.
Intelligent Weight Management —Yowza has a unique concept called the Intelligent Weight Management. With this technology, your weight and body mass stats are shared with your treadmill. The machine will then tell you, "Press Start and IWM will adjust your workout time, speed and incline automatically to make you burn a pre-prescribed amount of calories all based on real-time data." How can you go wrong?
20? x 60? TreadBelt — The 60? length is getting to be standard at this price. It comfortably allows for taller individuals and the longer strides of runners.
249 Lb. Unit Weight — This machine is heavy enough to provide a solid base while you run.
Mediaport – The Daytona treadmill comes with mediaport to allow you to connect all of your mobile devices during your workout. This keeps your entertained through movies, music, and internet access during your workout. We like that this area is separate from the regular console display so that it does not block your running stats.
Workout Programs — The Daytona Treadmill comes with sixteen installed programs to add a variety of challenges and to keep you motivated. Several of the programs have a series of intensity levels. There are also three user defined programs, and the ability to have nine individual user profiles saved on the machine.
Heart Rate Control — The Daytona has wireless heart rate control, which includes the wireless belt. You can define the level of your exertion based on your heart rate. This method of exercising is used by professional athletes to optimize their workout.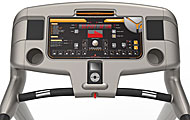 Console Design and Features — The console tends to be more stylish than many. It has a smart layout to it, making it easy to make adjustments or change programs. It includes speakers and a docking station for a MP3 player. The speakers on the Daytona console actually do a decent job and provide a degree of clarity. There is also a fan built into the console with three speeds.
Warranty — Lifetime Frame and Motor, 5 Year Parts and Electronics, 2 Year In-Home Labor
Our Review – Yowza Daytona Treadmill
From personal experience, we can share that GreenMaster builds some of the most durable machines in their price range. They also do an excellent job of engineering treadmills that minimize the abuse that comes with walking, jogging, or running. The Yowza Daytona is a culmination of years of development that has resulted in a treadmill that will do a superb job in satisfying the needs of a runner.
However, because of recent concerns with the company, we'd recommend a different brand instead of the Yowza Daytona. Check out the Sole F85 for an excellent option.