You Are Paying for a Very Low Rate of Mechanical Issues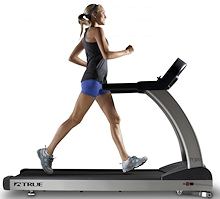 True is one of several brands that is primarily known for the commercial treadmills, but also sells residential models.   The advantage of a commercial treadmill company selling both commercial and residential treadmills is that much of the durability found in the commercial models is translated into the home models.
One of their most popular True home treadmills is the True PS 300.  It is built for runners and multiple users, but that doesn't mean you can't walk on it.  The only question is do you want to pay in excess of $3,200 for a walking treadmill?
What the True PS300 treadmill does offer is exceptional durability.  As with Precor and Landice treadmills, you will find that rate of mechanical issues is considerably lower than brands like NordicTrack, Horizon and Smooth.  And that is what you are paying for.
As far as the specs, from face value, they are not all that impressive for the price.  But that doesn't tell the whole story.
The PS300 utilizes many of the same components found on the commercial models.
The quality of the engineering typically surpasses models build by the popular residential brands.
So if you are comparing specs, you really are comparing apples to oranges.
True PS300 Treadmill Specs
3.0 Continuous Duty HP Motor – It will run effortlessly even at higher speeds or with heavy users.
60" x 21" Running Surface – The size offers a comfortable running surface for long strides.
308 lbs. Unit Weight – The heavy weight gives the True PS300 treadmill rock solid stability.
Orthopedic Treadbelt – Offering additional cushioning that reduces impact.
Warranty – 30 motor, 7 year parts, 1 year labor. The 7 year parts coverage is above average, but the 1 year labor is below average.  What I don't understand is why not give a lifetime motor warranty like everyone else?
LCD Console
Wireless Heart Rate Control – You can determine your rate of exertion by the rate of your heart.
True PS300 Treadmill Review
There is no question that the True PS300 treadmill will offer exceptional quality and durability.  The question is do you need to spend over $3,200 for a treadmill to achieve your fitness goals?  The Sole S77, which ranked above the True PS300 treadmill in the most recent reviews by a popular consumer magazine costs $1,500 less.  I'm not sure the True PS300 offers that much more value for its' premium price. But if you can afford the best, this is up there.