Do You Get Bored on a Treadmill?
Some of the most popular treadmills these days are equipped with televisions. In fact, approximately 25% of NordicTrack treadmills are installed with televisions.

Why would you want a treadmill with a television built-in? If you have ever worked out at a health club you'll notice that in front of the row of treadmills are a row of televisions. People like a diversion when they are walking or running in place. It is not like exercising outdoors, where you have a constant change of scenery.
---
TV Equipped Treadmill Suggestions:
Smooth 9.65TV – $2,299 (15″ Flat Screen TV)
---
As hard as you try, you never get anywhere with a treadmill. Consequently, you get bored, and when you are bored the minutes drag on. Watching your favorite program or movie makes the time fly. Suddenly you clock in more minutes than you realized, and the longer your cardio workout the more calories burned.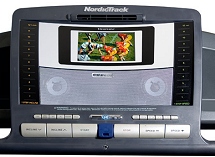 NordicTrack figured rather than having to equip your workout room with a separate television, wouldn't it make sense to design a treadmill with a built-in television. Especially since flat screen technology is more affordable.
The logical place for a television is the console. It is directly in front of you when you exercise. It is naturally where your vision tends to focus. You don't have to strain looking off to the side or up above.
What I find fascinating about the TV equipped NordicTrack treadmills is the various models they offer. Each is designed to accommodate different levels of users.
For example, there is the NordicTrack Commercial 2450. This treadmill is designed for walkers and joggers. In addition to the flat screen TV and sound system you get an adjustable shock absorption deck, 3.5 HP motor, 60″ treadbelt and their ifit technology. (As of 8/22/09 it was on sale for $1,999, with shipping. One of the better deals available from NordicTrack.)
If you are like me, and die from boredom working out on a treadmill, the above models are worth looking into. Each provides a cardio workout and entertainment experience. Combined they will assist you in achieving your fitness goals.
The Smooth 9.65TV Treadmill with 15″ LCD TV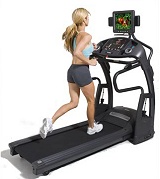 Probably one of the most impressive treadmills with a TV is the Smooth 9.45TV Treadmill. It comes with a 15″ flat screen TV. Typically TV equipped television are sized at around 7″-8″. Which can be hard to view when you are walking or running.
Another factor is the TV sits on a separate frame, separate from the console. There are several advantages. First, you do not have the TV incorporated into the console. If there is a problem with either the console of the TV you do not need to replace both, which can be expensive.
Second, the TV on the Smooth 9.45TV is located at eye level. Treadmills that have the TV in the console require looking down, which is not preferable.
Finally, since the TV on the 9.45TV is separate from the console and the treadmill frame, it is not affected by the jolting of the treadmill. It is more stable.
However, the other factor about this treadmill is that it is commercial grade quality for the home. It is built for serious runners. Overall, the Smooth 9.65TV treadmill is an impressive machine that exercises and entertains.
Learn more about NordicTrack treadmills with TVs.