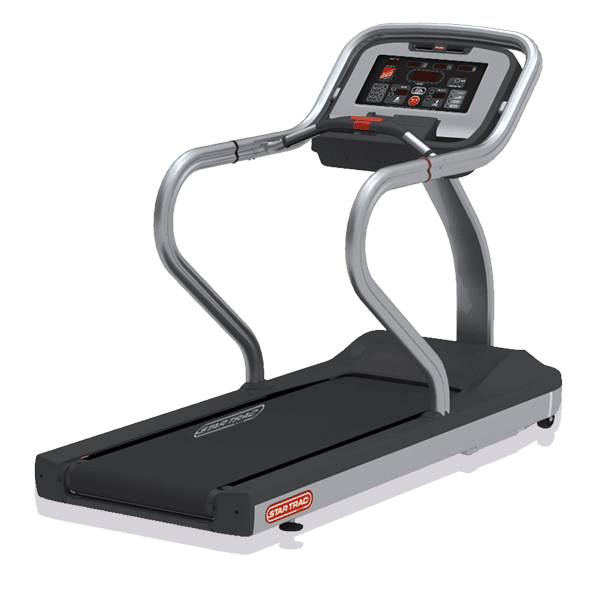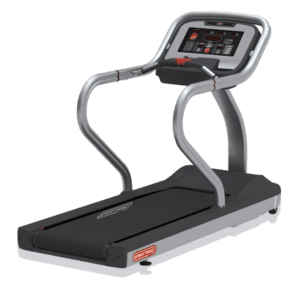 It may sound like hyperbole, but it's true… and we love to make this clever statement: Star Trac builds some of the best treadmills on the planet.
Star Trac treadmills are commercial-grade treadmills for the home. If you want a superior quality running machine, and you have money to spend, the Star Trac brand is a top contender.
The fact is, many of the Star Trac treadmills are a bit extravagant for home use. But then again, Humvees are extravagant for driving around town. In much the same way Humvees have a loyal following, Star Trac treadmills have raving fans as well. And rightly so.
If you're the type of person who demands the very best in all things, Star Trac treadmills rate right up there in quality with True, Precor, and Landice.
So… what do you get for your money with the "best-on-planet" Star Trac treadmill?
Treadmill Features
High-end electronics on the console. Star Trac treadmills are available with the highest quality mechanical components combined with cutting-edge connectivity and entertainment electronics built into the console. This sets Star Trac apart from some of the other top-ranking treadmill manufacturers which do not emphasize high-end electronic features on the commercial-quality treadmills they build for home use.
Star Trac's 19" OpenHub console comes standard with smart watch connectivity, Internet and Bluetooth connectivity, USB port(s), and cooling fans, among other amenities. Some models even provide an option for HDMI ports for additional screen connectivity.
Heavy construction. In addition, Star Trac treadmills are built like a tank. In fact, some of their models weigh in at 400-500 lbs. While this may make them more challenging to transport and move around, it also means these heavier machines are rock solid and smooth-running.
High weight capacity. Star Trac's heavyweight machines also have a high weight capacity, with some models able to accommodate user weights up to 500 lbs. Most home-use treadmills can only accommodate user weights in the 300-lb range, so Star Trac's 500-lb weight capacity could be a game-changer for some users.
Attractive appearance. Star Trac treadmills have earned a reputation for being especially attractive pieces of equipment with their distinctive, gracefully curving handlebars that connect the console to the deck. Some of the newer Star Trac treadmill models have straighter more angular lines, but they are still very attractive with a sleek, clean look.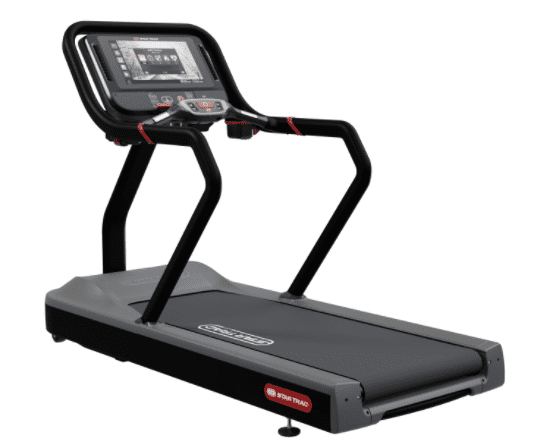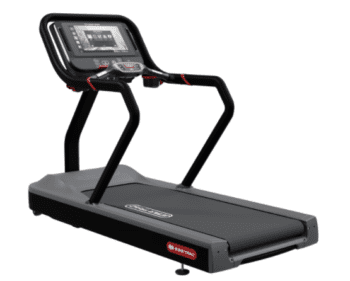 Low-impact running surface. Cushioning and impact support has always been a priority for Star Trac. They've always advertised that their treadmill decks are designed to properly absorb impact, while providing a sturdy push-off. But Star Trac upped their game when they introduced their HexDeck shock absorption technology.
According to a research study done by California State University, Fullerton, 77% of runners and 70% of walkers preferred the Star Trac treadmill HexDeck over traditional treadmill decks. The study found that Star Trac's HexDeck technology reduces impact by 26%. The same study compared joint angles between treadmills, and found a greater knee flexion angle among users of traditional treadmills compared to the HexDeck. This means additional effort is required by users of traditional treadmills to maintain a constant speed, which in turn may have an effect on joint injury rehab and recovery.
Big motor. You'll find Star Trac uses the highest quality motors, and they generally run more quietly than most home treadmills. Several of their treadmills are equipped with huge 5 HP continuous duty motors. These are the kinds of motors you'll find in health clubs, where the treadmills are used for 10 or more hours a day.
Large rollers. Star Trac treadmills are built with 3″ rollers to propel the treadbelt. To put that in perspective, 3" rollers are bigger than normal. These large rollers offer less strain on moving or revolving parts, like bearings, and they tend to further reduce the noise level.
Low maintenance. One of the most impressive features of a Star Trac treadmill is their durability. These machines are about as low maintenance as you can get, which is why they offer some of the most extensive warranties in the industry. Star Trac treadmills come with a 10-year parts, and 3-year labor warranty. Companies don't provide this type of coverage unless they are confident the service issues will be few and far between. That translates int a relatively maintenance free unit for you.
What people are saying about Star Trac Treadmills
Star Trac P-TR – "The machine runs smoothly and does not create much noise, so when I get that late-night, or early-morning need to run, I can without waking up the family."
Star Trac models with HexDeck technology – "Running was smooth and easier on the joints. It feels really good on the knee joint." And "It felt like there was more shock absorption and softer surface."
Are Star Trac Treadmills Worth It?
If you're a competitive runner with a generous budget, Star Trac treadmills are undeniably a brand to consider. A Star Trac treadmill would be ideal for anyone requiring a machine that can accommodate a higher weight capacity. Any athlete who is on a frequent, rigorous training schedule, or anyone who uses their treadmill a lot and requires the latest and greatest electronic access would be well-served by a Star Trac treadmill.
If there are any drawbacks to the Star Trac treadmill, it would be the cost, the fact that they are a bit on the extravagant side for home use, and individual unit weight.
It's worth noting that there are a number of certified pre-owned and remanufactured models available. Even so, the price tag may still be a bit too high for some.
But that doesn't mean you're left without alternatives if you still want the best.
Best Star Trac Treadmill Alternative
If you're looking for a durable, quiet, well-built treadmill that will accommodate the workout needs of a serious runner, we recommend you take a look at Sole. Sole treadmills combine solid construction with good electronic connectivity and a low impact joint-friendly deck… all in a unit that is ideal for home use without being extravagant.
 Check out the current treadmill deals from Sole Fitness.
This article was written by Lane Therrell and published on Wednesday, 16 March 2022. 
FAQs
Who makes Star Trac fitness equipment?

Core Health and Fitness, the same company that manufactures Schwinn, StairMaster, and Nautilus equipment.

Is Star Trac a good brand?

Star Trac is considered a luxury brand of fitness equipment. Their treadmills are a good choice, but tend to be overkill for most residential users.

How heavy is a Star Trac treadmill?

Most of the treadmills from Star Trac weigh in at around 400 lbs. These are heavy duty machines.

Can I pair my Apple Watch with a Star Trac treadmill?

Pairing your Apple Watch to a Star Trac treadmill can be done on your app. Make sure your Apple Watch settings are switched to be able to detect gym equipment to connect to your treadmill.