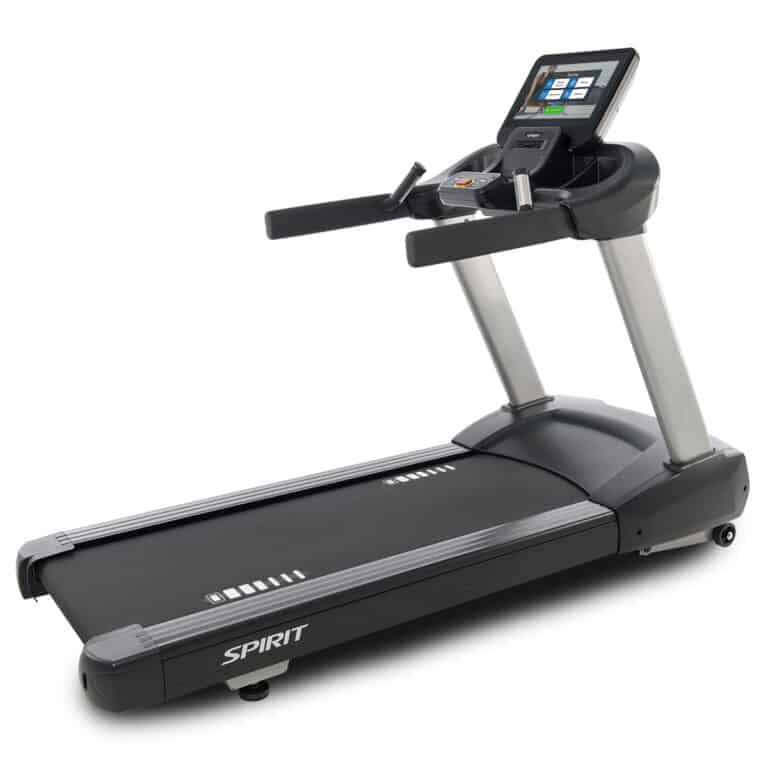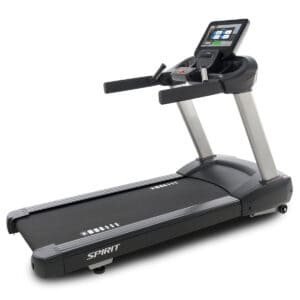 One of our review team members used to work for a company that private-labeled Spirit Fitness treadmills. That close-up-and-personal view of the manufacturing side of the fitness equipment industry showed us that Spirit Fitness does indeed make well-built treadmills that require minimal maintenance.
Several years ago, the company moved all their manufacturing facilities to Taiwan so that Dyaco, the company that builds Spirit Fitness treadmills, could bring the financial muscle that would allow Spirit to slug it out in an increasingly competitive market. Dyaco is also the parent company of Xterra and Sole.
In the past, Spirit Fitness was known for constructing treadmills that were built like a tank. They were nothing fancy, but they were both durable and reliable. In fact, if there was any criticism of Spirit Fitness treadmills, it was their blasé design. That's not the case anymore. The current Spirit Fitness treadmill models are quite stylish and contemporary looking.
About Spirit Treadmills
As with many other treadmill companies that shifted their manufacturing overseas, Spirit suffered from quality control. It has been several years since the transition, and now they build some of the most reliable and durable treadmills in their price range.
Spirit Fitness treadmills are such a good value because of their components. They use 2.5″ rollers at minimum. This emphasis on larger-sized rollers increases not only the life of the roller, but also the life of the belt, the bearings, and the motor.
The decks on most Spirit Fitness treadmill models are 1″ thick. This increases the weight capacity of the machine and makes the deck extra supportive. Both of which can be deciding factors for heavier individuals.
What we like about Spirit treadmills, besides the fact that they use quality components to complement their quality engineering, is the fact they do not try to overstate the functionality of their machines.
For example, Spirit's entry level XT185 model is advertised as being ideal for power-walkers and joggers. Other treadmill manufacturers tend to overstate the limits of their machines, even going so far as to suggest in their marketing messages that their treadmill model would be ideal for runners or is commercial grade—when it is actually neither of those things. We appreciate truth in advertising, and we appreciate Spirit's spirit, in this regard.
Spirit vs. Sole Treadmills: Which Should I Buy?
Both Spirit and Sole treadmills are built by Dyaco. Their designs in each brand are very similar, and the machines use the same or similar components.
The difference is their marketing channels. Spirit primarily sells through fitness equipment specialty stores and several resellers on the Internet, while Sole sells through retailers like Dick's Sporting Goods, Amazon.com, and directly through their site online.
The advantages of buying a Spirit treadmill at a fitness equipment store is you will get professional advice and personal service. The downside is you pay a premium for these services.
The other difference between the two brands is their warranty. On most of their treadmill models, Spirit offers a 5-year parts warranty and 1-year labor, while Sole offers 5-year parts and 2-year labor, as well as 5-year electronics. We consider the warranty coverage that Sole offers a better value.
Battle of the Brands: Sole F80 vs. Spirit XT185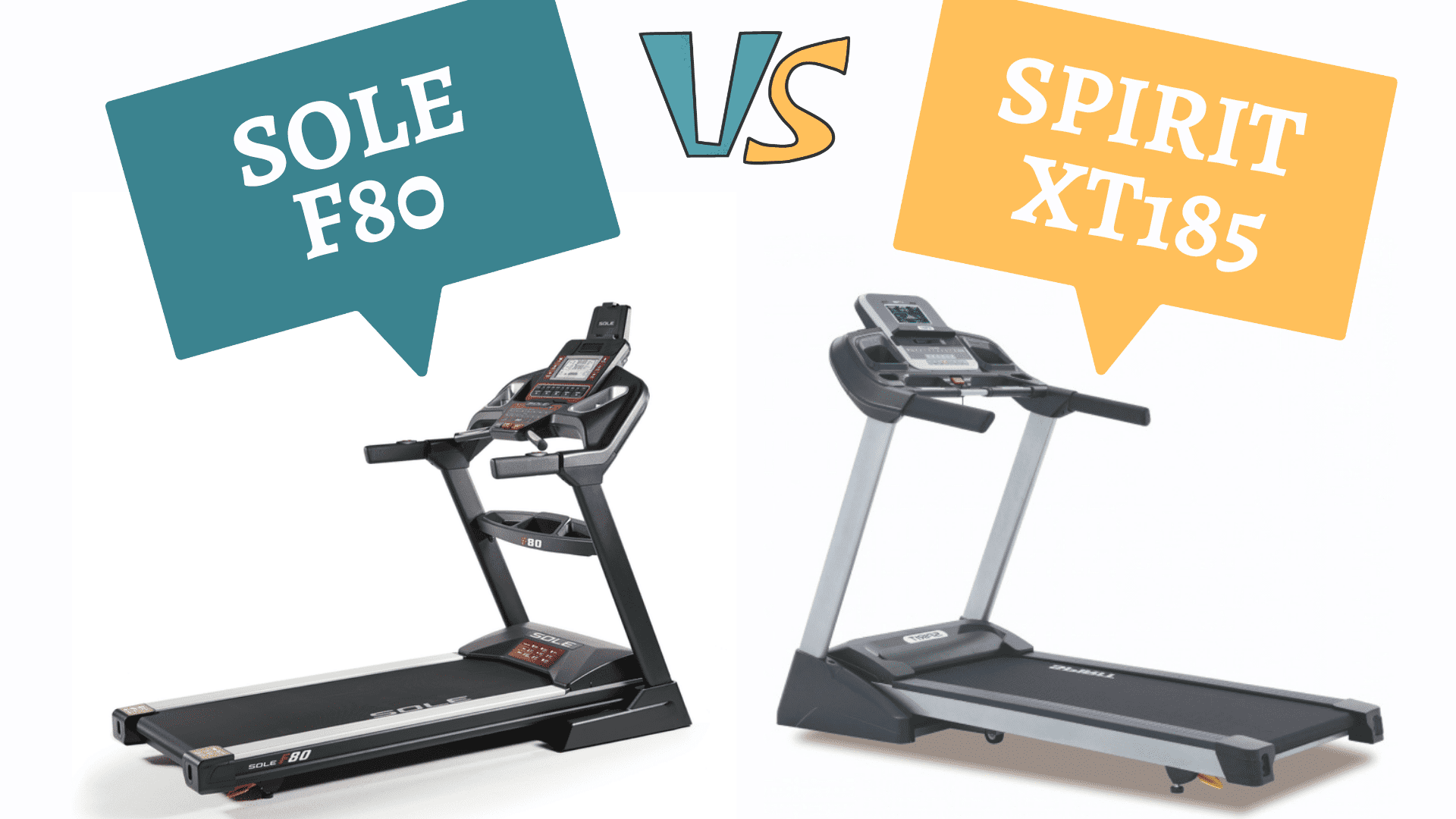 Here is a comparison of popular treadmill models from Sole and Spirit:
| | | |
| --- | --- | --- |
| Specs | Sole F80 | Spirit XT185 |
| Price: | $1599 | $1599 |
| Motor: | 3.5 HP  | 2.75 HP |
| Treadbelt: | 22 x 60 | 20 x 55 |
| Incline: | 15% | 10% |
| Speed: | .5 – 12 MPH | .5 – 10 MPH |
| Suggested Weight Limit: | 375 lbs. | 275 lbs. |
| Technology: | 9″ Display Screen, Bluetooth Audio Speakers, USB Port | 7.5″ Display Screen, |
| Rollers: | 2.5″ | 2.5″ Front, 2.0 Rear |
| Warranty: | 5-year parts, 5-year electronics, 2-year labor | 5-year parts, 1-year labor |
Spirit Fitness – Our Overall Review
Spirit Fitness offers good value, and we rate Spirit as one of the top 5 treadmill brands in the $1,000-$2,000 price range.
If you're purchasing a Spirit treadmill, you can expect to get a machine that's built to last and equipped with quality components. Their quality and durability is reflected in their warranty.
Overall, we recommend Spirit treadmills for their reliability.
And of course, there's another option…
Our comparison between Spirit and Sole above pretty much ends in a tie. Since these two treadmill brands are built by the same manufacturer and use similar components, they're almost the same machine. 
Honestly, we think you can't go wrong with either one—whether you choose Spirit or Sole, you're making a good choice.  
It's worth noting that Sole Fitness treadmills has received our "Best Buy" award year after year.  Plus, we think Sole has a better warranty than Spirit Fitness.  
Admittedly, we have a soft spot for Sole because their customer service has favorably impressed our review team. Over the years, as the Sole brand has grown in popularity, we have witnessed first-hand Sole's sincere commitment to maintaining their quality equipment while offering excellent customer service.
We hear the complaints from customers of other brands when they can't get through to customer service after they've spent thousands on a treadmill.  And then we hear Sole's incredibly knowledgeable customer support staff treating each customer like they know them. It's a comparison that creates a tipping point for us—in favor of Sole Fitness.
So–if you're in the market for a treadmill that offers durability along with excellent warranty options and next-level customer support, Sole could be the brand for you.
To learn more about Sole, click here to read our full review on each model or click here to shop directly on the Sole website.
FAQs
Are Sole and Spirit the same?

Both Sole Fitness and Spirit Fitness are owned by the same parent company Dyaco, however they are two completely different brands.

Is Spirit Fitness a good brand for treadmills? 

Spirit Fitness has been a trusted industry brand for many years. At one time, they were considered one of the top choices for treadmills. In the current industry climate, there are better options out there in terms of features, warranty, and customer service.

Where can I buy a Spirit Fitness treadmill? 

Spirit treadmills are sold online on their website, and in many retail fitness equipment specialty locations.