A Remarkably Simple Model to Help Kids Ride Bikes Worldwide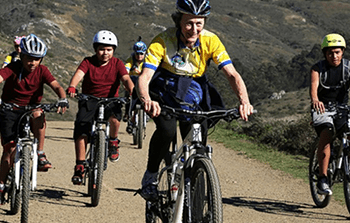 In 1986, an avid bike enthusiast named Marilyn Price noticed a problem in San Francisco.  She was concerned about the troubled youth in the Bay area and wanted to find a way to let kids experience her long-held joy of bike riding.
Twenty-nine years later, her program, called Trips for Kids, helps youth in the San Francisco Bay Area experience and enjoy the outdoors from the seat of a bike.  TFK has expanded greatly since its creation.  Ms. Price is still an active member of the board while Kim Baenisch has taken over the running of the Bay Area chapter.
We spoke with Kim on the phone and she was able to tell us about the challenges faced by the ever-growing TFK program. "This past year, I was involved with refurbishing our Bay Area programming and the challenges of this current year have been about determining the best way to grow our national chapter network," she explained.
The founder, Marilyn Price, received a great deal of recognition in the first ten years that she was running the program, so people started asking to build their own local chapters.  Today, TFK has around 75 chapters around the United States.  Managing this many individual chapters has been a great challenge for the TFK team.
Kim explained that, as a result, they are going to be creating a completely separate non-profit that is going to be focused entirely on just the national chapters' support, resources, and expansion.  The new national TFK non-profit is going to focus on marketing, fund-raising, and organizing all of the support and resources that are needed to keep all of the chapters running and sustainable.
Kim says, "Our goal is to create sustainable chapters that can serve youth nationwide as long as possible."  The national organization's ten-year goal is to grow to 500 chapters in the US and abroad with 1/2 million kids on bikes through the TFK programs.  They also want to run 5,000 rides per year through these chapters.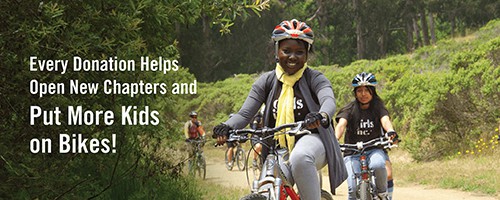 This is an ambitious goal, but the impacts are well worth it for the children served.  Each ride is organized with existing agencies that deal with underserved youth.  The TFK ride leaders meet a group of youth at a trail head with equipment ready to go.  Once children are matched up with a properly sized bike and helmet, they are given a skills test, safety talk, and practice runs.  Then, they're off!
Rides will roll through parks with each ride tailored to the age, skill level, and energy level of that particular group of youth.  Along the way, trained ride leaders will talk about flora and fauna.  The group will also stop for lunch, take a break to play lawn games, and talk about nutrition before they return to the trailhead.  The entire trip usually takes around four hours.
There is a great demand for this program in the San Francisco area and the children love it!
"We have endless quotes from youth," Kim explained.  She went on to read several heartwarming messages from children who were given a break from stressful home environments and allowed to experience the outdoors.  Many of these children live in urban areas and are not able to access the outdoors on their own.  "These rides fill a void in providing healthy outdoor activities."
If you are interested in starting a chapter of Trips for Kids in your local area, contact TFK using the information below.  Kim explained that they have a remarkably simple model to start a new chapter complete with a starter kit of 5 free bikes, 10 free helmets, water bottles, CLIF bars, an Adventure Medical Kit, bike stand, and tool kits.  The organization would also benefit from donations and word-of-mouth marketing.  So spread the word if you know of a youth population that would enjoy this program!
Trips for Kids

San Rafael, CA

kim@tripsforkids.org