How One Small Child Inspired 10 Years of Fitness Programming
Rhett Seevers was born on February 7, 1997.  His parents, Beth and Randy Seevers, couldn't have been more thrilled with the adorable little boy. He had an infectious smile and gusto for life.  That's why they were devastated to learn, at the age of 4 months, that Rhett suffered from a severe form of cerebral palsy.    The family banded together to learn all they could about how to help Rhett live his best life.  Nevertheless, at age 7, after years of full-time care, he died unexpectedly.
Rhett's mother, Beth Seevers, was introduced to running about one year after Rhett's death.  She decided to run the Shamrock'n half marathon in his honor on the one year anniversary of his passing.  The next year, she asked friends and family to join her again during this race.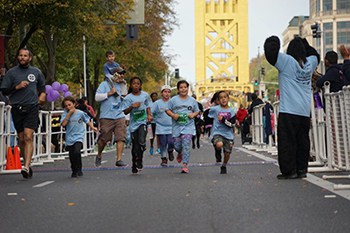 What grew from these events is truly remarkable.  Today, the Runnin' for Rhett Non-Profit inspires thousands of youth and adults in the Sacramento area with programming to help kids live the active lifestyle that Rhett never could.
We spoke with program director Lisa O'Shea to learn more about this non-profit…
"In 2010 Runnin' for Rhett began their free Youth Fitness Program," Lisa explained.  "The Runnin' for Rhett Youth Fitness Program is designed to combat childhood obesity in at-risk youth by educating young people and their families on fitness and nutrition. The Runnin' for Rhett Non-Profit makes training available twice a year in the spring and fall at no charge to schools in the 4-county Sacramento area."
"Rhett's parents, Randy and Beth Seevers as well as Runnin' for Rhett staff and volunteers, meet with school officials, coaches, participants and their families to share Rhett's story, offering motivation and encouragement to ensure a meaningful experience for all. During the free 7-week training program, the students meet two times per week with coaches to learn about proper running technique, stretches, and nutrition. In addition to training, each participant receives race entry to a 5K race twice a year, a Runnin' for Rhett t-shirt and wristband, and a finishing medal."
"Our hope is to use this program to touch the lives of all youth from a wide variety of different backgrounds. It is our experience that youth who feel like part of a team – accepted and encouraged – hold a higher self-worth, and will be more prepared for life's challenges.  We find that the children that participate in our program encourage their families to live a healthier lifestyle as well – we call it the 'trickle up' effect, and we see many parents becoming engaged in fitness along with their children.  Our mission at Runnin' for Rhett is to inspire people to Move Into Life."
"In 2010 we began our Youth Fitness Program with 2 test schools and 104 students.  On April 2, 2017 we had our Run Because You Can race with 55 schools and over 2,200 students that participated in our program.  To date we have had 21,000 students complete our Youth Fitness Program in 121 different schools, with many of our schools joining our program year after year.  We have granted over $500,000 dollars in the past 7 years to our Youth Fitness Program.
"The biggest challenge we face with our program is being able to get our students to our races.  We have many low income schools in our program, and transportation to the race is a challenge for many of our families.  We are looking at ways to obtain funding for bussing to our races for our low income schools.  We want all students that have gone through our training program to be able to attend the race, cross that finish line, and realize the accomplishment of all of their hard training.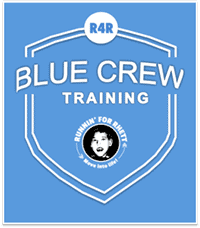 "2017 marks Runnin' for Rhett's 10 year anniversary and continues our original goal of helping adults and children Move Into Life.  Our adult fitness program called Blue Crews Training  is designed to offer a wide array of training options to our members.  Beginner to veteran, slow to fast, young to old we have a program for everyone from walking to running, trail running to cycling, social to competitive.   Our unique model raises funds to host our after school Youth Fitness Program through membership fees from our R4R Blue Crew adult training program, supplemented with events we host and generous corporate and individual sponsors."
"When our R4R Blue Crews train, they are training not only for themselves, but for the youth of our community. Every two months they are a member of the Blue Crew Training they enable another student to participate in the R4R Youth Fitness Program. One year of training enables six youth to move into life."  
"We have many volunteer opportunities throughout the year to help at our different fundraising events that fund our Youth Fitness Program.  We have a volunteer program to help with our Youth Fitness Program in our schools called Rhett Reps  – it takes a minimum of 2 hours per week of their time to make a difference in a child's life by being a support person for our training program."
If you would like to get involved in the Runnin' for Rhett Non-Profit Foundation, please use the information below to get in touch with the team.
Runnin' for Rhett Non-Profit Foundation
Sacramento, CA