Inspiring Youth and Strengthening Communities with Bicycles!
Written by Steve Maluk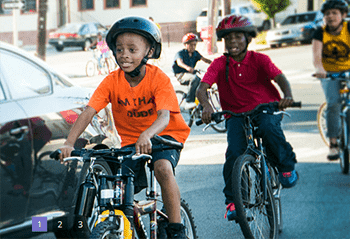 Neighborhood Bike Works was founded in 1996, and in 1999 we incorporated as a 501(c)3 non-profit.  We were founded by a group of bike advocates and bike mechanics who saw a need to provide hands-on experiential education to Philadelphia youth while recycling and repurposing used bicycles.
Our mission is to inspire youth and strengthen Philadelphia communities by providing equitable access to bicycling and bike repair through education, recreation, and leadership and career-building opportunities.  We believe in youth voice, and provide young people with a series of progressively more challenging and engaging programs through which they can develop as bicyclists, mechanics, and leaders in their community.
Among the nation's 25 largest cities, only Detroit has a higher poverty rate than Philadelphia.  According to the March 2016 Economic Innovation Group's report on distressed communities, the zip codes of 19104, 19139, and 19131 — our primary service area — rank at or above the 89th percentile of distressed communities in the United States.  These neighborhoods communities suffer from a combination of high unemployment rates, low business growth, high poverty, and low high school graduation rates.  Philadelphia youth also feel the brunt of the public school district's funding woes, so out-of-school-time programming, like we provide at NBW, can be a crucial component in the healthy development of Philly youth.

Our greatest successes can be best conveyed by sharing the stories of individual youth who participate in our programs.  Simone came to NBW as a 10 year old, and participated in our Ride Club program and then our Earn-A-Bike program.  She had a bike at her dad's house, but it was broken.  And at her mom's house, she didn't have a bike.  She was able to earn a bike at NBW, and was soon able to repair her other bike in our programming.  So soon enough, she had a working bike at both of her parents' homes.  Simone progressed through our intermediate and advanced programming, and in the summer of 2016 she served as a co-instructor in our Summer Cycling Day Camp for youth in a paid job training position.  Since then, Simone has joined our Youth Council and taken on a leadership role among her peers and in our organization.  She recently spoke to over 100 adults at our annual fundraising event, about her experience at NBW, and her plans to pursue a career as an automobile mechanic.
During the 2015-2016 program year, a total of 529 youth participated in the NBW programs.  So far, students have ridden a total of 5,242 miles and have received 128 bikes from the organization.  Students learned about goal-setting, leadership, cooperation, and perseverance.  They also learned healthy habits, confidence, and basic repair skills.
At the National Youth Bike Summit in Minneapolis, seven NBW youth were given the opportunity to present.  Two more presented at the Better Bike Share Conference in Philadelphia.
Last, for those in Philadelphia inspired to get involved with Neighborhood Bike Works, we first encourage you to visit our website, neighborhoodbikeworks.org.  We offer adult programming too, where one can learn bike repair skills and receive help from experienced mechanics to repair their own bike.  We run a community bike shop as an earned-income project, where one can purchase an affordable, quality used bike — every sale of which benefits our youth programming.  We also thrive on volunteers, who can help out in our youth or adult programs, with office or event support, and through service on our Board of Directors.  Lastly, we could not exist without the generous donations of individual community members, foundations, and businesses both small and large.  All donations to NBW are tax-deductible.
Neighborhood Bike Works
Philadelphia, PA
http://www.neighborhoodbikeworks.org/
steve@neighborhoodbikeworks.org.