Interview with Maureen "Mo" Holohan
How did your organization get started?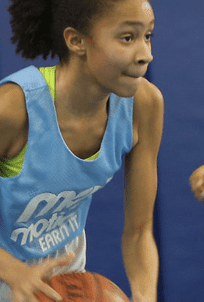 In 2009 a group of boys asked me to coach their seventh grade basketball team. I said yes, but with one condition: No road trips to Long Island or New Jersey. Why that condition? I knew that the toughest competition was only blocks away in all directions in Manhattan, and that these boys might not have a winning record, but they would have opportunities to work hard and learn. The boys and their parents were IN and the first boys' team quickly learned more than just basketball moves – they learned how to hang tough and earn it, which is the mantra all the teams at Mo' Motion work by on and off the court.
Mo' Motion has since grown from that one team of seventh graders in 2009 to serving 1000 youth grades K-12 in the community each year through our program and our league, The Gotham Basketball Association. The culture of Mo' Motion includes strong systems of training rooted in fundamentals, proper development and a focus on whole-body health. Our exceptional coaches include accomplished former high school, college, and pro players.  Some of our youth players go on to be high school JV and varsity captains all the way up to playing at the college level.
In addition, the Gotham Basketball Association (GBA) was born out of a need I saw in the area for an active, inclusive network for area teams to participate in games without extensive and often cost-prohibitive travel requirements.
What is the main mission of your organization?
Mo' Motion promotes an inclusive environment while raising funds to keep opportunities local for parents, coaches, and players, regardless of their playing levels. We work with GBA to renovate gyms, community centers, and parks, as well as sponsor teams in need of financial and coaching support. We use our proceeds from birthday party hosting and corporate events to help support our community support initiatives.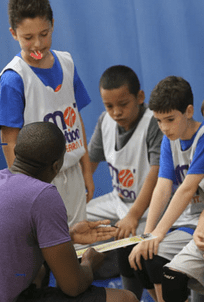 Together Mo' Motion and GBA serve youth in New York City. Mo' Motion strives to educate youth about sports and fitness while promoting amateur sports in the community. Our philosophy is EARN IT. This means we not only ask students to give 100%, but we provide them with strategies for doing this, focusing on charting progress and personal growth over wins and losses.
Our players in grades K-12, teams, and staff members have equal opportunities. In addition, we are building our IMPACT Program, with strategic plans to include more youth in a cross-section of sports. Concurrently, we are expanding our after-school programming into public schools that are in need of providing team sports and fitness opportunities to under-resourced girls ages 8-11 years old, significantly improving their chances of playing sports and remaining physically active through middle and high school.
We are year-round, and we offer weeknight only, weekend only, and a mix, which is comparable to a club team membership pass. We also host birthday parties and we do small group training, corporate events, and public speaking.
What particular challenges do you encounter in your community?
Our organization faces several challenges. The first is that we are a non-profit competing in a world of for-profit entities. We also face the real challenge of providing what we know kids need – quality, inclusive, sports training that gets to the heart of physical fitness and skills-based learning, instead of only giving court time to the perceived "best" athletes or to the kids whose parents can afford the best.
Children and families face growing pressures to be the best athletes through participation in travelling, high-intensity competitive leagues. This type of narrow focus leaves many youth underserviced. Girls, in particular, who are not exposed to programs such as ours at early ages, are more likely to make poor social decisions and are less likely to participate in athletics as they go on to middle and high school (and then adulthood).
Mo' Motion is able to reach across the spectrum, providing high-quality sports training to those top athletes, as well as to kids who need an opportunity for physical fitness that promotes healthy choices for life.
What are your greatest success stories? Do you have any special stories or programs you'd like to tell us about?
One of our greatest success stories is the journey of the Cubs. Several years ago, I wanted to reach out and help our first rented public school – PS 191 – by replacing their blackboards. With the cooperation of the school, I rallied a group of girls from grades 3-5 to form a club team. The goal was not to necessarily form a competitive team for weekend games, but to provide opportunities for regular exercise while spending time with friends in a safe environment.
I did not realize at the time when those first 22 girls walked through the door that none of them had ever played any organized sport. Only two had ever even watched a basketball game. Over the next few months our coaches taught them the basics of the game, and by January they were ready for their first game against one of our other teams – Mo' Motion Grade 4 Purple. The Cubs won that first game 24-10. More than the scoreboard win, though, was the W the team continued to experience off the court as a result of their time on the court. Their school's guidance counselor told me that the behaviors of the players improved radically at school. Homework was on time, and of better quality. Social skills were improving. The morale of the team continued to grow as these girls continued to grow as young women. This past season, this group of 8th grade girls went on to compete in the city finals. The Cubs now have elementary and middle school girls' basketball teams. I see the ripple effect continuing.
I am appreciative to have the support of the Gotham Basketball Association, the biggest and most inclusive league for boys and girls in the community. This league allows Mo' Motion to continue providing opportunities for youth of all backgrounds and skill levels to learn the fundamentals of the game, compete in a positive environment, and build lifelong passions for fitness. We pride ourselves on proper behavior, equal opportunities, social inclusiveness, and whole-person health. We always remind our kids to have fun and to give back.
What can community members in your state do to help you reach your goals?
Our program, like other non-profits, requires the support of community members and business. Specific ways to help include:
       Sponsorships of teams and individual players in need
       Donations, both monetary and in-kind
       Volunteering as coaches and mentors
Mo' Motion

New York, NY

office@momotion.org