'Gardens are for Kids' Program Teaches About the Origins of Food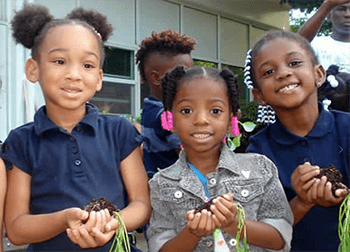 Lori Manns has a heart for children and wants to help influence their health and fitness habits from a young age.
"I started Live Healthy & Thrive Youth Foundation back in 2010," she shared with us.  "I basically wanted to have an organization that dealt with health and wellness education so that children would be educated on the dangers of obesity, diabetes and hypertension.  This was an issue that was close to my heart because of the prevalence of those conditions and illnesses in my own family."
It is her hope that these children will have a better chance of developing healthy habits once they grow up.  Personally, she did not have any sort of healthy role model growing up and professed that she was 'just a kid that played outdoors' from sun up to sun down.
"Kids today don't play outside much and they don't get as much physical activity as we did back in the 70's and 80's when I was coming up.  I wanted to have a safe place where kids could come and learn where food comes from and understand the agriculture, farming, and food industry in our country is very vital to our overall health and wellness."
The Live Healthy & Thrive Youth Foundation non-profit agency is the result of her careful planning and hard work.  Its mission is to educate, activate, motivate and empower youth in the areas of health, fitness, nutrition, and total wellness.  The two main programs are Lori's 'brain-childs' that she created in order to activate kids towards better health.  Her goal was to engage with them and make a true impact.
First, the Healthy Kids Workshop and Summer Camp program brings health professions in front of children.  The kids get to see doctors, nurses, dentists, and nutritionists up close and can ask questions. They get to see how these types of professional persons live their lives.
"I believe children will eventually become what they see," Lori explained.  "What they see around them influences them.  It influences their conscious and subconscious minds."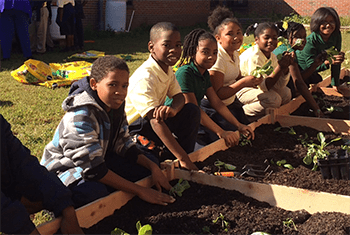 In lower income neighborhoods, kids see poor people, homeless people, gun violence, and all kinds of crime.  For many kids, the only professional they can really interact with on a daily basis is their school teacher.
"Rarely do they see that person who is successful and professional and who has a career that is not in music or in athletics.  With our Healthy Kids Workshop and Summer Camp, they get to actually see these professionals up close and personal.  They get to ask them questions and learn from them."  This program is taken to schools and Boys and Girls Clubs in the Atlanta Metropolitan Area.
The second main program from Live Healthy and Thrive Youth Foundation is 'Gardens are for Kids.'  This program is structured around teaching kids the importance of healthy food and helping them to learn the origins of food.
"We want to be able to educate them about how important the agriculture industry is to our society and why we need to learn how to plant and harvest our own food."
"If we know how to plant and harvest our own food, we're not subject to having to go buy it at a grocery store.  We can have fresh vegetables in our own backyard."
Gardens are for Kids gives children a lifelong interactive learning experience.  They plant the vegetables and then wait 6-10 weeks for harvest.  Children feel a sense of accomplishment and interactive learning that can't be bought.
"If they have it at their schools and they were a part of planting that garden.  And they were a part of harvesting that garden.  That's something that they will remember for the rest of their lives."
"Even if they don't have a garden of their own, they'll know where food comes from, and they'll know the importance of nurturing their own food."
LHTYF is very thankful to Home Depot who has been their sponsor for this program since the very beginning.  Lori explained, "Home Depot has been our partner since we started this organization and we are very thrilled to have their partnership because without it we just would not be able to do the Gardens are for Kids Program."
"Since 2011, we have adopted a school every year and given them a garden from the ground up."
Gardens are for Kids has been featured on many of the local TV stations.  Kroger Food Stores have also been instrumental in supporting the program.
"One of the biggest issues for us is funding.  There is no shortage in the United states of American for non-profit organizations, but unfortunately the bulk of the dollars go to the major, National non-profits that everyone knows about."
"The smaller or micro non-profit that are local and based in a specific city… has to scrap for opportunities as they learn about them."
LHTYF has to be resourceful when it comes to finding money.  They use local fundraisers and spread their message through social media and local radio/TV stations. "Just anyway we can, so we can try to get people to understand what we're trying to do, and get them to support our cause and help us raise the money!"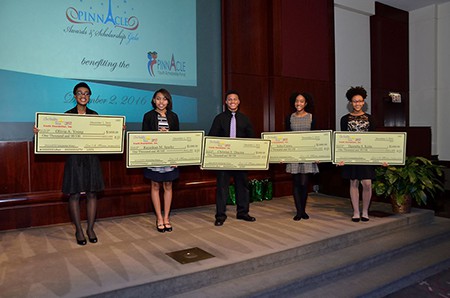 LHTYF has many things to be proud of for their organization, but Lori is especially proud of their Pinnacle Youth Scholarship Fund.  It supports high school students who are planning to major in education, medicine, or STEM disciplines.
"We want to educate and empower them."  She explained that these are the youth who are going to be the leaders of tomorrow.  When the program started, they were only able to distribute three $500 scholarships.  This past year, they were able to give an impressive five $1000 scholarships.  This money will be valuable to kids who need to pay for expensive text books or buy laptops to help them during their studies.
The children have thrived after going through the programs offered by LHTYF.  "One of our kids is now in nursing school!"  Lori explained how much these success stories mean to her and the staff.  She is always happy to hear back from grown kids who say how much of an impact the programs have had on their lives.
If you would like to help LHTYF meet their goals.  Please contact them using the information below.
Live Healthy & Thrive Youth Foundation

Atlanta, GA

www.livehealthyandthriveyouth.org
info@livehealthyandthriveyouth.org