Helping Underprivileged Children Through the Game of Golf – and Finding the Next Tiger Woods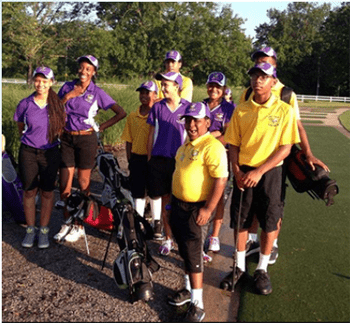 The Fairway Foundation is on a mission to help youth in Twin Cities. And in the process, they might just find the next Tiger Woods.
Their programs focus on education, recreation, life skills, cultural enrichment, mentoring and coaching. Through their partnership with community-based organizations and Personal Enrichment Programs for African Americans, they are helping many disadvantaged youth in Minnesota.
How? With the game of golf. Their scholarship program "Sponsor a Future Tiger" aims to introduce youth to the game of golf. Because of this program, kids who might never have set foot on a golf course in their lives, now spend countless hours practicing, learning, and growing on the golf course.
The "Sponsor a Future Tiger" program targets kids ages 8-13, and helps them develop golf skills so that they can compete on High School golf teams. In addition to the golf skills they learn, qualified high school graduates in the program also are able to earn college scholarships.
In an interview with Erik Goodlow, a lifelong golfer and board chair of the Fairway Foundation, he said that the main mission of the organization is to instill the values of the game of golf in the underrepresented youth they serve. These values – honesty, self-reliance, sportsmanship, and integrity – help to "Keep Kids on Course." Erik explains that the Fairway Foundation wants to "provide experiences that enable our participants to make responsible decisions and produce strong, community leaders for the future."
This can be challenging, because of the limited access intercity youth have to activities like golf. Erik adds that "most golf courses are not accessible via public transportation and many inner-city youth don't walk or travel by golf courses in route to any of their daily activities."
Despite the difficulties they face, the Fairway Foundation has had many success stories. Erik's favorite is about a 2007 graduate. In 2010, this graduate became a member of the vaunted Navy Seals and graduated from the Great Lakes Navel Training Center in Illinois. Erik and the Fairway Foundation want to help as many youth as they can, but they can't do it alone.
Erik says that the best way for community members to help the Fairway Foundation is to volunteer. There are many opportunities to volunteer during events and activities such as the summer program, weekly practices, the Scholarship tournament, and the year-end scramble tourney. There can never be too many volunteers, and Erik says "any amount of time and any time of year we will gladly accept volunteers."
If you're an avid golfer yourself, you can also help by participating in one of the many fundraising tournaments. Each year, The Fairway Foundation holds the Annual Scholarship Tournament. The proceeds of this event go to providing scholarships like the "Sponsor a Future Tiger" scholarship program.
If you would like to get involved with the efforts of this organization or make a donation, please visit their website. You can also email Erik if you are interested in volunteering your time at the Fairway Foundation using the contact form on their website.
Fairway Foundation
Minneapolis, MN