A few years ago, our team member Fred was able to meet with Dan Young at ProSource in Raleigh, North Carolina. Fred was able to discuss Dan's experience selling Landice treadmills. During their discussion, Dan mentioned that Landice has been selling treadmills for around 40 years. The new models that you currently see from Landice are the first new launches to come out in over 10 years. The current treadmills still have the quality components and the durable construction of the previous Landice treadmills. The only difference is that the designs are more contemporary and there are upgraded electronic features.
Landice specializes in manufacturing premium treadmills that constantly receive Best Buy ratings and reviews all across the board. To be honest, you can't really criticize a Landice treadmill. They are engineered to last and they come equipped with the finest components available on the market.
Landice Treadmill Features
There are a few key features that are unique to treadmills manufactured by Landice.
#1) Motors

The motors that are used in their treadmills are industrial strength and unsurpassed in performance. During Fred's meeting with Dan, Dan removed the front shroud of the treadmill to give Fred a first-hand look at the motor. According to Fred, although it was listed as a 3.0 HP motor, it was the biggest 3.0 HP motor that he had ever seen. Even the incline motor was huge.
2) Quality
Since Landice treadmills are a top-tier brand, their machines are built to institutional standards. Their machines are found in health clubs and hotels around the world.
#3) Longevity
The main aspect that sets Landice apart from other brands in the fitness equipment industry is that you won't have to worry about replacing a Landice treadmill for years and years. In fact, these treadmills just might outlast you. These treadmills are great option if you're looking for a treadmill that you can hand down to your children. (Seriously… they are built to last). The best part is these treadmills are covered with a lifetime frame and parts warranty.
#4) Console
Another feature that is a bit different from other treadmill brands is that the two residential treadmills from Landice have 2 console options to choose from. The first console option is known as their Pro Sports Console. The Pro Sports panel is a 9" LCD screen that features built-in programs, a numeric keypad for data entry, contact heart rate and wireless-chest strap heart rate monitoring. The Landice Achieve Console option looks very similar aesthetically, but a few of the features are upgraded. There are 5 visual displays rather than 3 on the Pro Sports. There are also more built-in workout programs on the Landice Achieve panel, and it comes with Bluetooth while the Pro Sports doesn't. Both of these consoles have a 5-year warranty.

#5) Suspension
Similar to the consoles, there are two deck suspension options on the Landice residential treadmills as well. The VFX deck suspension system boasts to be five times softer than grass, and provides plenty of impact reduction on its own. You can also upgrade to the Orthopedic suspension system that is reportedly seven times softer than grass. The Orthopedic suspension is designed to provide ultimate joint impact reduction, and it's covered by the lifetime warranty from Landice.
Landice L7 Treadmill Review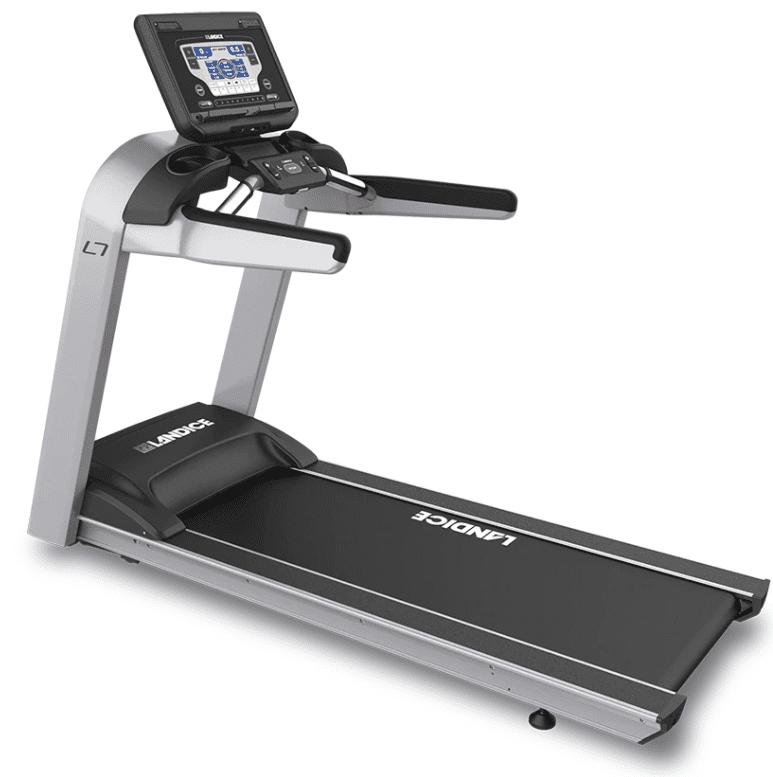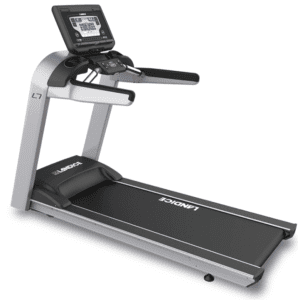 There are 4 different versions of the L7 residential treadmill that are available for purchase. All 4 models have the same core components and features, but you can mix up your suspension and/or console choosing. The most basic model which is the L7 Pro Sports with Standard Suspension is priced around $4,500, and if you upgrade your console and suspension, it can cost you all the way up to $5,300.
The most impressive features on the Landice L7 treadmill include:
5-12 MPH Speed
15% Incline
20×58" Running Area
4 HP Continuous Duty Motor
5" Rollers
Rust-free Aluminum Frame
400 lb. Weight Capacity
The L7 treadmill is more than adequate to handle any type of workout that you will throw at it – from walking, jogging, running, sprinting, or HIIT programs. The motor is built to be whisper-quiet during use and the rollers are a great size for the price.
Landice L8 Treadmill Review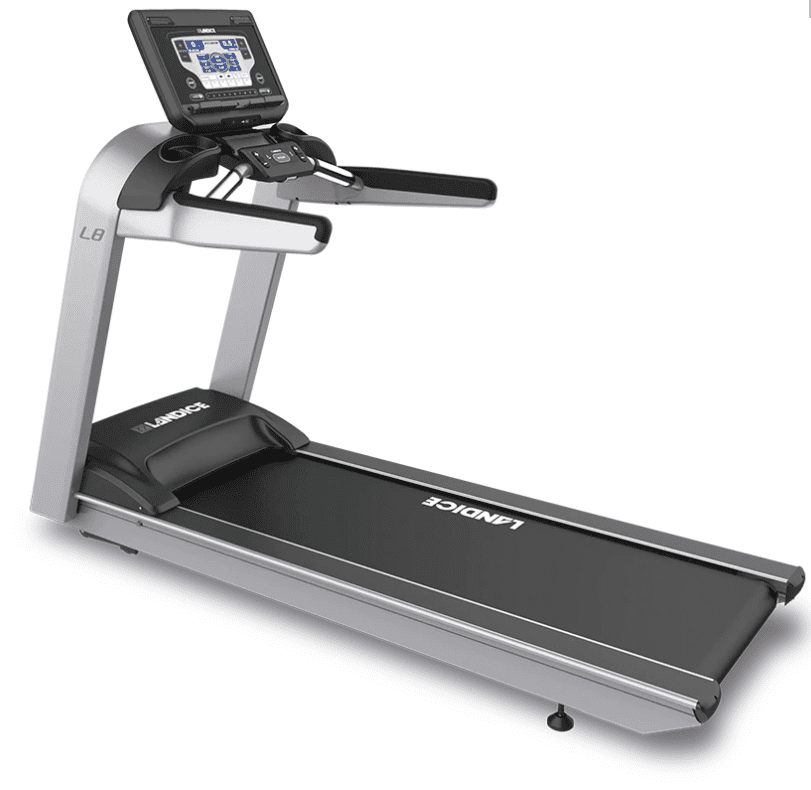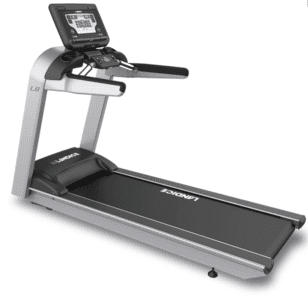 The other residential treadmill choice from Landice is the L8 model. Just like with the L7, there are 4 different purchase options depending on which console and deck combo that you choose. The price range starts at $5,699 for the Standard Suspension Pro Sports version, and goes up to $6,300. The L8 treadmill is a beast, and has some heavy-duty features to match.
5-12 MPH Speed
15% Incline
22×63" Running Area
4 HP Continuous Duty Motor
5" Rollers
Rust-free Aluminum Frame
500 lb. Weight Capacity
Most people may not know about treadmill rollers and the impact that they have on your machine. The bigger the treadmill roller size, the sturdier and stable the treadmill will be while it's in use. 3.5" rollers are monster size rollers. This machine is really built to take a beating and can withstand hours of daily use. The 500 lb. weight limit is the highest that we have ever seen on a residential machine. The extra wide and long running surface area will be ideal for anyone who is over 6 foot tall.
It should be noted that this really is a commercial-grade machine and unless you are excessively overweight, or will have multiple users using your treadmill for hours daily – the Landice L8 is a bit overkill for a treadmill designed for at home use.
Landice Treadmill Drawbacks
#1) Price
Let's face it… Most consumers on the market for a residential treadmill are not looking to drop five grand, no matter how long that they last.
#2) Non-Folding
Landice treadmills may be too large for a lot of home settings. These are big and bulky treadmills, and they don't fold which will be a major concern for those limited on space.
Are Landice Treadmills Worth It?
With the luxury price tags, the hard-hitting question that everyone wants to know is if Landice treadmills are worth the investment. To put it bluntly, these are some of the best treadmills that are on the market. If you want the very best of the best and can afford the commercial grade pricing, Landice treadmills will be a great investment.
However, if you are on a budget, they are a little more than most people will need for an in-home treadmill. There are other affordable options available that won't sacrifice in terms of quality or construction.
What Can I Buy Instead of a Landice Treadmill?
If you want a treadmill that is designed for longevity and constructed with quality components that won't break the bank like a treadmill from Landice – a great alternative is a machine from Sole. Just like Landice, Sole treadmills are often used in health clubs and though they have residential options, they offer commercial-grade features to consumers. The main difference is that Sole treadmills will cost you about half what a Landice treadmill will.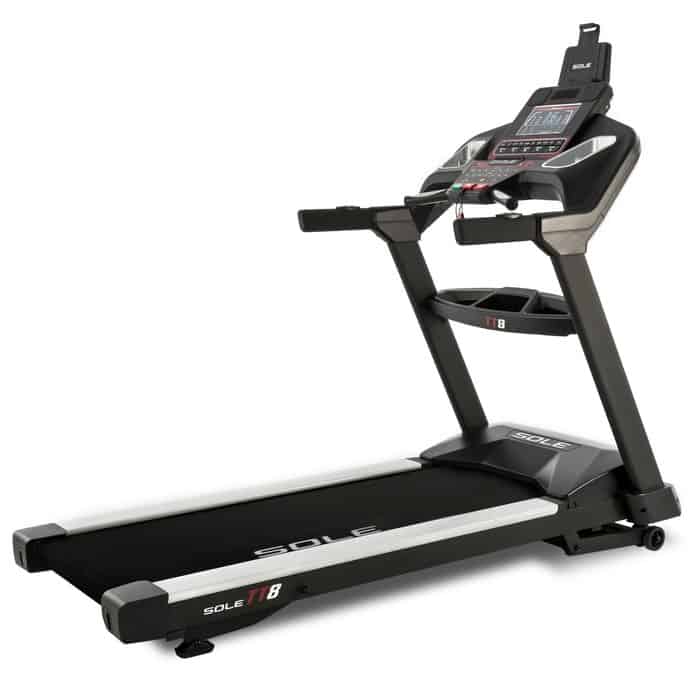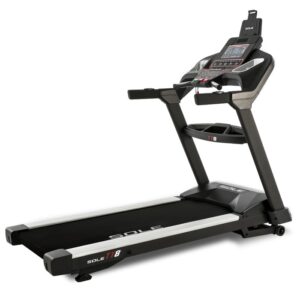 The Sole TT8 Treadmill is priced at $2,500. Sole's slogan for this machine is "commercial grade quality without the price". When you look at the features and specs, the Sole TT8 is almost identical to the L7 treadmill from Landice. In fact, there are few features on the Sole TT8 that out spec the L7 treadmill.
The top features you can find on the TT8 treadmill include:
5-12 MPH Speed (Same as Landice L7)
15% Incline (Same as Landice L7)
Up to 6% Decline (Landice L7 does not offer this feature)
3" Rollers (Larger and sturdier than Landice L7)
4 HP Continuous Duty Motor (Same as Landice L7)
400 lb. Weight Capacity (Same as Landice L7)
In addition to having features that live up to the Landice L7 treadmill model, Sole offers one of the best warranties in the industry. The TT8 treadmill has a lifetime warranty on the frame, motor, and deck. 5-years on electronics, and 2-years labor. Not only are you getting the same commercial grade features as you would on a Landice treadmill, you are getting a top-notch service coverage as well. For half the price!
The Most Durable Residential Treadmill on the market is currently priced at $2,499 with a 30 day money back guarantee!
To learn more about Sole, click here to read our full review or click here to shop directly on their website.
This article was written by Brook Norris and published on Monday, 21 February 2022.
Landice Treadmill FAQs
Where are Landice treadmills manufactured?

Landice treadmills are made in the USA.

How long does a Landice treadmill last?

With proper maintenance and care, Landice treadmills can last double the normal treadmill expectancy. Upwards of 30 years.

Are Landice treadmills quiet?

Landice treadmill motors offer extremely minimal noise levels. 

Do Landice treadmills fold?

Both the residential L7 and L8 treadmills from Landice are non-folding.

How much does a Landice treadmill weigh?

The L7 treadmill weighs 345 lbs., and the L8 treadmill weighs 435 lbs.