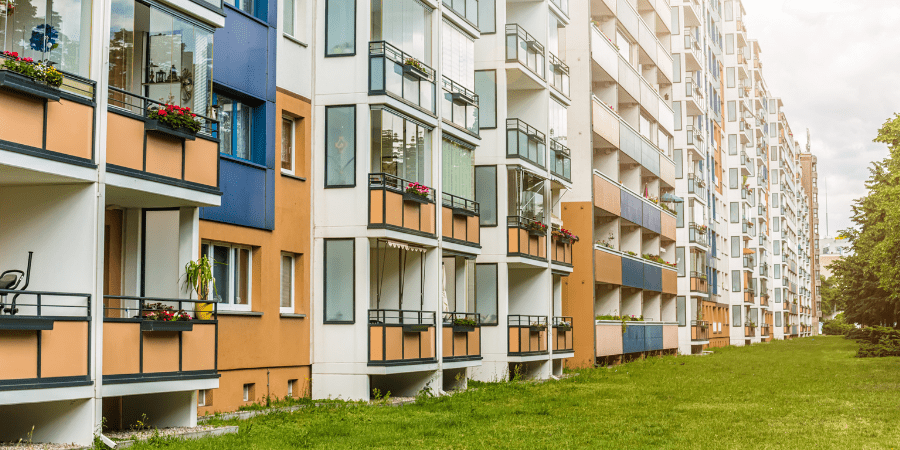 (Last Updated On: August 5, 2022)
How to Wake Up the Healthiest Version of Yourself (Not Your Neighbors)
A treadmill is a great option to incorporate exercise, improve your cardiovascular health, and become a fitter version of yourself. However, many things get in the way of us heading to the gym on a daily basis.
The weather, busy schedules, kiddos… Whatever the reason is for not being able to make it to the gym, a home treadmill will be a solution.
However, if you live in an apartment building or a shared living area, choosing a treadmill can be a problem. A lot of treadmills can be noisy, bouncy, and let's face it – you'd quickly become the most hated neighbor.
But, have no fear. It's definitely possible to keep the peace with everyone that lives around you and still reach your fitness goals.
Apartment Treadmill Requirements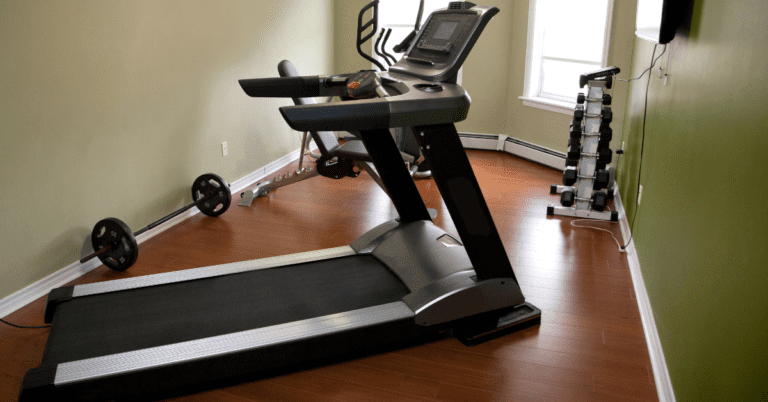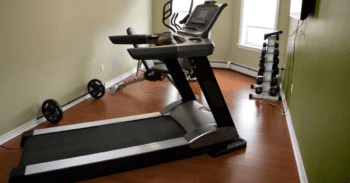 There are a few features and specifications that are specific to treadmills being used in a shared living area. In order to find the best options, we narrowed down our selection based on these considerations.
Noise Level
A noisy treadmill will not only keep you sidetracked during your exercise, it will disturb the people around you.
Space
In an apartment or a shared living situation, there isn't much space to place a massive treadmill.
Portability
Chances are, if you're living an apartment or sharing your home with someone else, you'll want the option to fold and store your treadmill away when it isn't in use.
Cushioning
Good cushioning built into the treadmill deck will provide more impact absorption, and less noise when your foot strikes.
Tips to Reduce Treadmill Noise in an Apartment or Shared Living Area
There are a few tips that you can follow once you've purchased a treadmill to reduce the noise levels even more.
Tip #1: Invest in a treadmill mat – A mat is a great impact absorber and will help in reducing noise.
Tip #2: Placement of the treadmill – Consider placing your treadmill near the corner of a room, rather directly in the middle of the floor. The middle of the floor tends to create a lot more movement and noise than a corner as there is more stability toward the edge.
Tip #3: Time of day – If you know your neighbors well enough to know when most of them are not home, you could try to get your exercise in when a majority of them are out at work. (Try not to start your running workout when most people would be sleeping!)
Tip #4: Keep it maintained – Check the owners manual of your treadmill and ensure to keep it lubricated as suggested by the manufacturer to avoid excess rattling.
Tip #5: Type of exercise – Consider walking on your home treadmill rather than doing a heart-pumping, sprint/run workout. It's been shown that walking, especially walking at an incline can have just as many health benefits as walking. And, it's a lot quieter.
Top 6 Quiet Treadmills for Upstairs Apartments
#1 Pick: The Most Quiet Treadmill – NordicTrack x22i Treadmill
Our team has visited the NordicTrack headquarters several times over the years. NordicTrack is a popular brand known and trusted throughout many households. The x22i treadmill is a consumer favorite, and also a favorite amongst our review team. This treadmill is just an overall well-rounded treadmill choice, and best of all – it's quiet during use. To put it in comparison, when you're running on this treadmill, it has a noise output of around 70 decibels which is considered similar to running a dishwasher.
Pros
3.6 HP Quiet Drive Incline Tech motor
Deck cushioning
Large rollers and thick deck belt give a stable feel during exercise
Large 22″ x 60″ running area
22″ HD touchscreen
iFit interactive fitness technology
-6% decline up to 40% incline
Cons
Does not fold up
Bulky and heavy
Would not work well in very small space
Compare Current Pricing to Get the Best Deal!
#2 Pick: Horizon 7.8 AT Treadmill
The Horizon 7.8 AT treadmill is a hidden-gem. This brand is not as popular as NordicTrack, but when we tested out the Studio Series of treadmills from Horizon, we were shocked. These treadmills are affordable, yet really quiet when they're being used. The 7.8 AT is the top-of-the-line machine out of the Studio Series machines from Horizon Fitness. While running on this machine, the decibel output was around 75 decibels, in comparison to the X22i being closer to 70. So, slightly louder than your dishwasher being ran.
Pros
3-zone variable response cushioning to absorb impact with every step of your stride
Large 22″ x 60″ running area
Foldable
Up to 15% incline
Quiet Johnson Digital Drive Motor System
Compatible with many fitness apps
Cons
Lacking in technology (screen is subpar)
The 7.8 AT is available exclusively on the manufacturer website.
#3 Pick: Sole F80 Treadmill
We have always been impressed with the equipment that we have tried and tested from Sole Fitness. Throughout the years, we've seen many changes in the fitness industry. One thing that has not changed from Sole is the quality and durability of their treadmills. The Sole F80 machine is an excellent option that gives commercial grade features at a residential price point. This machine is a little bit noisier, while running you can expect a noise level of around 80 decibels. In comparison, this is around the sound of a garbage disposal.
Pros
Cushion Flex Whisper Deck cushioning reduces joint impact and minimizes strike noise
Incline up to 15%
22″ x 60″ running area
EasyLift assist folding
3.5 HP motor
STUDIO fitness technology
Cons
Very heavy and bulky
Difficult to assemble (may need 2 people)
Compare Current Pricing to Get the Best Deal!
#4 Pick: NordicTrack Commercial 2450 Treadmill
Another fan favorite among the Treadmill-Ratings-Reviews team is the 2450 treadmill from NordicTrack. The Commercial 2450 is extremely comfortable to run on, and very durable. Although this treadmill isn't as quiet as the X22i from Nordic, your neighbors still won't shun you from the summer cookouts for running on this treadmill in your apartment. When running on this machine, it produces around 76 decibels which is quieter than a garbage disposal.
Pros
Runners Flex deck cushioning protects joints and lessens noise
iFit interactive technology
Foldable
22″ x 60″ running deck
22″ HD touchscreen
-3% decline up to 15% incline
3.6 CHP motor
Cons
The deck cushioning is not as good on the 2450 as the x22i
Compare Current Pricing to Get the Best Deal!
#5 Pick: LifeSpan 5500iM Treadmill
LifeSpan treadmills are a good "no frill" choice. These treadmills are really sturdy, without all the bells and whistles. They are a little bit noisier, around 80 decibels with running (closer to the garbage disposal noise levels). These machines are heavy-duty and solid.
Pros
Monster 4.0 HP motor
10″ full color display screen with screen cast capabilities
50+ built in workouts
22″ x 60″ running area with 8 built in compression shocks to eliminate excess vibration and noise
-2% decline up to 13% incline
EZfold folding technology
Cons
Lack of technology in comparison to other brands
Compare Current Pricing to Get the Best Deal!
#6 Pick: Bowflex Treadmill 22
We saved one of the best for last. The Treadmill 22 from Bowflex is a beast of a treadmill machine. BowFlex has been around for many years, gaining a lot of popularity with their Max Trainers and Total Gyms. However, their treadmills shouldn't be overlooked. The decibel rating on the Treadmill 22 is around 80 when running, so it's not the quietest but still not a loud treadmill.
Pros
22″ HD touchscreen
Strong yet quiet motor
JRNY fitness technology
22″ x 60″ deck area
ComfortTech deck cushioning
-5% decline up to 20% incline
SoftDrop folding technology
Cons
Large footprint
Very heavy
Compare Current Pricing to Get the Best Deal!
Conclusion
Walking is one of the easiest methods of getting in shape and staying healthy. Going to the gym, or even taking an outdoor walk is not always an option. Adding a treadmill to your home to increase the accessibility of exercise can be a good choice. Our team at Treadmill-Ratings-Reviews has written this guide to help you pick the best treadmill for your upstairs apartment or shared living space. You'll be able to add a new machine to your home gym without bothering anyone that is around you.
FAQs
What is the quietest treadmill? 
The NordicTrack x22i treadmill and the Horizon 7.8 AT are both very quiet treadmill machines.
Can I repair my noisy treadmill?
If your home treadmill is making a lot of noise, there are a few things that probably need to be maintained. The belt should be clean, tightened, and lubricated. Check that all bolts are tightened, so that nothing is loose and rattling. If your treadmill is still producing a lot of noise, try placing a treadmill mat underneath it to help dampen the noise levels.
Is it OK to have a treadmill upstairs?
If your home or apartment building is up to code then it is safe to place a treadmill upstairs.
Is a treadmill too loud for an apartment?
There are many treadmills that are quiet enough to not disturb your apartment neighbors. Look for a noise output of 80 decibels (or less).
Do treadmill mats reduce noise?
Yes. Treadmill mats place an extra layer of cushioning between the treadmill and the floor, providing more impact absorption and less noise.
Where to put a treadmill in an apartment?
It's best to put apartment treadmills near corners, as it's more stable and less noisy than out in the middle of the floor.