(Last Updated On: August 5, 2022)
Utilizing a home treadmill for outdoor use will give you the perks of exercising outside, while giving you a safe and comfortable place to workout without having to leave your home.
Keeping your treadmill outdoors requires a little more preparation and upkeep than keeping it inside your home gym, the benefits can be well worth it.
Let's go through a few quick steps to take when using a treadmill outdoors to ensure that you stay safe during your outdoor treadmill workouts.
Steps to Keep a Treadmill Outdoors
Step #1: Decide where you'll be keeping your treadmill
Pick a location. Although a treadmill can be placed essentially anywhere, you'll just want to make sure that the area you place it on is solid and even. It's better to place your treadmill on concrete rather than grass/dirt. It's a good rule of thumb to choose an area that is not in direct sunlight, as this can cause the electrical components of your machine to overheat and break.
Step #2: Invest in a treadmill mat
When you're using a treadmill for outdoor use, a treadmill mat is a must. The mat will give an extra barrier between your treadmill machine and the ground. The mat not only helps to control static electricity, but it will also help in keeping any outdoor debris or moisture away from your treadmill. It's much easier (and cheaper) to replace a damaged mat than a damaged treadmill.
Step #3: Clean the area
Once you've nailed down a location and before your new treadmill ever arrives, you'll want to make sure the designated area is thoroughly cleaned. No dust or moisture should be in the area where you will be using your treadmill. Of course, even after your treadmill is placed outdoors and you're using it on a regular basis, you'll need to make sure that you keep the area clean too.
Step #4: Purchase a treadmill cover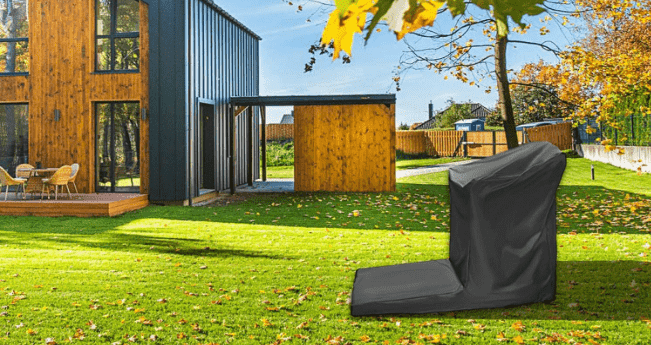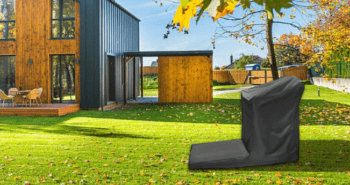 In addition to a treadmill mat, you'll need a treadmill cover for your outdoor treadmill. Covering your treadmill will provide protection from the outdoor elements, like sun, rain, or wind damage. This cover should be placed whenever your treadmill is not in use. To extend the life of your cover and treadmill, choose an outdoor treadmill cover that is dust-proof, moisture-proof, anti-mildew, and easy to remove and wash.
Now, let's dive right into the best treadmill options.
3 Best Treadmills for Outdoor Use
If you're wondering what factors determined the best treadmills for outdoors, we narrowed it down to the most sturdy and durable machines. If you're wanting to use your treadmill outside, the most important feature is reliability. The treadmill should be strong, secure, and built to last. The 3 machines on this list are what we consider as "unbreakable" as you can get when it comes to treadmills.
Treadmill 22 from Bowflex
A machine that is really built to take a beating is the monster Treadmill 22 from Bowflex. This machine is tough – it's really large and heavy. Which typically may not be a desired feature for a home treadmill, but for an outdoor use treadmill at home – it's what you want.
Pros
Strong motor
Durable frame
22″ HD touchscreen with JRNY fitness technology
-5% decline to 20% incline
22″ x 60″ running deck area
SoftDrop folding technology – easy to move and fold up
ComfortTech deck cushioning
400 lb. max user weight
Cons
Large frame if you're limited on space (85″ L x 39.6″ W x 70″ H)
Warranty is not as good as some other brands – 15-years frame and motor, 5-years parts, 2-years labor, 1-year electronics
Compare Current Pricing to Get the Best Deal!
Sole F85 Treadmill
If you want a machine that's going to live through literally anything (heck, it may outlast you) look no further than the Sole F85. Throughout the years, our team has traveled to the Sole corporate headquarters many times. Sole has always been a brand that is focused on the quality and construction of their treadmills, rather than all the extra bells and whistles. The F85 is a solid machine.
Pros
4.0 HP motor
CushionFlex Whisper Deck
Lifetime frame and motor warranty
EasyAssist folding
Built-in workout programs, and access to STUDIO fitness technology
22″ x 60″ running area
400 lb. weight capacity
Cons
Technology is lacking compared to other machines (10.1″ display screen)
Compare Current Pricing to Get the Best Deal!
NordicTrack X22i Commercial Treadmill
The X22i commercial treadmill is exactly what the name implies. With this treadmill, you'll get commercial-grade quality at a residential price point. NordicTrack is a big player in the fitness equipment industry and has been for decades. Their equipment is consistent, and also features more technological features than other brands. The commercial treadmill series from NordicTrack is very comfortable to run on.
Pros
-6% decline up to 40% incline
4.0 CHP motor
22″ Smart HD touchscreen with iFit interactive technology
Dual AutoBreeze workout fans
22″ x 60″ treadbelt
Cons
Warranty is lacking (10-year frame, 2-years parts, 1-year labor)
300 lb. weight limit
Non-folding
Compare Current Pricing to Get the Best Deal!
Where Should I Put an Outdoor Treadmill?
Because moisture causes rust and extended exposure to extreme heat or cold will cause damage, there is an order of placement preference. First, in a garage or under a roof covering, next in a gazebo or under a pergola, and lastly, on the grass.
Garage/Covered Shelter or Shed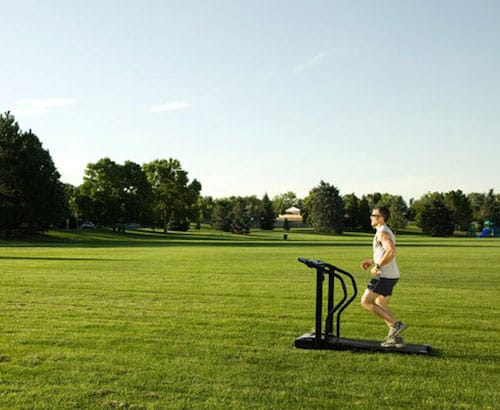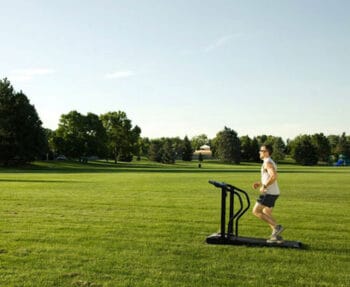 A garage or under a covered outdoor shelter is the safest place to place your treadmill for outdoor use. Obviously, the garage can be closed to really protect your treadmill from the outdoor elements. However, a covered shelter is still a good option with a good treadmill cover. This will keep exposure to high heat, frigid temps, rain and wind to a minimum. 
Gazebo or Pergola 
Because the flooring keeps your treadmill off the ground, a gazebo is the next greatest option for your outdoor treadmill. A pergola's wooden structure exposes your treadmill more to outdoor elements, but can still provide some heat relief with shade covering.

Grass
Because collects dew and becomes muddy, laying a basic "floor" is the easiest method to preserve your equipment if placement on the grass is your only option.
It doesn't have to be anything extravagant; just something simple will work like a cut out piece of wood to place your treadmill (and your treadmill mat) on. This will create more layers of protection between your machine and the ground.

If your equipment is movable, you can consider folding it and storing it under a roof or at least putting it away during a storm for added protection.
Warranty Warning
Treadmill manufacturers typically provide recommendations regarding where to place your treadmill. This information is usually included in the user's manual's "Important Precautions" section. If you use your treadmill in a way that goes against these safety recommendations, your warranty may be void.
Even though the device is still under warranty, if you damage your treadmill by using or storing it in a garage that isn't temperature regulated, or outdoors, the damage may not be covered by the warranty. Manufacturers, brands, and models all have different warranties. For further information, see your treadmill warranty.
Conclusion: Treadmills for Outdoors… Yes or No?
Exercising on a treadmill outdoors is a great way to keep your workout at home, while still enjoying fresh air and vitamin D. 
The best treadmill for outdoor use will be durable and reliable. All the treadmills recommended in our list are sturdy enough to hold up for your outdoor treadmill workout.
But, keep in mind that you'll need to take extra steps to keep your equipment safe while storing it outdoors. Regular cleaning, keeping it out of direct sunlight/rain/snow, placing it on a treadmill mat, and covering it are all important things to remember.