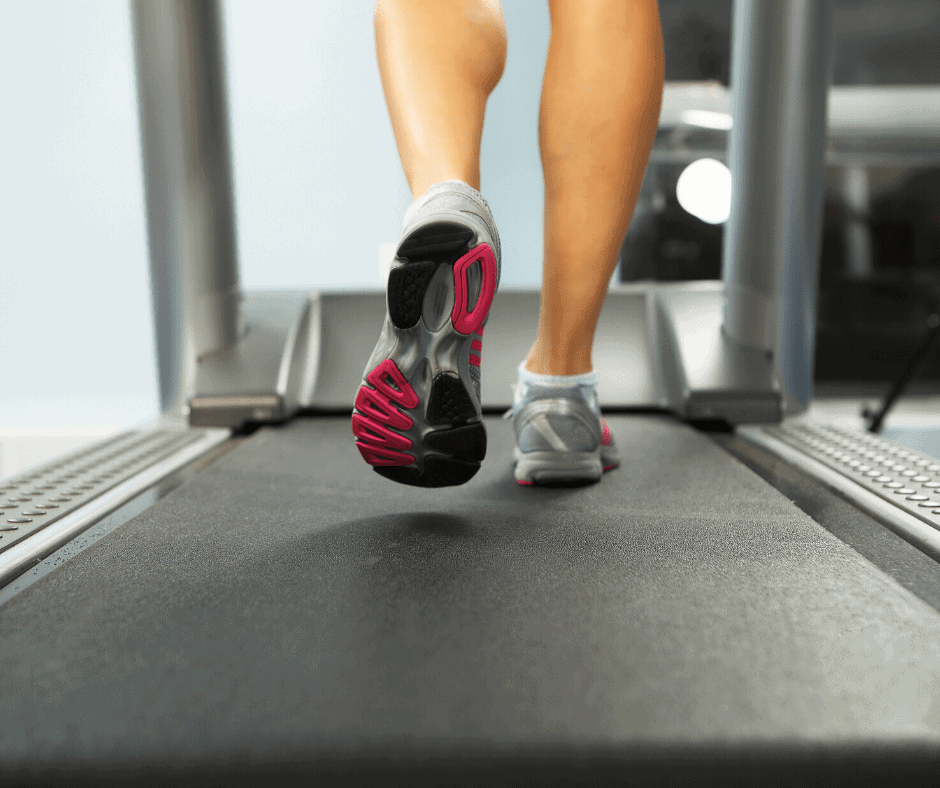 (Last Updated On: January 10, 2023)
A heavy-duty treadmill for your home is a big need for a lot of people.
Consumers are looking for an option to run indoors for many reasons. Whether it's due to weather conditions, having to stay home with your kids, work responsibilities, or just the fact that you hate working out in a crowded gym, a treadmill at home solves all of these issues.
A treadmill is not a small investment. That's the reason that most people are looking for a heavy-duty option with a high weight capacity that will hold up for a long time. 
Here are some factors that can take a regular ol' treadmill up to 'heavy-duty' status… 
What Makes a 'Heavy-Duty' Treadmill?
Treadmill Weight Capacity: Higher capacity machines

 

are more powerful, come with an extended warranty, and indicate that the machine is well built.
Quality Construction and Durability: The treadmill must be heavy, sturdy, and strong enough to support you. *Note – Look for machines that have great warranties. The better the warranty, the more confident that the manufacturer is in the quality of the treadmill. 
Motor Size: A strong motor is a key component of a well-built treadmill. A minimum of a 3 HP motor will ensure that your treadmill can handle heavy weight, and withstand running as well. 
Running Area: No one wants to feel cramped while they're working out on a treadmill. We recommend looking for a running area that is minimum 20″ x 55″. Heavy-duty treads will typically be around 20″ x 60″ on the deck area. 
Technology Functionality : A lot of people don't think about technology when it comes to heavy-duty treads. However, a lot of times we need to use the controls while walking or running. Therefore, the controls must be simple, easy to use, and powerful at the same time.
Incline and Speed Options: Bumping up incline and speed are great ways to increase your stamina and endurance.
Cushioning of the Tread Belt: A good cushioning system of the running surface helps protect the knees and joints from dangerous impacts. A heavy-duty treadmill will keep you safe while exercising. Great cushioning on the deck can make the difference between a "good" treadmill and a "great" treadmill.
Best Heavy Duty Treadmills
Here are some of the best heavy-duty treadmills tried and tested by our expert review team, and highly raved about among consumers.
SOLE TT8 Light Commercial Non-Folding Treadmill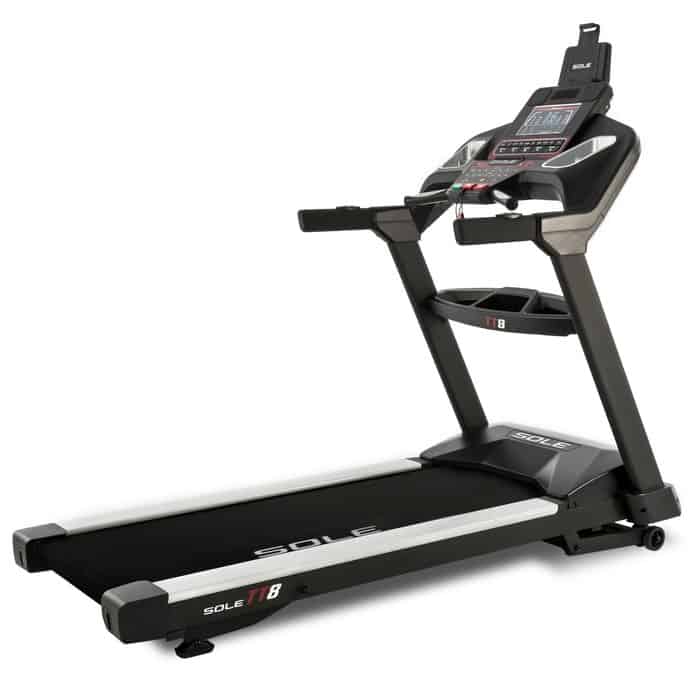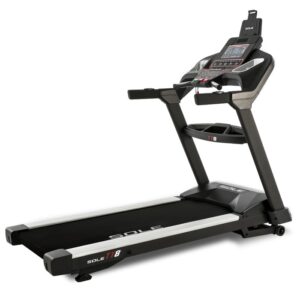 Over the years, our review team has visited the Sole headquarters several times. If we could use one word to describe Sole treadmills, it would be "durable". Sole has nailed down the art of producing commercial-grade equipment, and offering it at a residential price point. The real reason that the Sole TT8 slightly outranks the Bowflex Treadmill 22 is the warranty. Sole's warranty is much better. Top features on the TT8 include:
4.0 HP DC motor
22″ x 60″ running area
-6% decline up to 15% incline
400 lb. weight limit
Lifetime frame, motor, and deck warranty
STUDIO fitness technology
3.0″ rollers
Customer Review
Chloe Camry, 38
"My dad is quite heavy and refuses to go to the gym with me. I persistently told him to go for a walk outside, but he is too lazy to move around. After discussing the matter with my mom, we bought the SOLE TT8 treadmill for him. It motivated him to start walking on the treadmill. It was amazing. There had to be a start somewhere, and I am glad I bought this machine that encouraged him to get out of his sedentary lifestyle"
Compare Pricing Below to Get the Best Deal!
Shop now at SoleTreadmills.com
Shop now at DICK'S Sporting Goods
Bowflex Treadmill 22
If you look up "heavy-duty treadmill" in the dictionary, a picture of the Bowflex 22 Treadmill should show beside it. This treadmill comes jam-packed with features that make it soar above the competition.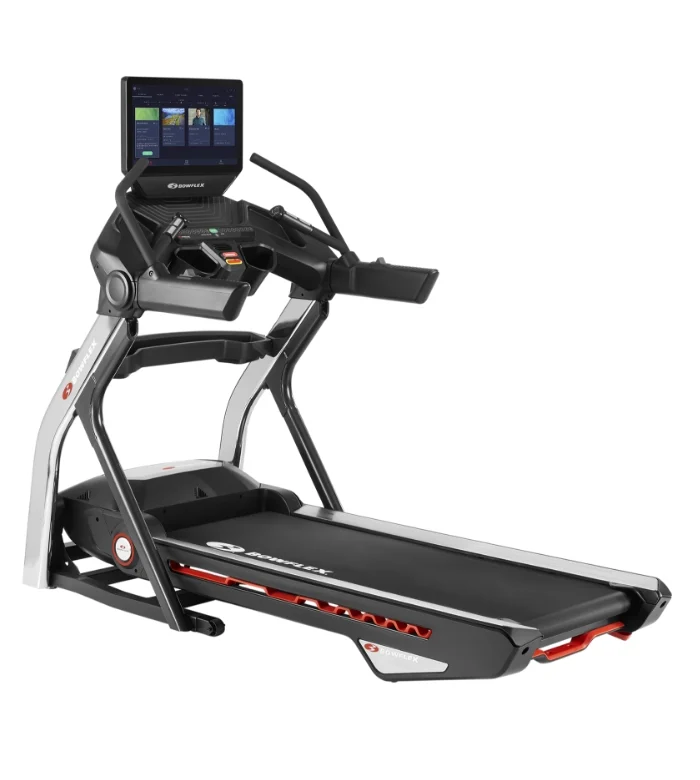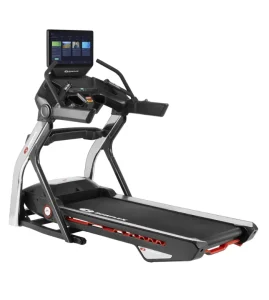 400 lb. weight limit
22″ adjustable HD touchscreen
0 – 12 MPH 
-5% decline – 20% motorized incline
22″ W x 60″ L running path
JRNY fitness technology
Comfort deck cushioning
SoftDrop folding system
Bluetooth®

 

enabled for smart devices and heart rate monitors

 

15-year frame and motor warranty, 5-year parts, 2-years labor, 1-year electronics
Customer Review 
Amelia, 30
"Honestly, I bought this machine because of the brand. I trust Bowflex and I know how perfect their gym machines are. Not even once have I regretted my buy, and I am glad I settled for this one. It helps me conveniently control my weight and allows me to burn maximum calories."
Compare Pricing Below to Get the Best Deal!
Shop now at DICK'S Sporting Goods
NordicTrack Commercial 2450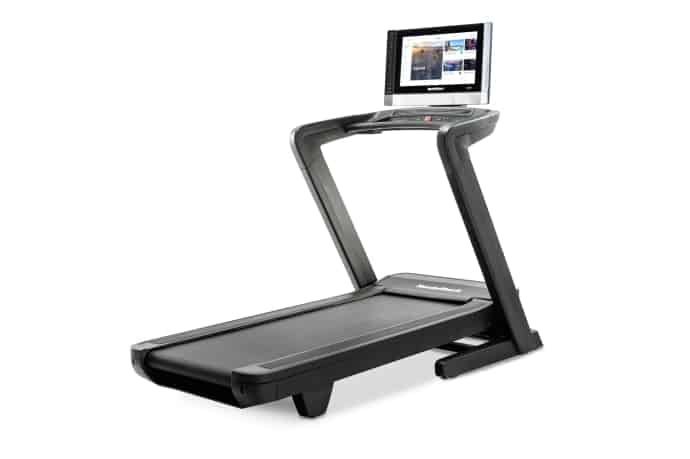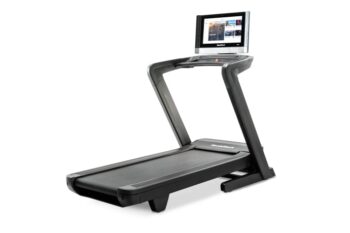 The NordicTrack Commercial 2450 has been a "fan favorite" among our review team for years. We've seen many treadmill models come and go, but the 2450 is just a solid piece of equipment. This treadmill is durable, technologically advanced, and really comfortable to exercise on. Other features on the 2450 include:
-3% decline up to 15% incline
0-12 MPH speed
3.6 CHP motor
22″ x 60″ deck area
22″ tilt and pivot HD touchscreen
iFit technology
300 lb. weight limit
EasyLift assist folding technology
10-year frame, 2-year parts, 1-year labor warranty
Customer Review
Stacia, 25
"I recently started using the Nordic Track Commercial 2450 treadmill for burning calories. I chose this one because of its powerful capacity to hold heavy people. It is a sturdy machine."
Compare Pricing Below to Get the Best Deal!
LifeSpanTR4000i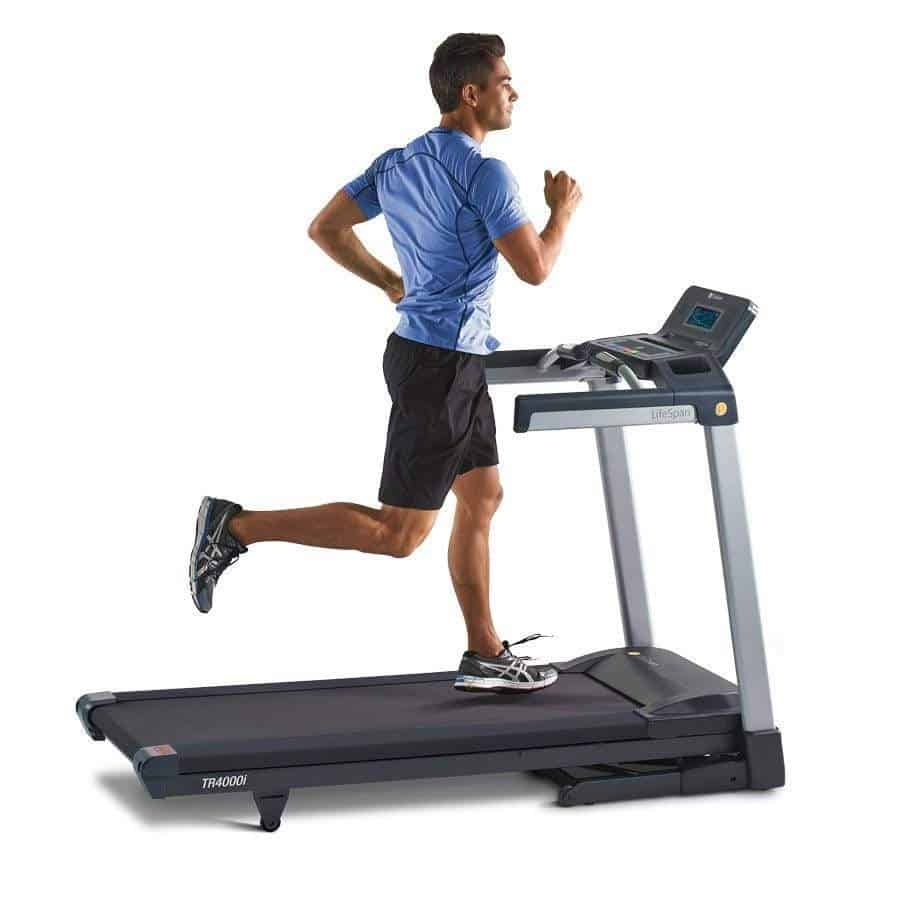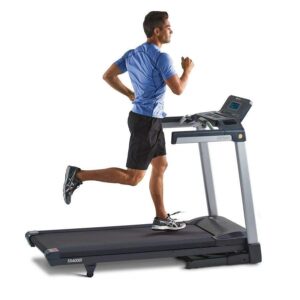 LifeSpan is a brand that has been gaining a lot of traction and popularity in recent years. The TR4000i is a treadmill that can withstand 350 pounds. With its 3.25 HPDC motor, it's built to take a beating. Note-worthy features on the TR4000i treadmill include:
22″ x 60″ running deck
EZfold technology
-2% decline up to 13% incline
0.5-12 MPH speed
Deck compression shocks
2.2mm thick tread belt
10-year frame, 2-year parts, 1-year labor warranty
Customer review
Enzo Leoma, 25
"LifeSpan is a trustworthy brand. I bought my machine from this brand and I would rate it 10/10. No complaints, no problems."
Compare Pricing Below to Get the Best Deal!
Shop now at LifespanFitness.com
ProForm Pro 2000 Treadmill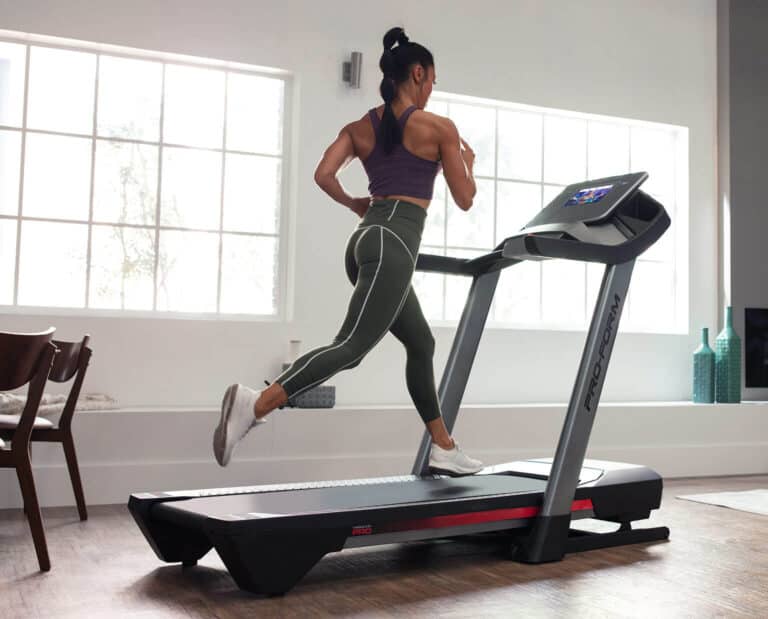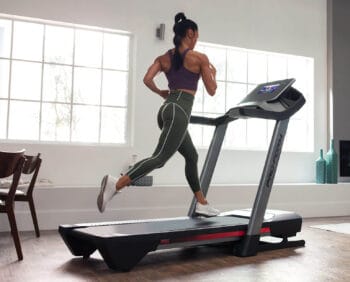 The ProForm Pro 2000 treadmill is the perfect in-home machine. It's compact, yet heavy-duty and durable. Some of the best features on the Pro 2000 treadmill include:
300 lb. weight limit
3.25 CHP MachZ motor
iFit technology
-3% decline up to 12% incline
0-12 MPH speed
20″ x 60″ deck area
10″ Smart HD touchscreen
Folding with EasyLift technology
ReBound Pro deck cushioning
10-year frame, 2-year parts, 1-year labor warranty
Customer Review
Howard, 26
"I absolutely love this machine. Although it was bigger than I thought, it's sturdy and easy to use. I mainly use it for manual workout instead of built in programs while I watch something on Youtube. I honestly think this was the best decision I made and it's especially useful in times like this when I can't go outside. Definitely would recommend!"
Compare Pricing Below to Get the Best Deal!
Conclusion
With a heavy duty treadmill, you can enjoy your home gym sessions, burn those extra calories, and sweat it out losing weight, even better than in a gym environment. The right machine will keep you happy and healthy, and last you for years and years. 
FAQs
What is the strongest treadmill? 
The Sole TT8 treadmill holds up to 400 lbs. in weight, has a strong 4.0 HP motor, and has a lifetime warranty.
What is the best 400 lb. weight limit treadmill?
The Sole TT8 and the Treadmill 22 from Bowflex are both good options for 400 lb. weight capacity treadmill machines.
Is a heavier treadmill better than a lighter one?
Typically, the heavier the treadmill and the more weight that it can hold, the more solidly constructed that it is. 
Can I use a treadmill if I'm over the weight limit?
When you go over the treadmill weight limit, it can cause the treadmill to run hot and damage the machine. Opt for a heavy-duty treadmill that can support a high weight load.