Excellent Craftsmanship – Built to Last!
Xterra Fitness is made by the same company that makes Sole Treadmills. Sole is a brand known for their outstanding quality and the durability of their machines. Since Xterra is produced by the same company, we feel comfortable likening their machines with Sole.
We give Sole high regards, because we have visited their corporate headquarters in Salt Lake City, UT, and experienced their equipment in person.
Similar to Sole, Xterra Fitness focuses on producing high quality treadmills, rather than focusing on all the bells and whistles that you may find with other companies. What this means for you is that you may not get all of the extras, but you are less likely to worry about running into issues down the line with your fitness equipment when you choose a durable brand like Xterra.
What Sets Xterra Fitness Apart?
There are three things that really make Xterra stand out from their competition.
Warranty – When choosing Xterra, there is a lifetime frame and motor warranty on all of their machines, which is pretty rare these days to find in the fitness equipment industry. In addition, they offer

2 years parts, and a full 1 year of in-home labor. 

Customer Service – One of the biggest complaints that we hear is lack of customer service with fitness equipment companies. Xterra advertises that their customer service is "unrivaled" in comparison to competing brands, and they pride themselves on being there for every step of the way in your fitness journey.
Budget Pricing – With Xterra Fitness, you'll find low-price machines that are built well. A majority of Xterra's machines are under the $1,000 price point. Typically, when we see fitness equipment in this price range, we find that it can be cheaply made, and users will sacrifice quality for budget. This is not the case with Xterra. Since their parent company is so large, they are able to produce on a much larger scale, and offer high-quality equipment at much more affordable prices than we see from competitors.
Other Features:
Two-Ply Treadbelts – 2-ply exercise belts can be found on Xterra treadmills. 1-ply belts wear very quickly. 2-ply belts will ensure cushioning and durability for long term use.
XTRA Soft Shock Absorption Deck – Xterra offers their XTRA Soft Cushioned Deck on their treadmill machines. This feature will ensure that your joints are protected during your exercise. One of the members of our team owns an Xterra Fitness treadmill and reports from her experience that their decks provide sufficient cushioning without being overly bouncy.
Folding Frames – Xterra Fitness treadmills come with their Lift Assist frame design to ensure easy storage. This design also comes with the "Safe Drop" feature to make folding and unfolding your treadmill a breeze.
Handlebar Speed and Incline Controls  –  When running, it can be not only awkward but also dangerous to adjust your controls on the console. With safety in mind, Xterra Fitness placed controls on the handlebars of their treadmills so you can easily access and change your settings, even while running.
Comfortable Workout Space – From other brands that offer treadmills in this price range, we often find that they will cut corners on deck size. Xterra Fitness treadmills provide adequate room for most walkers. Some of their models even feature a roomy 60″ x 20″ deck.
Xterra Fitness, Our Overall Review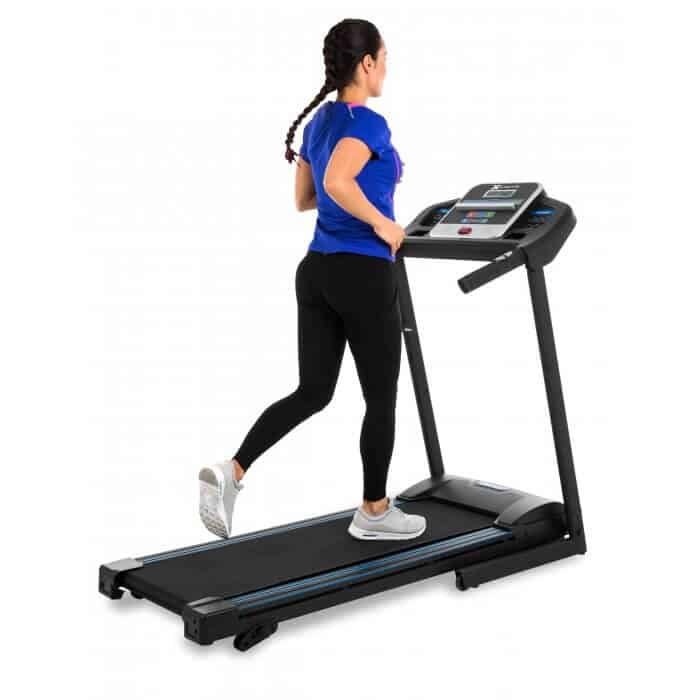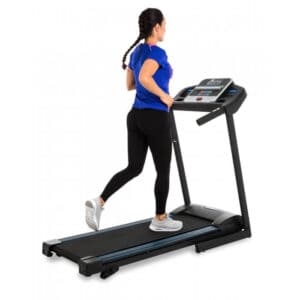 Xterra Fitness is an overall solid brand for treadmill machines. Xterra has something for every budget, and makes purchasing fitness equipment something that can be done by everyone, with treadmills starting at less than $400, like the Xterra TR150. Considering their budget pricing, most of their treadmills come with features such as incline and speed options, speakers, heart rate monitoring, a cooling fan, and a water bottle holder. These treadmills are perfect for consumers who are looking for a treadmill at a low-price point, that is not built cheaply, with some good basic features to offer.